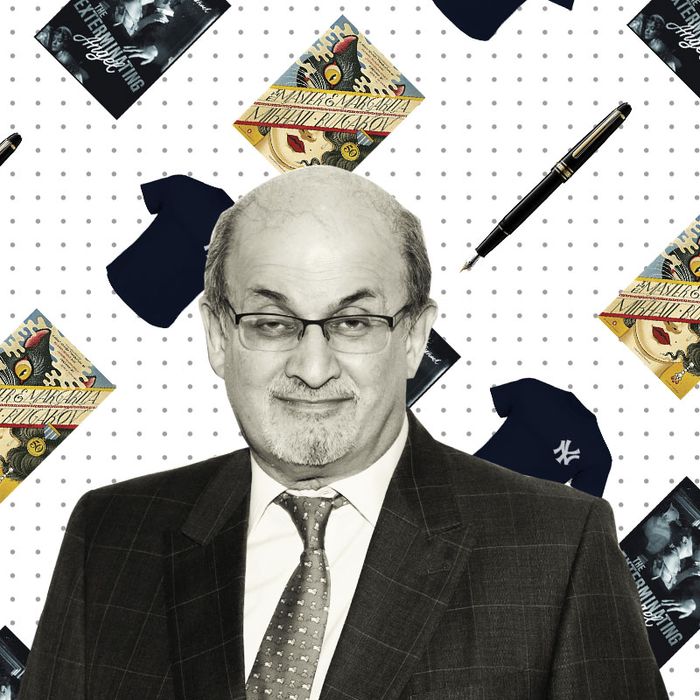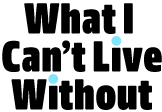 If you're like us, you've probably wondered what famous people add to their carts. Not the JAR brooch and Louis XV chair, but the hand sanitizer and the electric toothbrush. We asked Salman Rushdie, author of The Satanic Verses and the new novel The Golden House, which items he can't live without.
I was actually just in Yankee Stadium a few nights ago, quite satisfyingly watching them destroy the Red Sox. Any time the Yankees beat the Red Sox 9-2 is a good night in my book. Given that my son and his wife live in London, one of their favorite things to do when they come visit is go to Yankee Stadium, and the first thing they did was disappear and buy me merch. So now I have a few Yankees T-shirts for my collection. I just like to identify as not a Mets fan. I've been living in New York for 20 years now, but even before, I would go with friends who were Yankees fans. One of the first was Don DeLillo. When Yankees win, I like to rub it in with Paul Auster. He's a Mets fan.
It's very interesting which books you pick up over and over again. The Bellow novel I loved most when I was young was not Humboldt but Augie March, which was such a big, Dickensian, sprawling monster of a novel. As I get older, though, it's Humboldt I go to because of the incredible power of the writing. I think at the level of the sentence, Bellow is better than anyone else. He will go off on a riff on a subject, and it'll be a page of brilliance on whatever's got his goat at the moment. When I write, I try to pay attention to the quality of sentences, and picking up Humboldt is as good a way as any to do that.
When I was younger, I read a lot of Russian literature like Dostoevsky, but the book that stayed the most with me was this one, which was banned for a long time during the communist era. And wasn't published in unexpurgated form until the end of communism. I know something about having books banned, so that makes me feel close to it. It's just this crazy fantasy of a Chagall painting in book form. It has the devil coming to Moscow to make trouble. One of the devil's sidekicks is so thin that when he turns sideways he disappears. It's one of the most enjoyable, delightful books that happens to be a great satire of Russia during the period.
One of the things I always say when people talk about magic realism in my work is that it's something that got applied to a group of South American writers during the so-called boom of South American literature, but it's always been in literature. The Metamorphosis was magic realism before anyone used the phrase — it's a brilliant forerunner to what García Márquez did later. A man wakes up and turns into a giant bug, but it's never specified. In colloquial conversation, we say it's a cockroach or dung beetle, but the book simply says he's something horrifying. It's a simple idea, but once you accept that he's a giant bug, the rest is completely naturalistic. How would the mother or sister or cleaning lady or boss react? It has a surrealist element at the heart, but the rest is quite profound about human nature.
It's partly that my dad always used them, so it became the pen I had to have. And I'm slightly a pen addict, too. I'm looking at a jar in front of me that has 20 fountain pens in it — some are vintage Montblancs and limited editions and Parker 51s from the 1950s. Not surprisingly, I'm a writer who loves pens. What's great about the Montblanc is that it's so fluid. Some pen nibs are so fine-pointed that they're scratchy to write with, but the Montblanc just flows.
This is a book I read a lot over the course of writing The Golden House. It's a book from the days of the Roman Empire, but it reads in the most contemporary way — it's gossipy and fun about all the horrible things emperors do. It's got this stuff on incest and Caligula making his horse a senator and setting Christians on fire to light his parties as human torches! It's full of incredibly juicy and novelistic stuff like that. It's like reading "Page Six" if the New York Post had existed in ancient Rome.
When people talk about the greatest film ever made, it always comes back to Citizen Kane, but my view is that it's Pather Panchali, which means "song of the little road." It's the first film in a trilogy by Satyajit Ray and based on a beautiful novel about a poor Bengali village and this beautiful little boy, his sister, and his parents. That's it, but it's extraordinarily lyrical. It was Ray's first film, but before that he worked as an assistant director to Jean Renoir, and he said that he learned everything he knew from Jean Renoir, so if Renoir made an Indian movie, it would be this. In the film, the sister dies while the father has gone to make money, and there's this horrendous scene when the mother has to tell him. I still can't watch that scene without crying, and I don't cry during movies.
When I was a kid in college, there was a little movie theater in Cambridge called the Arts Cinema, which was a little, small art-house theater — now, it's a coffee shop, but I always thought I got as much of my education in that little theater as I did in any library. This movie is about this rich family giving a lavish dinner party, and mysteriously as the guests are arriving, all the household and all the staff are leaving out the back door, and they give no reason why. And the guests at the end are trapped in the house and unable to leave for weeks, even though the doors are open — they just can't move. It turns into Lord of the Flies, and you begin to see the savagery underneath. It's a surrealist masterpiece.
The Strategist is designed to surface the most useful, expert recommendations for things to buy across the vast e-commerce landscape. Some of our latest conquests include the favorite shopping items of Lena Dunham, Olivia Wilde, Carole Radziwill, Plum Sykes, John Cameron Mitchell, Aubrey Plaza, and Linda Rodin. We update links when possible, but note that deals can expire and all prices are subject to change.
Every editorial product is independently selected. If you buy something through our links, New York may earn an affiliate commission.