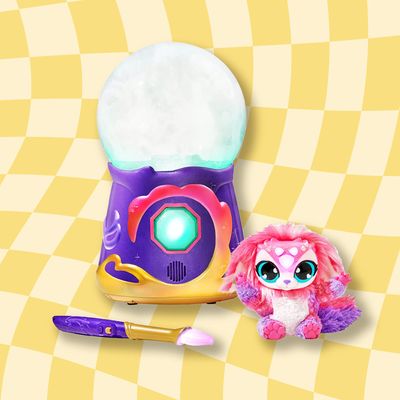 Photo-Illustration: The Strategist; Photo: Retailer
Every year, before the official holiday shopping season has begun, we reach out to toy-trend experts to get a sneak peek at their predictions for the hottest, most covetable toys that are likely to sell out fast. Instead of chasing down these toys last minute — or paying scalpers on eBay and other resale sites — we want you to have the best chance of finding the light-up dollhouses, magical crystal balls, brand-new fidget toys, and other gifts that kids will be clamoring for this holiday season.
Many of the toy trends we have been seeing over the past few years are still relevant now. According to Kristin Morency of the Toy Association (and a survey the Association did this fall), more than half of parents say they spend more time playing with their kids now than they did before the pandemic and that they're looking for toys that will help them to connect with their children through experiential play. "Experience-based toys are trending right now. And those toys are really bridging the gap between the generations," she says. Other trends include toys that help kids develop social-emotional skills like nurturing and empathy; toys that provide some kind of sensory input, like fidgets; and toys that allow children to reenact scenes from their favorite movies and TV shows (read: licensed-character stuff).
A lot of gifts are already sold out or not expected to arrive by Christmas. We've noted which ones below won't arrive in time and which will arrive if you pay extra for expedited shipping. As the big day gets closer, stock and shipping times will certainly change, so if you see something you like below that will ship in time, you'll want to order quickly. (And because the perfect present is always worth the wait, we left in toys that won't arrive by December 25 but would still make great gifts.)
For more great gift options, we also have guides for kids of all ages, including 1-year-olds, 2-year-olds, 3-year-olds, 4-year-olds, 5-year-olds, 6-year-olds, 7-year-olds, 8-year-olds, 9-year-olds, and 10-year-olds — plus the meticulously curated Strategist Toy Store, filled with all our greatest hits.
Not all sequels can live up to the original, but when it comes to this year's Magic Mixies toy (a crystal ball that mists and lights up to reveal a magical furry pet), the experts feel confident it will sell just as quickly as the Magic Mixies Magical Misting Cauldron did last year. "We had huge success with them last year. We think it's one of the most amazing and unique toys on the market, so we plan to have it in our stores in a big way this year," says Ariel Grun, VP of merchandising at Camp, an experiential toy store with spaces in New York, Boston, Dallas, and Los Angeles. Morency notes that one of the keys to Magic Mixies's success lies in kids being able to put on a sort of magic performance for their friends and family — and then they get a cool interactive plush toy at the end. Jackie Cucco, a senior editor at The Toy Insider, says another benefit is that it's not a one-and-done kind of toy. Kids can recreate the misty reveal over and over again and use the magic wand to interact with their plush too. "You can do it a ton of times —maybe 40 times or something. Eventually the mist will run out, but they sell refill packs," she explains.
Crazy Aaron's "thinking putties" have popped up in several Strategist gift guides. Morency is also a big fan of the brand and specifically pointed out this new prediction putty that is unlike any slime, kinetic sand, or other squeezable substance we have seen before. It works like a Magic 8 Ball, but instead of shaking it, you ask a question and then squish it through your fingers until a tiny hidden phrase appears in the slime with your answer.
Note: Selected expedited shipping to receive this gift by December 24.
PopPucks are a new kind of magnetic fidget toy that Grun thinks are going to take off this holiday season. The brand behind the toy, PopSockets, calls it a "magnetic skate park for your thumbs," meaning you can flick, flip, and stack the two dime-size pucks in their key-chain holder to perform different tricks. You really have to see a video to understand how it works. But it has all the best traits of an addictive fidget toy: satisfying ASMR clicking and swooshing sounds, a size that's perfect for holding in one hand, and a built-in social-media presence. "This is a toy that we spotted on social media and really went after," says Grun.
Note: Selected expedited shipping to receive this gift by December 24.
Bluey's light-up interactive playhouse is based on the Heeler-family home, where much of the ultrapopular cartoon takes place. "Bluey is an amazing story. It reflects contemporary family dynamics, and it's just really appealing and fun to watch," says Chris Byrne, a toy and play expert who goes by the Toy Guy. Not only has the show become a worldwide sensation for preschool- and elementary-age children, but the toys have also become super-popular. Byrne says they do an excellent job of translating the show's creativity, games, and songs into something kids can use to continue the fun screen-free. This playhouse — which also appears on our list of the best dollhouses — features working lights, a moving dance floor, Bluey and Bingo figures, 15 accessories, and over 50 sounds and phrases. Or, if you're looking for a less involved (and less expensive) Bluey toy, Cucco also recommends the very cute dancing Bluey plush.
Note: This playhouse may arrive after Christmas when you order online, but it depends on your location. You can also enter your ZIP code on Target's site to see if you can order it online and pick up in-store.
The wildly popular Y2K-era Bratz dolls are celebrating a big anniversary this year — they are 21 years old. To mark the occasion, the brand has launched a collaboration with Cult Gaia founder and CEO Jasmin Larian Hekmat, whose father's company MGA Entertainment was responsible for the original line of sassy big-eyed dolls. (Hekmat grew up designing miniature clothing collections for the dolls.) In addition to the Cult Gaia collaboration, the brand has launched blind-box minis à la LOL Surprise dolls. Byrne says they may not be as likely to sell out as LOL Surprise, but they do have a nostalgic appeal that makes them really popular among adult toy collectors.
Note: The Bratz x Cult Gaia doll arrives after Christmas, but the Bratz Minis still arrive in time for the big day.
Speaking of LOL Surprise, the brand has a ton of new and exciting toys this year including a giant fashion show runway play set based on the movie now streaming on Netflix. But Cucco pointed out these surprise candy themed dolls as the brand's cutest and most innovative launch right now. "They partnered with Hershey, so there's all different candy dolls including a Reese's themed doll, a Peeps themed doll, and a Bazooka themed doll to collect. And all the accessories match the candy," she says adding that instead of the ball-shaped surprise packaging this toy and all the extras come in a tiny vending machine.
Note: These dolls may arrive in time when you order from Walmart, depending on your location. You may also be able to order them online at Walmart and pick up in-store.
Regardless of how might you feel about the show, Byrne tells us that there is no denying the power CoComelon has over little kids. "Parents all hated Barney too," he says. "I'm sorry you hate it, but your children are loving it." In his opinion, the CoComelon toy that's most likely to sell out this year is the interactive Boo Boo JJ. The plush doll comes with a first aid-kit so kids can help soothe him when he gets hurt. But if you'd prefer one of JJ's buddies instead, we also like this adorable Cody doll that comes with a stuffed dinosaur.
Last year Tamagotchi launched the Pix — an updated version of the classic '90s toy that lets you take photos by pushing down its cracked-shell top. This year the company has expanded that line with a new party-themed edition. "You can throw parties, and it's kind of similar to Animal Crossing, where you decorate the party with furniture and play party-themed games," says Cucco. Additionally, if any of your friends have their own Tamagotchi Pix, you can play with them together. "You put the two devices right next to each other and one character will just get sucked into the screen of the other character," she says.
If the child in your life is obsessed with Encanto, you have a bunch of themed toys to choose from — including action figures, a playhouse replica of Casa Madrigal (another one of our favorite dollhouses), and tons of dress-up costumes and accessories. But the coolest Encanto toy, in our opinion, is this karaoke machine Morency told us about. The Bluetooth-enabled speaker wirelessly plays audio from a number of compatible devices, lights up with the touch of a button, lets you record and save your performances to any USB flash drive, and has an extra microphone jack (though you'll need your own second microphone, as it only comes with one) so kids can sing duets. "Encanto is definitely a thing; it's really popular. So anything that lets kids live through the characters is going to be a hit," she says.
We've featured Snap Circuits in a few of our toy guides before, but this STEM kit is the first one the brand has designed to teach kids about renewable energy. The set comes with an instruction manual full of projects focusing on solar, wind, hand-crank, hydro, and even geothermal power. You can make your own solar clock and a mini-car powered by wind energy, among other things.
Note: This kit may arrive after Christmas, according to Amazon, so order ASAP.
Morency is also a fan of National Geographic's veterinarian kits for kids, which she says teach important social-emotional learning skills by encouraging children to care for their stuffed animals. "I think it's really cute as well," she adds. While Morency first mentioned the Chimpanzee Care & Nurture Set, we're also big fans of this otter set that includes an ocean-explorer tote bag, stethoscope, clam, bandage cuff, and sticker sheet. Both plush animals are stuffed with recycled material and make realistic sounds when you press their paws.
Note: The Otter Care & Nurture Set is exclusive to Amazon and has sold out. But this very similar chimp set from National Geographic is still available and still arrives by Christmas.
While it's not new to the toy market — the first Toybox 3-D printer was launched on Indiegogo in 2017 — it remains unique among kids' toys and was awarded the Oppenheim Toy Portfolio Award in 2021. Grun calls the 3-D printer that lets kids make their own toys "incredible" because it unlocks creativity and is super-entertaining and screen-free. "I think it really ties into the common theme of people wanting to turn off their screens and have a good time together," she says, noting that the majority of Camp customers choose toys that allow kids to build, explore, and express themselves. "I think this type of creative toy is going to be the biggest seller for the 2022 holiday season," she says. The Toybox starter kit comes with nontoxic "printer food" made from coconuts, a digital catalogue of over 7,000 toys you can make, and access to an online creator space and app so kids can design their own toys.
Note: This 3-D printer may not arrive in time for Christmas.
Morency calls this guinea pig that gives birth to babies overnight a really good example of a toy that teaches social and emotional skills and empathy. Children nurture the mama guinea pig by patting her, feeding her and brushing her to make her heart light up. Then, once she's cozy back in her hutch, she is ready to magically reveal her babies at a surprise point in time. The interactive pets features 20 different sounds and reactions as well as lots of surprise accessories.
Note: The Little Live Pets Mama Surprise guinea pig has sold out at most online retailers, but has been frequently restocking at Amazon; whether it will arrive on time for Christmas depends on your location and when you order. The brand also makes several other interactive toy pets, including hamsters, fish, birds, and piglets; however, none will arrive by Christmas.
We have already written a lot about the phenomenon that is Squishmallows. And according to all of the toy experts we spoke to, they are still just as popular as ever. Byrne says the foam-filled stuffed animals are on everybody's list because they tap into sensory toy trends like fidgets and they're very popular with a wide range of ages. He also says that part of the appeal is that they're collectible. "It's one of those things where having ten of them isn't even enough. You have to have 20 of them or more, like an 'I can't find the child in the bed' amount of them," he says. The Squishmallows brand is constantly releasing new versions of the toys, including limited-edition styles, but one new Squishmallow that's different from the rest is this Cat-shaped treat pail with a soft handle. It's designed to be used while trick-or-treating, but because it doesn't look especially Halloween-y, you can also use it year-round, storing your smaller Squishmallows in its soft, rear kangaroolike pouch.
Note: This toy will not arrive in time for Christmas.
If you're looking for a splurge-worthy gift, this massive inflatable remote-controlled T. rex is Cucco's pick. The Jurassic World dino inflates in seconds and features multiple sound effects from the movie, including the signature stomp and roars. "It's on wheels and you can have it chase people, so that's a lot of fun," Cucco says. "We had one at an event back in September and everyone loved it. All the news anchors thought it was the funniest thing ever."
Note: This inflatable toy won't arrive by Christmas.
Of the many new and exciting STEM toys out this year, Cucco mentioned two standouts: this Ultra Bionic Blaster from Thames & Kosmos and a brand-new Snap Circuits set that we'll say more about below. The Ultra Bionic Blaster is both a dart blaster and a building kit that teaches kids about hydraulics and air pressure as they assemble the toy's tubes, which use water and air to shoot foam darts. "It incorporates all these different tech elements to get it to work," Cucco says.
Note: This STEM kit won't arrive in time for Christmas.
Both Byrne and Morency mentioned Gabby's Dollhouse as another popular streaming show with themed toys to pay attention to this holiday season. The Netflix series centers on a young girl named Gabby who uses her magical cat headband to shrink herself down to doll size. This cat-shaped dollhouse is pretty much an exact replica of the one on the show. It comes with two figures, furniture, accessories, music, and a working Cat-a-Vator.
Note: This toy has sold out at most online retailers, but is available to pick up in person at certain BuyBuyBaby stores.
The Strategist is designed to surface the most useful, expert recommendations for things to buy across the vast e-commerce landscape. Some of our latest conquests include the best acne treatments, rolling luggage, pillows for side sleepers, natural anxiety remedies, and bath towels. We update links when possible, but note that deals can expire and all prices are subject to change.