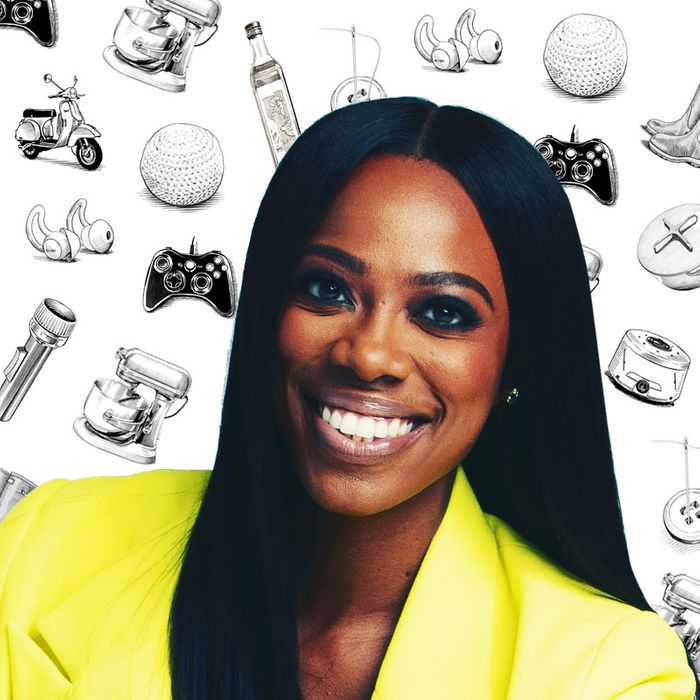 If you're like us, you've probably wondered what famous people add to their carts. Not the JAR brooch and Louis XV chair but the hair spray and the electric toothbrush. We asked actress and comedian Yvonne Orji — who stars in Insecure, which began its fourth season on HBO this week — about the conditioner, massager, and bidet she can't live without.
I love taking baths. I've had chronic shoulder, neck, and back pain for the last two years, and when I use this soak, it just feels like my muscles are relaxing. Soaking in it with candles lit and soft music playing makes me feel like everything is a million miles away. I can just be still and quiet.
I call this my boyfriend — and when I actually get a boyfriend, I'll cheat on him with my Hypervolt. My personal trainer introduced me to it: She used it all over my body to make sure my hamstrings weren't tight. One day, I decided I wasn't going to wait for her anymore, so I bought it and had it shipped overnight. The Hypervolt has all these different heads that get at the crux of every knot. At night, before I go to bed, I work it all through my neck, my back. When I wake up, I don't feel as tense. So this is my jam.
We shot season one of Insecure at this house in Malibu that had a bidet. I remember everybody was like, "What is this? It's spritzing water on our intimate parts and it's warm?" For the latest season, we shot at another place that had a bidet, and Issa [Rae] and I were both like, "Dang, we wish we had a bidet." I looked at her and was like, "Girl, what's stopping us?" And she was like, "You right." I just happened to be in the middle of a home renovation, so I told Neffi Walker from the Black Home, who was doing the work, that I wanted a bidet. She got me this one with a seat that warms up. Now I love going to the bathroom.
Every time I get a facial, they're always like, "Your face is dehydrated." I don't understand: I'm drinking a gallon of water, I'm doing all the things, and they're still like, "Yeah, dehydrated." So I use this. It's so light, I'm like, Is this working? I put it on while I'm taking a bath and let the steam work its magic. I probably keep it on longer than I should, but when I take it off, my face is so soft. I naturally have textured skin, and sometimes it can feel overly textured. You know when your face just feels like it needs a scrub? This gets rid of all the dirt and impurities.