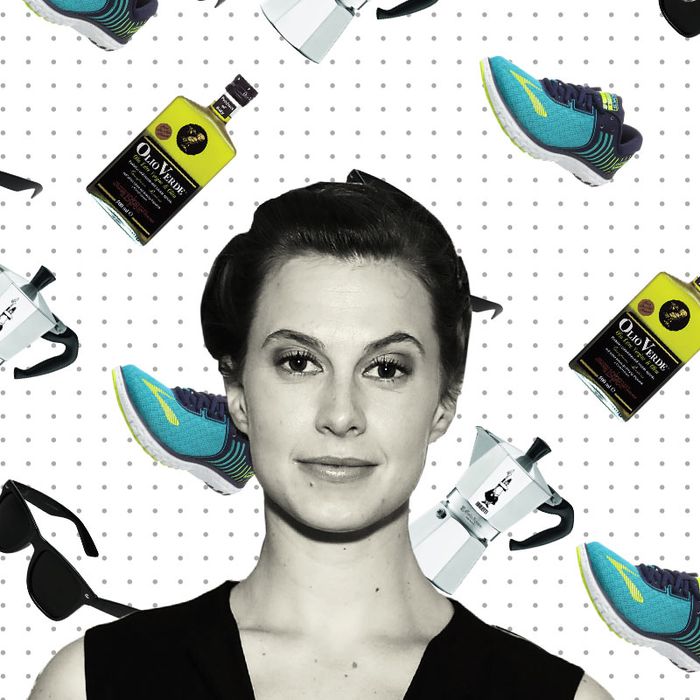 If you're like us, you've probably wondered what famous people add to their carts. Not the JAR brooch and Louis XV chair, but the hand sanitizer and the electric toothbrush. We asked Elettra Wiedemann, whose new cookbook Impatient Foodie is available now, which items she can't live without.
I have been having coffee from a Bialetti since I was a small child, and my mom would give me a splash of coffee with lots and lots of milk. Over the years, it's gotten to be less milk. These days, I make my Café Bustelo with it for the best-tasting coffee. I actually take it completely black — I don't even do honey anymore. I like how bitter it is. I've tried the French press and the Nespresso, but there's something about the ceremony of the Bialetti. My mom did it, and my family did it, so it's special to me.
I get these in bulk and just go right through them. I work out a lot, so I love coming home from a session and just giving myself a scrub-down. I also have dry skin, so I use a bunch of body cream and oil to hydrate. I use it everywhere but my face.
I was introduced to Kat Burki's product line on a photo shoot by a makeup artist — she makes these products using a cold-pressed process, so they retain the nutrients of the ingredients used. Everything is really gentle, and I've found that it's made a real difference on my skin. I modeled for 12 years, and all that makeup made my skin sensitive, so I always look for products that don't make me break out. I love the face cream because it's so potent and nourishing. She's also got this marine collagen gel that's like a serum that I swear by, too.
I would always buy my sunglasses at CVS — then I'd break them. So I started buying expensive sunglasses, hoping that that would make me take care of them. It didn't happen. For some reason, sunglasses, hats, and socks I just lose or break, so now I get the cheap ones — and it's not a huge deal if something happens to them. These are the ones I like. I prefer a straightforward style. I don't like those reflective shades because it freaks me out when I'm talking to someone who wears them.
There are two olive oils I really buy. I use Olio Verde olive oil because I cooked once with Mario Batali, and he told me that the greatest olive oil he uses is Olio Verde. You drizzle it on toast or pasta, and it just has this lovely flavor as a finishing oil. I put it on my scrambled eggs in the morning. I never used butter growing up, so I use olive oil for cooking, too. For that, I use Bragg extra-virgin olive oil. It's what I use in my olive-oil cake — one of my best friends from grad school actually wrote me a little ode about how great that cake was.