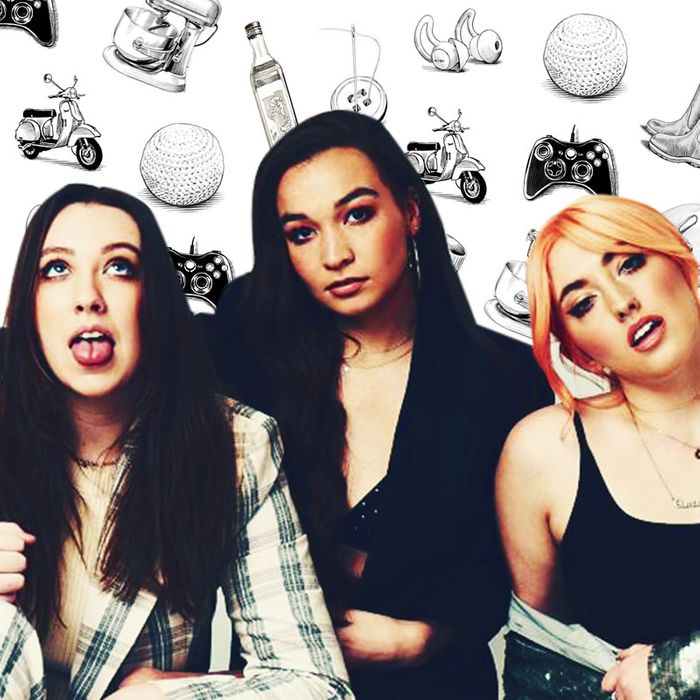 From left, Avenue Beat's Sam Backoff, Savana Santos, and Sami Bearden.
Photo-Illustration: Courtesy
If you're like us, you've probably wondered what famous people add to their carts. Not the JAR brooch and Louis XV chair but the hairspray and the electric toothbrush. We asked pop trio Avenue Beat's Sami Bearden, Savana Santos, and Sam Backoff — whose single "#F2020" became a pandemic anthem on TikTok — about the video games, romance novels, and essential oils they can't live without.
Sami Bearden
I've had bright, colorful hair since high school. Now, it has become such a pandemic thing — everybody has a little bit of a breakdown and dyes their own hair. If I may recommend one dye brand, it's Arctic Fox. They rock. It's vegan and cruelty-free which — hello — is amazing. It also conditions, because it doesn't have ammonia or any of those horrible things. In fact, my hair feels softer after I use it. My favorite color is "Neverland," a really pretty minty green, but I've also used "Sunset Orange" and a purple called "Girls Night." I've gone from orange to light blonde to green to brown during quarantine.