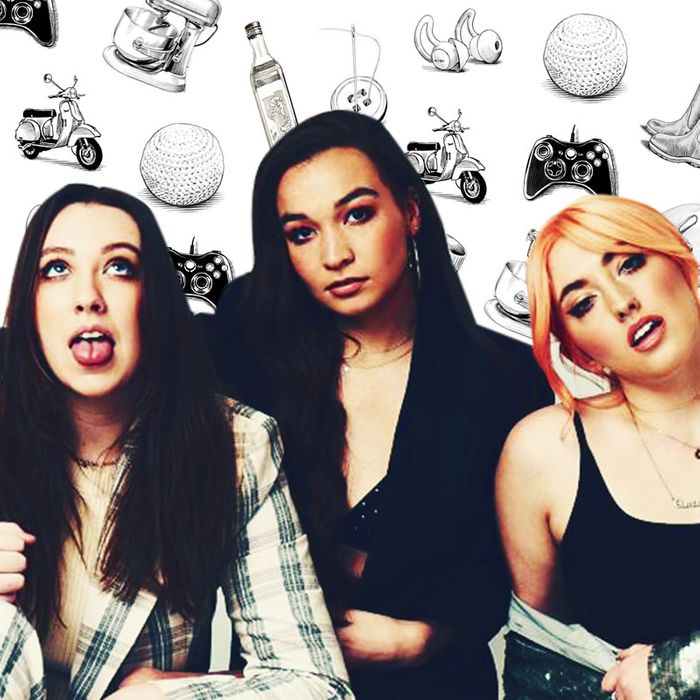 From left, Avenue Beat's Sam Backoff, Savana Santos, and Sami Bearden.
Photo-Illustration: Courtesy
If you're like us, you've probably wondered what famous people add to their carts. Not the JAR brooch and Louis XV chair but the hairspray and the electric toothbrush. We asked pop trio Avenue Beat's Sami Bearden, Savana Santos, and Sam Backoff — whose single "#F2020" became a pandemic anthem on TikTok — about the video games, romance novels, and essential oils they can't live without.
Sami Bearden
I've had bright, colorful hair since high school. Now, it has become such a pandemic thing — everybody has a little bit of a breakdown and dyes their own hair. If I may recommend one dye brand, it's Arctic Fox. They rock. It's vegan and cruelty-free which — hello — is amazing. It also conditions, because it doesn't have ammonia or any of those horrible things. In fact, my hair feels softer after I use it. My favorite color is "Neverland," a really pretty minty green, but I've also used "Sunset Orange" and a purple called "Girls Night." I've gone from orange to light blonde to green to brown during quarantine.
It's peak romance, but it's not just romance. The main character is a fully developed and badass character, and there's so much going on. It's just good. Every woman who's at least partially attracted to men wants a giant Scottish dude who's a fighter but who has a gentle soul. There are four or five books and a TV show. I've watched the first season, and I fully intend to breeze through the rest.
I think for anyone who makes a living being creative, it's important to have an outlet where you can be creative that's not monetizable. I draw on my iPad with my Apple Pencil. I use ProCreate, which is the funniest name of all time. I do a lot of portraits of people and caricatures, but I'm all across the board. In eighth grade, I was really into Disney and wanted to be a Disney animator. Maybe when I'm 50, I'll pull a 180 and do that.
I don't know that I've ever met a soup I didn't like, but Trader Joe's tomato and red pepper soup is unmatched. Take a little bit of a Trader Joe's bagel, toast it, put some cheese on it, rip it, dip it in the soup. Incredible. Immaculate.
Savana Santos