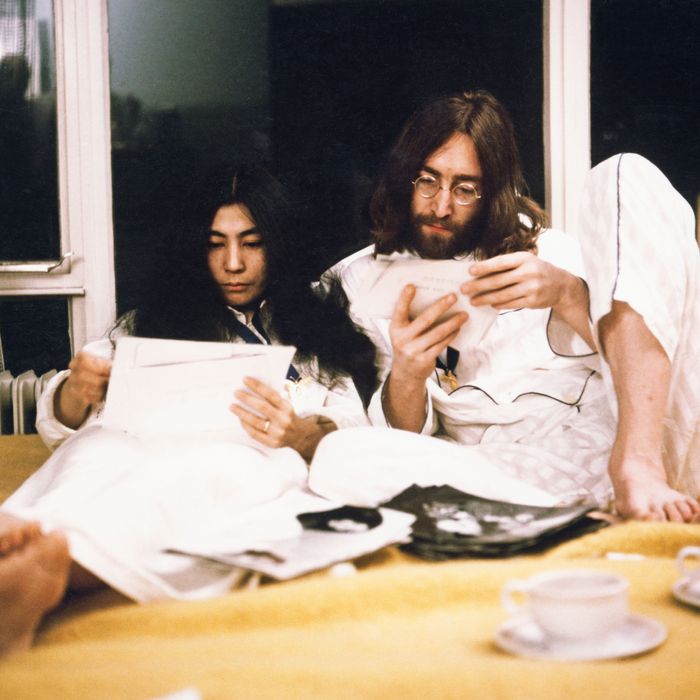 Photo: Mark and Colleen Hayward/Getty/Redferns
Now that fall is officially underway, it's time to get cozy. Well, cozier, since many of us have already been living in lounge pants and oversize T-shirts since March. We're talking warm socks, thick blankets, comfy pajama sets, and all the candles and incense. The fact is, the pandemic will force many of us to spend even more time than normal indoors this winter. Instead of getting sad about it, why not get prepared? We went through all our past soul-warming content to find the items that will bring people the most winter joy — whether they're binging TV or taking a well-deserved nap.
Bedding
The Bearaby Tencel Napper has been one of our Strategist 100 gifts for a reason: It's not filled with plastic or beads like other weighted blankets, just made from cotton and a plant-based material called Tencel. And best of all, it's breathable, letting them keep the coziness going year-round.
A majority of people are side sleepers, which can be tough on the body. But Sarah Riccio, a senior writer at sleep-product review site Sleepopolis, put us onto this cloud-like side-sleeper pillow from Eli & Elm. It "features an ergonomic design that conforms to the precise contours of your head, neck, and shoulders so you're always supported as you roll from side to side," she says. But what makes it cozy is the supportive latex and polyester filling that you can just melt into.
Few objects say I love and care deeply about you like cashmere. Interior designer Grant K. Gibson told us this ribbed cashmere throw from Ben Soleimani is a dream, with a lovely texture that complements the soft cashmere material. "These throws make you want to curl up with a book all day long," he says.
If nearly $500 seems a bit steep for a blanket-based gift, there's always this Calvin Klein vintage-inspired throw blanket, which is as easy on the eye as it is to cuddle up underneath according to interior designer Nick Olsen.
For more than 150 years, Pendleton has essentially been the Dyson of wool blankets (including the high prices). This washable wool blanket, recommended by stylist Emily Henderson, is an affordable entry point for people who one day aspire to own a $400 blanket from the Oregon-based company.
If you equate coziness with total and complete darkness, Strategist writer Rio Viera-Newton recommends copping this incredibly affordable memory-foam mask from MZOO. "As it turns out, memory foam is the perfect material for an eye mask: Just as a good memory-foam mattress forms to your body, this memory-foam eye mask forms perfectly to your eyes, sealing them from any outside light," she writes. "It also happens to be thick, bouncy and cushiony — so if you happen to sleep on your stomach, like me, it almost feels like resting your face on another mini pillow."
In September, Strategist writer Lauren Ro purchased this supersoft sheepskin runner rug for her closet after spotting a similar one in Liv Tyler's home. "As soon as it arrived, my toddler dove onto it and started rolling around like a dog, literally giggling with glee at how nice it felt," says Ro. "We were both immediately obsessed. I still love the inexpensive ones from Ikea we've collected over the years, but these are the real deal."
The lifelong search for coziness really begins at birth, which is why if you know someone who's about to become a parent for the first time, you should gift them the expert-recommended Bbhugme Nursing Pillow. According to boober founder Jane Shapiro, it's "lightweight, super practical, easily adjusted, extremely comfortable, and is the only pillow that places a newborn at the correct height and position for breastfeeding." In other words, cozy for mom and baby.
There are a ton of fancy, memory-foam beds out there for dogs (and people who love their dogs), but that doesn't make them especially cozy. For that, you'll need the Best Friends Donut Cuddler, which is not only a favorite of animal behaviorist Jessica Gore, but owned by three Strategist staffers. Strategist writer Liza Corsillo says she can't get her anxious, 10-year-old pup Uli to leave this bed: "She cuddles up in the bed for hours every day and when I call her to come sit next to me on the couch, she lifts her head and sort of raises one eyebrow at me before tucking her chin back into the bed's fluff," she says.
Clothing
There's not much worse than warm, just-out-of-bed feet meeting a freezing tile floor. To avoid this, give them the gift of Glerups, our favorite wool slipper that can be worn inside or out. As Strategist senior writer Karen Iorio Adelson puts it, "They're comfortable for walking around, and the wool feels warm, soft, and not at all itchy."
Three years ago, Cup of Jo founder Joanna Goddard turned us onto Eberjey's line of pajamas, and, to be honest, we've never looked back. To this day, these soft, buttery, never wrinkle PJs are still one of our most stood-behind gifts.
If you know an expectant or new mom who needs great loungewear, gift her this soft knit onesie from Hatch Collection. Ritual founder Katerina Schneider says it's structured enough to walk out the door in, but comfortable enough to laze around in.
Resident cool person Chris Black put us onto this gorgeous lambswool chunky knit hat from Scottish brand Inverallan. He says it will "warm your dome during those chilly winter walks on the beach in Nantucket with your father-in-law."
If you have a hiker in your life who needs new wool socks, gift them a pair from Vermont-based company Darn Tough. Ashley Manning, a thru-hiker and river manager at Adrift in Utah, told us she usually goes through socks "like crazy, but I've had a pair from Darn Tough for seven years that are only now showing signs of wear." Plus they have a lifetime warranty.