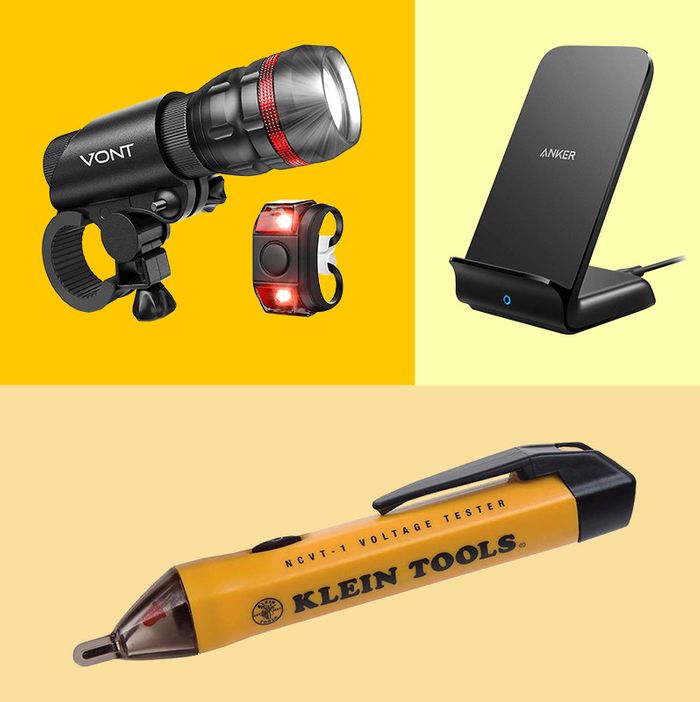 Photo: courtesy of retailers
Everyone, no matter their age, will appreciate finding some sort of useful gadget at the bottom of their stocking. So to help you find winning and affordable alternatives to the commonplace chocolate bars, lip balms, and tiny soaps, we sifted through our archive of tech and tech-adjacent products. Here are the 29 best techy stocking stuffers we've recommended, all of which will run you $30 bucks or less.
If they're always losing their wallet
With the help of an app, this little gadget will chime to let its owner know where it is. Steph Curry has told us he keeps one in his wallet and one on his key chain to save him time searching for them in his house.
If they can't shower without a podcast
A cheap and waterproof Bluetooth speaker is much better than a phone when it comes to listening to The Daily while showering. This one was voted best-rated (less expensive) Bluetooth speaker in our article about portable speakers on Amazon, according to enthusiastic reviewers.
If old tech is new to them …
… And they'd like a low-maintenance pet
Round out their '90s-themed stocking with a Tamagotchi!
If they FaceTime with friends for hours
If their calls are starting to drain their phone's battery life, they'll probably love this David Pogue–approved phone stand–Bluetooth charger combo.
If their apartment or dorm has only one outlet (and it's in an incredibly inconvenient location)
This extra-long charger is a college-kid favorite because of dorm-room limitations, but it'd also work wonders for tiny houses, studio apartments, and cramped cubicles.
If they're not always careful with their laptop (or their drink)
Help them protect the tech at all costs.
If they're too clumsy for AirPods
These headphones are harder to drop or lose than AirPods — and less expensive to replace if they do go missing.
If they're constantly out of juice
Give the gift of extra power.
If they've always wanted a mixtape made by a loved one
This clever trompe l'oeil cassette tape is actually a USB drive that you can load up with sappy love songs.
If they've always wanted a mixtape made by an algorithm
If a mixtape is too much work you can always follow Jonathan Van Ness's lead and get Spotify to build them a playlist.
If they're always late
This sleek forest-green watch is so cheap you could put one in everyone's stocking. It's also available in red, teal, all black, and black with a white face.
If they bike at night
Keep your loved ones safe with a highly rated set of bike lights