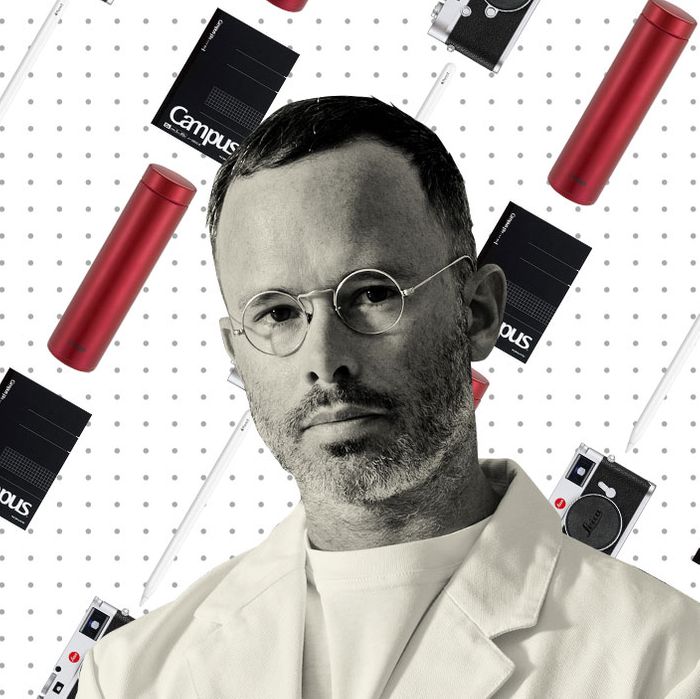 Illustration: The Strategist, Photo: Guillaume Ziccarelli
If you're like us, you've probably wondered what famous people add to their carts. Not the JAR brooch or the Louis XV chair, but the hand sanitizer and the electric toothbrush. We asked New York artist Daniel Arsham, who's also a co-founder of Snarkitecture (which has its own coffee-table book, now), about the Japanese thermos, camera, and notebook he can't live without.
There's a store in Tokyo called Tokyu Hands where I was buying my notebooks for years — I liked that they had grids and were different from what you could get in the U.S. Then a few years ago I redesigned them for the studio by adding a calendar to each page and a clear area with no grid for taking notes.
My wife got this thermos maybe 15 or 20 years ago in Japan, before I even knew her. And now I use it. The design is very simple — a lot of the newer ones have a different seal on top that's just not as functional or as easy to clean. It's very basic and utilitarian and yet kind of perfectly designed. With the newer ones they overthought things and messed it up.
My wife's been buying me these bright green earplugs because I travel so often to different hotels, and they're so noisy that I can't fall asleep. I'll wear these on the plane and put my noise-canceling headphones on over them (I use Beats). So yes, I'm in total zero-sound.
I used to make a lot of drawings as reference for people while I was in the studio, and then I'd try to take a photo of that drawing in really bad light and send it to them, but it was such an imperfect system. Now I use the Apple Pen to draw directly onto my iPad and — the tablet is just a lot more flexible and you have the option of so many different brushes once you get used to the stylus. I can't imagine not having this anymore.