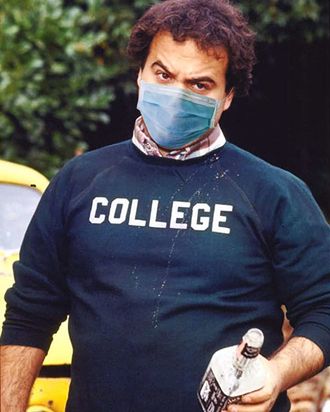 Photo-Illustration: Universal Pictures
According to data collected by Davidson College's College Crisis Initiative (which has been tracking how schools are responding to the coronavirus pandemic), nearly 700 colleges and universities plan to hold classes either primarily or fully in-person this fall. More than 1,000 more are adopting a hybrid or primarily online model that will include at least some students returning to campus. For those students, the college packing list will likely look a little different this year, with newfound essentials like face masks and hand sanitizer joining staples like string lights for dorm-room mood lighting and mattress toppers for extra-long twin beds.
We spoke with doctors, public-health experts, and education professionals to find out exactly what college kids will need to protect themselves — and others — on campus. One thing most experts stressed is that it's primarily the university's responsibility to keep students, staff, and faculty safe by reducing density, promoting social distancing, improving indoor ventilation, testing frequently, and isolating infected individuals. As Kevin Geick, a manager at disease and biohazard cleanup company Bio Recovery says, "Crowded classrooms and dorms, lack of testing, no mandates on indoor masks, and no regular cleanings from professionals can and will cause college campuses to act as powder kegs for COVID-19." If you feel like your school is doing enough to protect its community, read on for individual steps you can take to stay safe.
Face masks
It shouldn't be surprising that face masks were the most frequently recommended item among doctors, as public-health experts agree that well-fitting, multi-layer fabric face masks slow the spread of the virus by preventing the transmission of respiratory droplets. "Make sure your college student has multiple face coverings, enough to wash them daily and have backups ready," says pediatrician Florencia Segura of Einstein Pediatrics. Dr. Teresa Bartlett, medical director at technology-enabled risk, benefits, and integrated business-solution provider Sedgwick, says, "This is key to preventing the spread of the virus and should be worn at all times when outside the dorm room." This 24-pack will allow you to wear a new mask daily for over three weeks. Apostrophe dermatologist Aanand Geria says the Gildan mask has "a soft cotton lining making it breathable and perfect for sensitive skin."
"As we all know, a huge part of college is waiting until the last second to do laundry," says Brian Galvin, chief academic officer at Varsity Tutors. So if you anticipate not doing laundry frequently, or just want to always have a clean mask on hand, our experts recommend buying in bulk. As Dr. Sandra Kesh, an infectious-disease specialist at Westmed Medical Group, says, "There needs to be this constant vigilance about [mask-wearing]. That is probably the number one intervention that's going to keep things at bay."
They're pricier than the Gildan ones, but these Vistaprint masks (with four layers of protection and room for a filter) are among our readers' favorites, and they come in a variety of colors and prints, like this '90s-esque daisy style.
Steven Schnur, a family physician and founder of ImHealthyToday and Elite Health, says students can also look for masks that have been treated with an antimicrobial technology that prevents the growth of bacteria. This mask from Jaanuu, which also makes nurse-beloved scrubs, has a silver antimicrobial layer and comes in packs of five. Schnur says the antimicrobial properties should last six to eight weeks with regular washing. For even more face-mask ideas, we've rounded up the ones health-care workers buy themselves and the best ones for different situations.
Cleaning supplies
Since you should be washing your mask after every wear, you'll want to have enough detergent on hand. Elizabeth Mullans, a dermatologist at Uptown Dermatology in Houston, told us hypoallergenic and fragrance-free detergents (like this one from Arm & Hammer) are best for avoiding rashes and breakouts — because you don't need anything else to worry about. Leann Poston, a physician and content contributor for online prescription service Invigor Medical, advises that students should "have a system in place, where the mask is put into a bag at the end of each wearing until it can be laundered," to keep dirty and clean masks separate. Registered nurse Kimberly Volk of Southwest College of Naturopathic Medicine, says you should also be frequently washing your clothes, too, to keep them sanitized. "Rather than wearing a hoodie or sweatshirt without washing, put it in the dirty clothes and don't wear it again until it's been washed," she says.
While they're sold out mostly everywhere online, nearly all of our experts suggested packing disinfectant wipes or sprays if you're able to find them (you can search local stores at the links above). "Students should bring wipes in small baggies so they're easy to carry around campus," says Volk. "Be sure to wipe down work areas in classes including the desk and chair." Segura recommends them for cleaning all "high-touch surfaces" like doorknobs, light switches, countertops, handles, phones, keyboards, toilets, faucets, and sinks. If you're struggling to find the right products, she says to check this list of disinfectants that meet the EPA's criteria for killing COVID. Internist Nabeel Chaudhary of Manhattan Gastroenterology says you can also look for products that list hydrogen peroxide, ethanol, or quaternary ammonium as an active ingredient.
While you should be avoiding shared surfaces like computer terminals (and washing your hands immediately after touching them) sometimes this is unavoidable on campus. In those situations. Schnur recommends throwing a portable UV light in your backpack to quickly kill germs on common surfaces. As microbiologist Alex Berezow told the Strategist, "UV light is lethal to bacteria and viruses because of its high frequency that scrambles and damages their nuclear material." Because they're reusable (this one should last 10,000 hours according to the manufacturer) UV-light wands are a good alternative to sold-out disinfectant sprays and wipes.
Personal hygiene
Since the beginning of the coronavirus pandemic, we've all been washing our hands more than usual, and you should continue this practice on campus. "You will want to wash your hands with soap and water for at least 20 seconds after returning from class, after using the restroom, before preparing or eating food, and after coughing or sneezing," says Segura. And fortunately all you need is soap and water. "Soap is the best thing to get rid of the virus," says Poston. "It disrupts the lipid coating on the surface of the virus and kills it." We have lots of picks for hand soaps according to both cool people and those who wash their hands a lot, but this one gets rave reviews on Amazon for being gentle on sensitive skin. With all that hand-washing, it won't hurt to use a soap that's easy on your hands.
Since you won't always have access to soap and water, experts stress that you can't pack too much hand sanitizer. "Campuses are full of doors to pull open, communal surfaces in cafeterias and classrooms, and shared books and other learning tools," says Galvin. "Having hand sanitizer for quick cleaning is a must." Amit Roy, an internal medicine physician and medical advisor for eMediHealth, adds that "hand hygiene should be performed immediately before and after any contact with your face covering," too. Segura recommends to "look for a brand that contains at least 60 percent alcohol per CDC guidelines, and be on the lookout for FDA-recalled products containing toxic methanol."
You won't have to dig through your bag looking for your hand sanitizer (and contaminating everything else you touch) with these mini bottles that clip onto your backpack or keychain. This set even comes with a funnel for mess-free refilling.
Both Bartlett and Poston recommend bringing tissues — including pocket-size packs you can throw in your backpack — to encourage coughing, sneezing, and blowing your nose into them instead of into the air.
General health
Because many coronavirus cases are asymptomatic (especially in otherwise healthy young people), taking your temperature isn't a perfect way to tell if you're infected, but if you're feeling ill and also have a fever it could be a sign to self-isolate and seek out testng. "Recognize that only about 40 percent or so of COVID infections present with a fever," says Poston, who still recommends bringing a thermometer for screening. "If the student feels ill, they should assume it may be COVID, if they have a cough, loss of taste and smell, joint pain, or other COVID symptoms." This forehead thermometer has more than 3,000 five-star reviews on Amazon.
Tom Cotter, director of emergency response and preparedness at the healthcare non-profit Project HOPE, says to clean your thermometer with isopropyl alcohol (found in these wipes) after each use. They're also handy for cleaning other surfaces in your dorm room or around campus. "Alcohol wipes are very helpful in disinfecting surfaces that could be possibly contaminated with the virus that causes COVID-19," says Omiete Charles-Davies, a medical doctor at the medical website OneDoctor. "Frequently touched surfaces like doorknobs, light switches, and even mobile phones should be cleaned with these wipes very often."
Dorm essentials
For tossing dirty tissues or cleaning wipes in your dorm room, Poston recommends a hands-free trash can. It's an easy way to prevent germs from collecting on the lid. The Brabantia NewIcon style is an interior-designer-favorite for a sleek take on this not-so-glamorous item.
As with most everything else when it comes to the coronavirus, colleges' plans are subject to change based on new infection data. "Classes may quickly change from in-person to online at the recommendation of governing bodies," says internal medicine physician Shoshana Ungerleider. If that happens, she suggests buying a multi-port USB charger to "keep all of your devices fully charged," and an external web camera for better resolution in Zoom classes.
We were curious about whether fans would do anything to keep air clean in dorm rooms, and our experts say they do — but only if you have an open window for proper ventilation. "The main concern is that air needs to be fresh," says internal medicine physician Sarma Velamuri. "It's ventilation [that's important], more than just moving air around in a closed space." Volk cautions that in the absence of fresh air, fans could actually promote the spread of the virus. If you'll be able to keep your windows open most of the time, it's not a bad idea to get an affordable fan like this one. Otherwise, you can skip it.
You're likely packing school supplies anyway, but both Cotter and Seugra point out that this year you might want to bring a few extra pens, pencils, and notebooks to avoid having to borrow from others. Here are some options you can buy in bulk (writer Curtis Sittenfeld buys the BICs by the box), but you can also peruse of our lists of the top 100 pens and notebooks, as well as the best pencils for drawing.
Similarly, Schnur says you're better off bringing your own water bottle to class than using a shared water fountain. Splurge on the UV-light-sanitizing Larq, or get the so-uncool-it's-cool Nalgene that'll carry all the water you need until you're back at your dorm to refill.
On the go
From studying to socially distanced socializing, experts say it's generally safer to do as many activities outdoors as possible, as the virus spreads more easily indoors. "Bring a beach towel or blanket and you can do your assigned reading outside on the grass and not inside a crowded library," says Galvin. Cookbook author Ali Rosen (who wrote a book on picnicking) loves this blanket because it's portable and easy to clean.
Instead of relying on public transportation to get around campus (or to commute if you live off-campus), Schnur recommends walking or biking. This hybrid commuter bike is perfect for riding to and from class. Besides using your bike for transportation, cycling is also an ideal socially distanced, outdoor form of exercise — a good thing to have because, as Galvin explains, "gyms and rec buildings can be COVID hotspots." If you're not into biking, there's always rollerblading, which has become a bit of a phenomenon this summer, and any of our at-home workout gear recommendations would be good for breaking a sweat in your room or on the quad.
The Strategist is designed to surface the most useful, expert recommendations for things to buy across the vast e-commerce landscape. Some of our latest conquests include the best acne treatments, rolling luggage, pillows for side sleepers, natural anxiety remedies, and bath towels. We update links when possible, but note that deals can expire and all prices are subject to change.