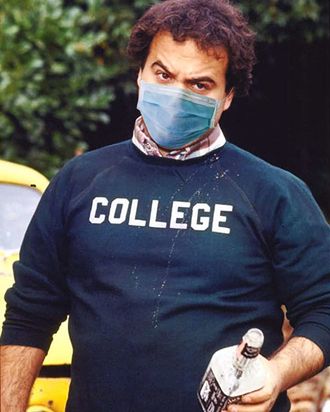 Photo-Illustration: Universal Pictures
According to data collected by Davidson College's College Crisis Initiative (which has been tracking how schools are responding to the coronavirus pandemic), nearly 700 colleges and universities plan to hold classes either primarily or fully in-person this fall. More than 1,000 more are adopting a hybrid or primarily online model that will include at least some students returning to campus. For those students, the college packing list will likely look a little different this year, with newfound essentials like face masks and hand sanitizer joining staples like string lights for dorm-room mood lighting and mattress toppers for extra-long twin beds.
We spoke with doctors, public-health experts, and education professionals to find out exactly what college kids will need to protect themselves — and others — on campus. One thing most experts stressed is that it's primarily the university's responsibility to keep students, staff, and faculty safe by reducing density, promoting social distancing, improving indoor ventilation, testing frequently, and isolating infected individuals. As Kevin Geick, a manager at disease and biohazard cleanup company Bio Recovery says, "Crowded classrooms and dorms, lack of testing, no mandates on indoor masks, and no regular cleanings from professionals can and will cause college campuses to act as powder kegs for COVID-19." If you feel like your school is doing enough to protect its community, read on for individual steps you can take to stay safe.
Face masks
It shouldn't be surprising that face masks were the most frequently recommended item among doctors, as public-health experts agree that well-fitting, multi-layer fabric face masks slow the spread of the virus by preventing the transmission of respiratory droplets. "Make sure your college student has multiple face coverings, enough to wash them daily and have backups ready," says pediatrician Florencia Segura of Einstein Pediatrics. Dr. Teresa Bartlett, medical director at technology-enabled risk, benefits, and integrated business-solution provider Sedgwick, says, "This is key to preventing the spread of the virus and should be worn at all times when outside the dorm room." This 24-pack will allow you to wear a new mask daily for over three weeks. Apostrophe dermatologist Aanand Geria says the Gildan mask has "a soft cotton lining making it breathable and perfect for sensitive skin."
"As we all know, a huge part of college is waiting until the last second to do laundry," says Brian Galvin, chief academic officer at Varsity Tutors. So if you anticipate not doing laundry frequently, or just want to always have a clean mask on hand, our experts recommend buying in bulk. As Dr. Sandra Kesh, an infectious-disease specialist at Westmed Medical Group, says, "There needs to be this constant vigilance about [mask-wearing]. That is probably the number one intervention that's going to keep things at bay."
They're pricier than the Gildan ones, but these Vistaprint masks (with four layers of protection and room for a filter) are among our readers' favorites, and they come in a variety of colors and prints, like this '90s-esque daisy style.
Steven Schnur, a family physician and founder of ImHealthyToday and Elite Health, says students can also look for masks that have been treated with an antimicrobial technology that prevents the growth of bacteria. This mask from Jaanuu, which also makes nurse-beloved scrubs, has a silver antimicrobial layer and comes in packs of five. Schnur says the antimicrobial properties should last six to eight weeks with regular washing. For even more face-mask ideas, we've rounded up the ones health-care workers buy themselves and the best ones for different situations.
Cleaning supplies
Since you should be washing your mask after every wear, you'll want to have enough detergent on hand. Elizabeth Mullans, a dermatologist at Uptown Dermatology in Houston, told us hypoallergenic and fragrance-free detergents (like this one from Arm & Hammer) are best for avoiding rashes and breakouts — because you don't need anything else to worry about. Leann Poston, a physician and content contributor for online prescription service Invigor Medical, advises that students should "have a system in place, where the mask is put into a bag at the end of each wearing until it can be laundered," to keep dirty and clean masks separate. Registered nurse Kimberly Volk of Southwest College of Naturopathic Medicine, says you should also be frequently washing your clothes, too, to keep them sanitized. "Rather than wearing a hoodie or sweatshirt without washing, put it in the dirty clothes and don't wear it again until it's been washed," she says.
While they're sold out mostly everywhere online, nearly all of our experts suggested packing disinfectant wipes or sprays if you're able to find them (you can search local stores at the links above). "Students should bring wipes in small baggies so they're easy to carry around campus," says Volk. "Be sure to wipe down work areas in classes including the desk and chair." Segura recommends them for cleaning all "high-touch surfaces" like doorknobs, light switches, countertops, handles, phones, keyboards, toilets, faucets, and sinks. If you're struggling to find the right products, she says to check this list of disinfectants that meet the EPA's criteria for killing COVID. Internist Nabeel Chaudhary of Manhattan Gastroenterology says you can also look for products that list hydrogen peroxide, ethanol, or quaternary ammonium as an active ingredient.