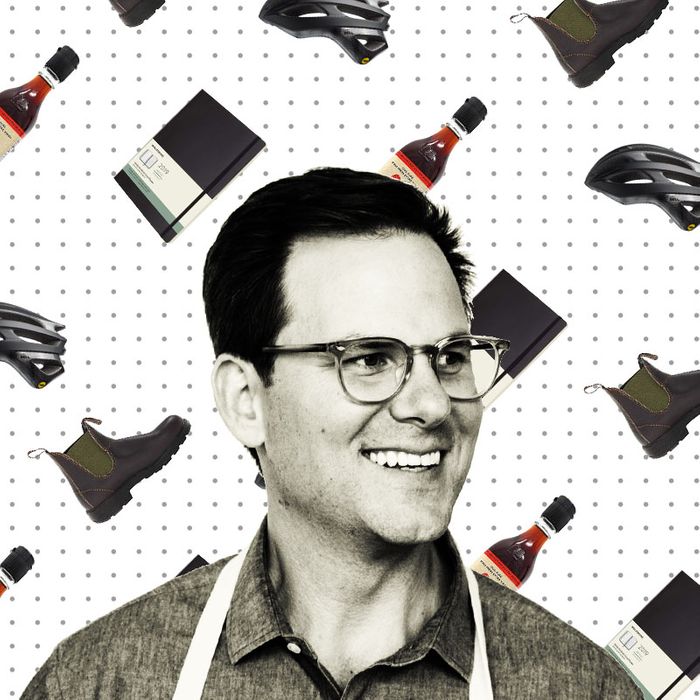 Photo: Courtesy of Hunter Lewis
If you're like us, you've probably wondered what famous people add to their carts. Not the JAR brooch and Louis XV chair, but the hand sanitizer and the electric toothbrush. We asked Food & Wine editor-in-chief Hunter Lewis about the boots, fish sauce, and planner he can't live without.
I got my first pair of Blundstones about 12 years ago, and they became indispensable. I wore them as a professional cook working the line because they were comfortable and easy to clean. I also could wear them hiking, and then when I started working in food media, I could dress them up with jeans and a blazer. I just feel good every time I wear them. They're so practical, I'll get shout-outs from other people wearing them. The shoe-shine guys will comment on them. When I met Laura Brown of InStyle, I was wearing them, and she gave them a nod. I feel like that gave me fashion cred.
Everyone needs a wallet, and this is the first one I've had that makes me feel like an adult. It doesn't fit a lot so you have to keep it minimal. It forces you to edit. Simple, sleek, functional.
I'm totally obsessed. I started using the Red Boat about five years ago, and back then it was only in Southeast Asian applications, but now I find it's the most versatile ingredient in my kitchen. It makes salad dressings taste deeper and bolder. It's great in any marinade for any type of protein. It just adds a backbone of a savory note. Anywhere you'd use anchovies in Mediterranean or Italian applications, you can use it. It even makes ranch dressing taste better. And it's rare that you'd ever use it in a way that would have the fishy note come forward. Red Boat makes the very best fish sauce out there. If I'm in a kitchen and there's no Red Boat fish sauce, I feel like I've got one hand tied behind my back.
This is something I started using last year because I'm on the road so much. Most everything I have lives digitally on my Outlook calendar, but I find that if I don't write something down, I don't remember to do it. It's like taking notes in a meeting — if it didn't come through a pen on a piece of paper, chances are I won't remember it. I also just like the size of this notebook and how the calendar is built-in.