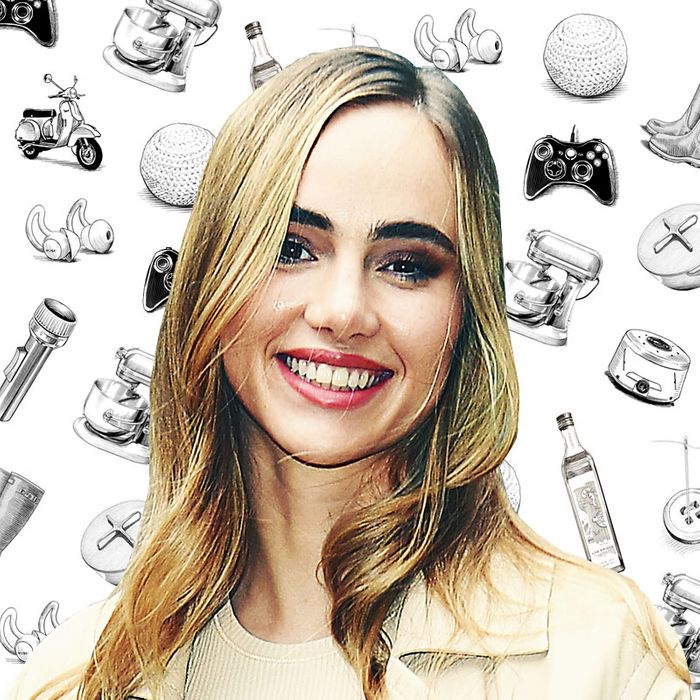 Photo: Daniele Venturelli/WireImage/Getty Images, Illustration: Joe McKendry
If you're like us, you've probably wondered what famous people add to their carts. Not the JAR brooch and Louis XV chair but the hair spray and the electric toothbrush. We asked model and actress Suki Waterhouse — who stars in the horror film Seance, which is now available to stream — about the alarm clock, board game, and lip gloss she can't live without.
I heard about this at dinner with friends. One girlfriend had the most amazing-looking lips that night — they looked big and soft. I asked her what she had on and it was this. Now I'm obsessed and so impressed with the results. I think it genuinely makes my lips look pillowier. It has a slight gloss, but I use it more as a balm. I put it on throughout the day and really smother it on at night before I go to sleep so I can wake up with pillowy-looking lips.
This is one of those books that I've gone back to many times over the years. I have a sort of obsession with the 1970s and I would say this book is one of the most incredible portraits of that time period. Everybody knows about, like, Patti Smith's book, but Duncan Hannah, who's an artist, basically gives you his diary. It's like being a fly on the wall in 1970s New York. Duncan had just arrived from Minneapolis as an art student and was game for anything. He was really into drugs and girls and alcohol and movies and rock 'n' roll — basically everything that you would expect a young guy to be into during that time. There's a part about him hanging out with Lou Reed that I love. He doesn't have such nice things to say about him, but you get this portrait of Lou Reed from such a different point of view. There's all sorts of great stories in the book. Every bit of it feels like a page out of a movie. It's an incredible read.
I got into film photography as a teenager. I've collected a lot of cameras over the years and this has been my favorite film to shoot with for a while. I love using it in natural light because it picks up halos of light around whatever I photograph in ways that other films don't. It's also particularly good for taking photos at night. The colors come out so true to life, so I use it to shoot neon lights or streetlights because I always get incredible results and the grain is really fine.
It's a much more peaceful way to wake up. It rather sweetly wakes me up very gradually — about 15 minutes before the time I want to wake up, it starts to shine a really nice light in my face. It has a bird-chirping sound that I use, too, so I wake up to soft lighting and birds chirping, which is just so much more lovely than my phone's alarm. I feel less groggy and I think it makes me a happier, less grumpy person.
Apparently a Danish father made this for his kids and it became a big hit, which is the sweetest story ever. This game has kept me going over the past year. I played it endlessly for hours while drinking wine and hanging out with people. It was a phenomenal discovery. You basically try to shoot the ball into the other person's goal and there's a magnetic stick that goes under the board and controls what's sort of like a goalie. It's great if you don't have space for a normal Foosball table — this is kind of a mini-version of that. You can just whip it out wherever. Even though it's small, games can still become quite aggressive. I challenge anyone and everyone to a game of Klask. If you set foot in my house, you're playing Klask. There are actually professional Klask players and there are lots of videos online that you can watch — I've been watching quite a lot of them recently.
I found out about these from a makeup artist on set. I'm not super-knowledgeable about the science, but the wipes absorb less product than regular cleansing pads because of the blend of fibers they're made from. Unlike cotton pads, which kind of soak up everything, these leave more product on my skin and less on the pad, which saves me time and money.
There's nothing like it. It transformed the texture of my skin, which can look like a scaly old lizard half the time. There's a facialist, Shani Darden, out in L.A. whom I've been seeing since I was 21. She recommended this to me. I was quite young then, but I'm still obsessed. My skin looks brighter and more even from using it.