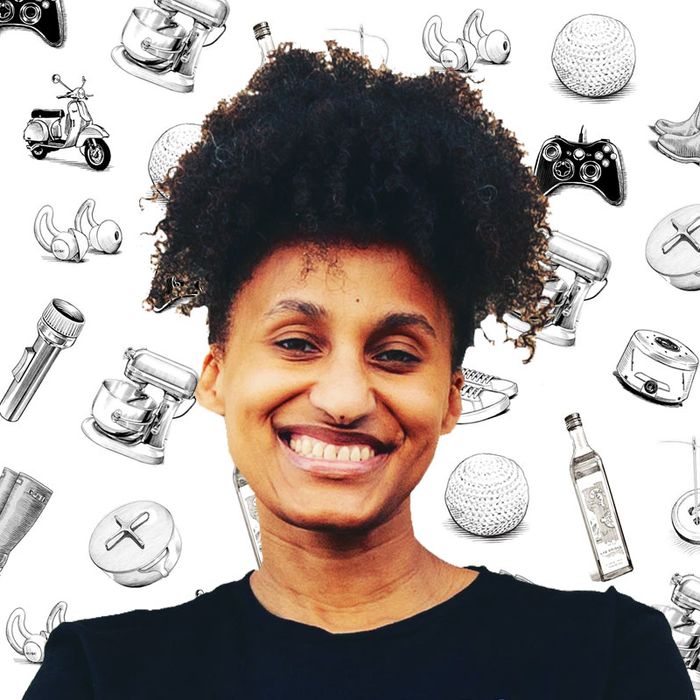 Photo: Emily Scott; Illustration: Joe McKendry
If you're like us, you've probably wondered what famous people add to their carts. Not the JAR brooch and Louis XV chair but the hair spray and the electric toothbrush. We asked Dr. Akilah Cadet — the founder and CEO of Change Cadet and chief creative officer of Represent Collaborative — about the tea, T-shirt, and shower cap she can't live without.
When I was diagnosed with a rare heart condition, my life changed. I get shortness of breath; I tire easily. Then, I started having mobility issues on my left side, and I had to wear a brace on my left ankle for the longest time. There was no point in me wearing a heel or an uncomfortable shoe. So I started buying more sneakers. This was the only shoe that allowed me to have fashion and comfort, and it fit over my brace because it's a very thin, lightweight shoe. I could have a fabulous skirt on and sweater and wear the reddish-gold ones and look cute. I'm obsessed with them.
I interviewed Jacquelyn De Jesu, the founder of Shhhowercap on my podcast last season. I love the Shhhowercap so much because my hair fits in it, and it's big. I have a lot of hair, so with the traditional, plasticky, disposable shower cap, it's like a whole chore to get it in there. When I wear braids or twists, they're very long and blonde and they'll fit in the Shhhowercap, too. It travels well. I have one shower cap that I've had for like three years. My favorite is the Baldwin, the new print of last season, because I have a matching robe — it's a look. It's my Black Is King vibe. I love that it's made by a woman who is scrappy in the best way. We don't hear a lot about innovators anymore, and she's an inventor. She's changed the game of an everyday type of product, similar to Spanx.
A couple of years after apartheid, I was a student ambassador for the United States of America and spent a month in South Africa. That's the first time I experienced hard-core racism. I think it's probably one of the reasons why I'm in the work that I'm doing. I love this book because he does such a beautiful job of finding ways to talk about difficult things, inserting humor and sarcasm, and holding people accountable for the how and why. I highly recommend the audiobook because he narrates it. There are times when he's speaking Xhosa, and you can just hear his voice, sarcasm, and tone, which I just love. I'm not gonna ruin it for you, but he shares a lot of great stories about his upbringing and how it ties back to him being Black and white, and how he came to America, how people view him, his friends. He has depression, and he still finds joy and talks about it publicly, like I do. Sometimes, I put on the audiobook just to hear him in the background to affirm the work that I'm doing. I don't think he's single, but if this makes the list, let him know I'm available.
This tea reminds me of my grandmother, who passed away. She'd make her Earl Grey tea and put Carnation condensed milk in it, so it was just super-sweet and delicious. I learned a lot from my grandmother. She taught me how to be fearless.