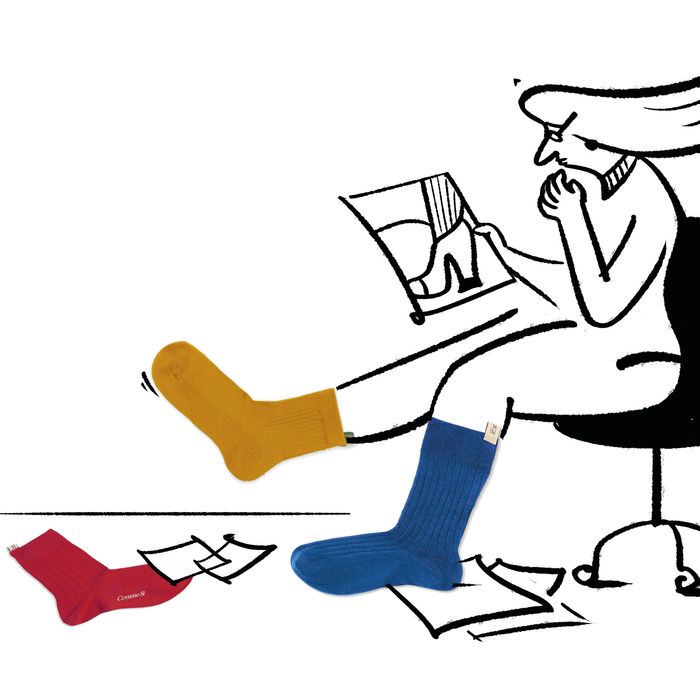 Assistant is a bit of a catchall term. Sure, assistants schedule meetings, take notes, and retrieve coffee, but they can also act as quasi concierges, sending fruit baskets to top clients and buying gifts for partners. For this special edition of our "Assistant Files" series, we sat down with six of them to uncover the most memorable, unusual, or hardest-to-find holiday gifts they've had to buy. Ahead, you'll find accounts of an eight-month odyssey to track down a bottle of whiskey, making mood boards of clients' feet, and trucking in two tons of snow to transform a Bel-Air cul-de-sac into a winter wonderland.
25 Sock Sizes
Marcella, an assistant to the CEO of a production company, was asked to buy Comme Si socks for 25 clients with whom the managing director had personal relationships. Each VIP was to receive three pairs in a variety of materials and colors to match their personal style. But there was one problem: The managing director didn't have any of their shoe sizes. "It was one of those moments where you have to keep your composure, like, 'Oh, no problem,'" Marcella says. She first asked colleagues who had worked closely with the clients to guess their shoe sizes, then found all of the recipients on Instagram. "I'm looking at their feet, screenshotting pictures, and blowing them up," Marcella says, explaining that she used a photo of her own foot as a scale to estimate the women's sizes. "People would walk up to my computer like, 'What are you doing?' I'm like, 'Listen, mind your business.'" (For the men, she figured that even if the medium/large was too baggy, it could be worn with boots.) Marcella then made a mood board to gauge which colors would go best with each client's aesthetic and referenced it to assemble everyone's custom three-pack when the socks arrived. She ended up getting all of the sizes correct.
Champagne at Just the Right Time
For a virtual holiday party, Tricia, an assistant to the founders of a beauty company, was asked to send all 20 employees a bottle of Champagne that was meant to be simultaneously popped near the end of the Zoom. But five minutes in, she started seeing people opening theirs in the background; one member of the IT department was drinking directly from the bottle. As the celebration progressed, she noticed more and more colleagues becoming jollier, and one was visibly nodding off. Her boss wasn't happy, Tricia says, because she had planned to share an Instagram Story of all her employees popping the bottles at once. "She's very Miranda Priestly, so when things don't go her way, she kind of purses her lips," Tricia says.
Winter in Bel-Air
Create a "winter wonderland" in Bel-Air: that was the assignment Stephanie, a celebrity TikToker's personal assistant, was given last December. Her boss didn't specify a particular amount of snow, but it was meant to be a surprise for his four housemates, whose reactions would be filmed for a YouTube video. Luckily, Stephanie happened to know of a fake-snow company — Arctic Glacier. So she promptly ordered its "grade A snow service." The day of, an Arctic Glacier employee arrived with two giant blocks of ice, which he shaved down and began blowing through a machine. The influencer's housemates were then blindfolded and brought outside for the reveal. "Everyone was very shocked to see snow in the middle of the cul-de-sac," Stephanie says. After a few minutes of throwing snowballs and sledding on inflatable pool toys, she hosed the snow down so it would melt faster. The video reached 2 million views.
A Very Vague Cookbook
When Lauren, an assistant at a production company, was tasked with buying holiday gifts for the team, her boss suggested one employee be given "a funny cookbook because they can't cook for their life." Lauren says this colleague's lack of culinary skills was well known in the office because she was "always complaining" about it; she would ask other employees for easy recipes and had once brought in burnt cookies. It was Lauren's idea to give her Snoop Dogg's cookbook, and after it was delivered, she says the recipient messaged her that the present was hilarious.
Some Extremely Rare Spirits
Because her boss is "very into Christmas," Edie, a stylist's assistant, typically begins shopping for gifts in March. One client mentioned that he hadn't been able to buy the previous year's limited-edition bottle of Pappy Van Winkle bourbon, so the stylist asked Edie to track down the new version. She began calling spirits stores, but since the distiller famously produces highly limited quantities and doesn't announce release dates, many of the shops' wait lists were already too full for Edie to have a chance at the handful of bottles allotted to them. After reaching out to 80 stores in Manhattan, Edie found one in midtown that put her down as No. 9 or 10 on the wait list. She then called weekly asking for updates, to the point, she says, that "the poor salesman was like, 'Please don't harass me. I'll let you know when it comes." Finally, right after Thanksgiving, the salesman called to say the shipment had arrived and he would set a bottle aside for her. "I probably cried because I was so stressed out trying to find this bottle of Pappy," she says. She brought the whiskey to the office, where she packed it up with a Tiffany crystal decanter and glasses before having it DHL-ed to the client's vacation home in Las Vegas. It was "ridiculously expensive," Edie says.
Pajamas for Everyone
During lockdown, Morgan, an assistant at a tutoring business, teamed with her boss to come up with a gift for the company's 25 employees that would show its appreciation at a time when many of the workers were struggling. Morgan's boss had one stipulation, though: that the gift be branded with the company name. Finance-y Patagonia vests were too expensive, Morgan says, and her boss's suggestion of portable chargers didn't make sense given that the entire team was stuck at home. She then had the idea to give customized Snuggies, but her boss pushed back. "I was like, 'Trust me. Everybody's going to love this,'" Morgan says, reasoning that all the employees were working from their couches and beds. They were a hit. "We had a running joke that this tutoring company's branded Snuggie was the hottest Snuggie in town," she says, "like an exclusive club."
The Strategist is designed to surface the most useful, expert recommendations for things to buy across the vast e-commerce landscape. Some of our latest conquests include the best acne treatments, rolling luggage, pillows for side sleepers, natural anxiety remedies, and bath towels. We update links when possible, but note that deals can expire and all prices are subject to change.