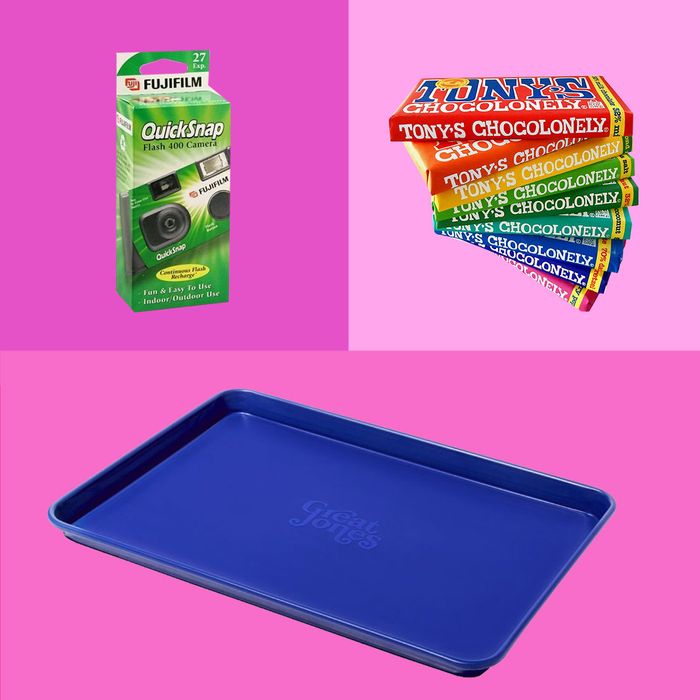 Whether you've been together for six months or six years, choosing a birthday gift for a boyfriend can be a tall order. And even if he claims he "doesn't need anything" or "wants for nothing," it's probably best not to begin the day empty-handed — especially considering that this year there probably won't be a big night out to lift his spirits. To help you find the right gift — whether that's something he can enjoy the day of, or a present he can use throughout the year ahead — we've gathered a bunch of options for pretty much every boyfriend, from biker boyfriends to fitness boyfriends to cooking boyfriends. While all of the things on this list are available on Amazon, we've found some of them elsewhere, too, for those who like to shop around.
For the boyfriend who's only in it for the cake
Give him the tools to get that perfect slice. This elegant stainless-steel set is dishwasher-safe, yet has something of a family-heirloom quality to it.
For the boyfriend who loves sports … and cake
It will take a little bit of work, but you can use this pan to bake a truly impressive cake that looks like a volleyball, basketball, or baseball — one Strategist writer has even used this to bake a cake shaped like the planet Earth.
For the boyfriend who hates cake
An assortment of status chocolate bars with wrappers as festive as any birthday cake.
For the boyfriend who prefers savory to sweet
For the boyfriend who collects wine
When we wrote about the best gifts for wine lovers, we discovered a new way to display a nice bottle on the table: this elegant-looking but surprisingly affordable coaster that can hold a bottle. It will make his at-home birthday dinner feel a little fancier, but it isn't all aesthetics: Like any other coaster, its design keeps drips off of the surface beneath it.
For the boyfriend who collects cheese
A lovely cherry cutting board worthy of only the finest fromage. Boos boards are so good, in fact, that chef Eden Grinshpan told us she put one on her wedding registry, and chef Missy Robbins told us she uses them as a surface for making the pasta at Lilia.
For the boyfriend who bikes
New York City bike messenger Paul Solis told us these bike tires are a must for anyone who rides over cobblestones, flat ground, and dirt on the regular. "I like a good tread, because the NYC streets are gnarly. There's glass everywhere, too," he says, telling us that the tires go months without getting flat because of their thick wall and lining.
For the boyfriend who blends
Whether your boyfriend makes protein shakes or pesto, he might be looking for a fresh piece of gear to do it with. When we asked chefs and wellness experts about the best blender, several raved about this affordable model, giving it almost as much praise as they did the $550 Vitamix Series 750. Among the compliments paid to what one expert calls the "mightiest little blender": It's "portable," "gets the job done without occupying too much countertop space," and "easy to clean but still has great blending ability."
For the boyfriend who gets nostalgic on his birthday
A photo album is a timeless, thoughtful gift — and recently, a new crop of actually nice-looking ones have emerged. Strategist writers Liza Corsillo and Nikita Richardson are particular fans (and happy owners) of this thick, cloth-bound album, which holds up to 300 photos.
For the boyfriend who's not on Instagram
A Strategist-approved disposable camera for the boyfriend who'd rather keep his memories to himself. (It would also be charming to bundle in with the photo album.)
For the boyfriend who's losing track of time
This sleek, under-$100 watch will help him keep track of the time (and date), and its mesh metal band won't get sweaty in the heat. It got the nod of approval from James Stacey, a senior writer at Hodinkee, when we asked him about the best men's watches for under $200. "For the Apple crowd that isn't into an Apple watch, this kind of Dieter Rams aesthetic — clean and minimal, but not to the extent that it's not functional — works really nicely," Stacey says.
For the boyfriend who prefers a pizza party
If he doesn't have access to a brick oven, this steel sheet will help him make pizzas that rival Speedy Romeo–level crispness at home. When researching the best sheet pans, according to bakers and chefs, Great Jones's came in at number one, in part for its pizza-making abilities. "Just preheat it in your oven for 30 minutes or so and slide your pizza right on it," cookbook author Molly Yeh told us.
For the boyfriend who's stressed about turning 30 (or 40 or 50)
Some Roman numeral candles can turn the big 3-0 into a much more sophisticated (and sexier?) "XXX."
For the boyfriend who likes coffee with his cake
This Bonavita number was a favorite of the experts we asked about the best coffee makers, thanks to its ability to brew at the proper water temperature.