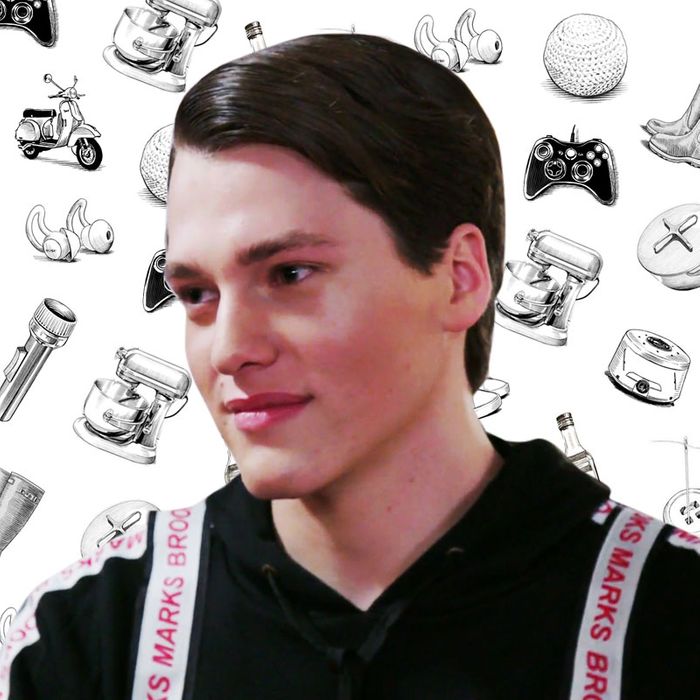 Photo-Illustration: Bravo
If you're like us, you've probably wondered what famous people add to their carts. Not the JAR brooch and Louis XV chair, but the hair spray and the electric toothbrush. We asked The Real Housewives of Salt Lake City's Brooks Marks — who recently launched his eponymous clothing line — about the spot treatment, socks, and cauliflower pizza crust he can't live without.
I've worn these my entire life. They sell them at Costco; whenever I went there with my mom or babysitter growing up, I would always get socks. And they're the most comfortable socks ever. They're marketed as women's socks, but every guy in my family has worn these. They are superthin. They fit perfectly with every pair of shoes. It almost feels like nothing is on your feet, but it's not like you're wearing a shoe without socks. I don't really find a lot of people wearing them, but it's one of those things where if you see someone else wearing them, you have a special connection. I probably have about 24 pairs of white and 24 pairs of black. The only bad thing about these socks is I lose them all the time.
Apple Music has every song I have ever searched for. They offer a college discount, which I obviously took advantage of, but it's affordable even without that. Right now, my playlist has a lot of Nicki Minaj. I love her. Other songs I love right now: "Cover Girl," by BIA; "Expensive," by Ty Dolla $ign, featuring Nicki Minaj; "Team," by Xavier Weeks; and "All Eyes on You," by Meek Mill, also featuring Nicki Minaj.