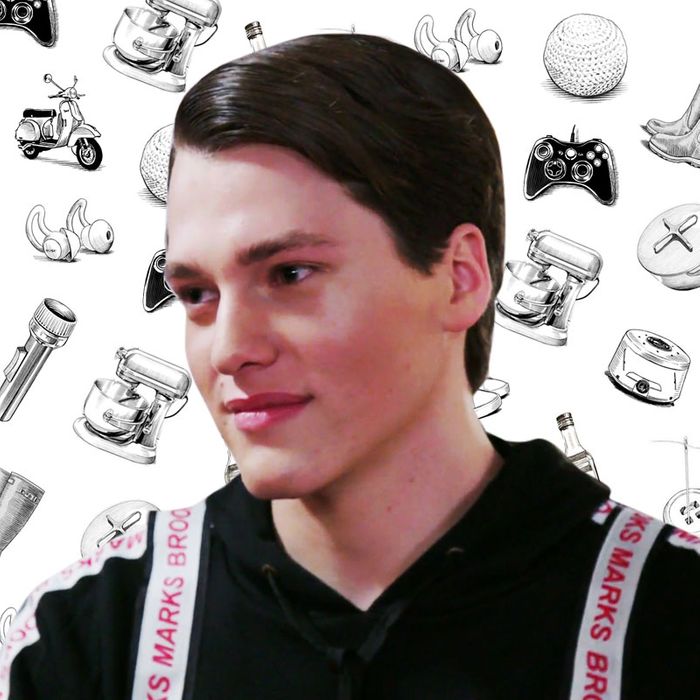 Photo-Illustration: Bravo
If you're like us, you've probably wondered what famous people add to their carts. Not the JAR brooch and Louis XV chair, but the hair spray and the electric toothbrush. We asked The Real Housewives of Salt Lake City's Brooks Marks — who recently launched his eponymous clothing line — about the spot treatment, socks, and cauliflower pizza crust he can't live without.
I've worn these my entire life. They sell them at Costco; whenever I went there with my mom or babysitter growing up, I would always get socks. And they're the most comfortable socks ever. They're marketed as women's socks, but every guy in my family has worn these. They are superthin. They fit perfectly with every pair of shoes. It almost feels like nothing is on your feet, but it's not like you're wearing a shoe without socks. I don't really find a lot of people wearing them, but it's one of those things where if you see someone else wearing them, you have a special connection. I probably have about 24 pairs of white and 24 pairs of black. The only bad thing about these socks is I lose them all the time.
Apple Music has every song I have ever searched for. They offer a college discount, which I obviously took advantage of, but it's affordable even without that. Right now, my playlist has a lot of Nicki Minaj. I love her. Other songs I love right now: "Cover Girl," by BIA; "Expensive," by Ty Dolla $ign, featuring Nicki Minaj; "Team," by Xavier Weeks; and "All Eyes on You," by Meek Mill, also featuring Nicki Minaj.
This pizza crust is so great because it's gluten free, vegan, dairy free, and nut free. I really like a vegetable pizza; I'll get some tomato sauce, vegetables, and cheese from Union Market and then just put it on one of these and bake it.
It's a beautiful, striking book celebrating Black culture and fashion. I keep a copy on my coffee table in my apartment in New York. Veronica Webb wrote the foreword and Naomi Campbell wrote a blurb on the back cover. I love her.
After turning 21 in July, I started to explore everything that the alcohol world has to offer. This is a game changer. One of my friends introduced me to it. It's a modern-day wine opener. It creates a microscopic hole in a cork that's big enough to pour wine by the glass while still preserving the rest of the bottle. It has this — I don't even know what it's called. You know how a whipped-cream can uses pressure, not gravity, to force the cream out of the can? This does that for wine.
My skin has always been one of my biggest insecurities. I've tried hundreds of skin-care products. This drying lotion is very different from your standard cream or cleanser; it instantly diminishes any blemish overnight. I've been using it since I was 14 or 15: I take a Q-tip, dip into the pink product at the bottom, and dab it onto any blemish. I bought it after visiting my friend in Chicago — her older sister had a friend over who was dipping a Q-tip into this glass jar. I had never seen something like it before; it was the weirdest application ever. So I asked a million questions about it, then went and bought the product. It's been a lifesaver, to say the least.
I can't stand the taste of coffee, but I am a huge lover of green tea. It sets the perfect vibe for a day. I know that a lot of people like to use a kettle, but I just take a pot of water and boil it. And I know that some people like to steep their tea before they pour it into a mug, but I leave my tea bag in the mug the entire time, because I like a very strong tea. I ignore the number of minutes you're supposed to steep it for.
I use this soft tape measure for basically everything. I use it a lot for my clothing brand: I oversee everything about it, from the packaging, to the clothes, to the size charts, to the hangtag measurements, to the clothing labels sewn into the back of my hoodies. Last month, my mom was taking measurements for her RHOSLC reunion dress, and she was like, "I don't have a soft tape measure." But I had mine. It comes in handy for literally anything and everything.
Water is always my No. 1 drink of choice. I've always been a huge water drinker. I mean, I know everyone has to be in order to survive, but I really do drink a lot of water. I drink at least a gallon every day and sometimes add lemon for fun. The Brita pitcher is brilliant because it purifies tap water and eliminates the need for disposable water bottles. I keep one in my fridge in my apartment in New York.
A not-so-fun fact about me is that I have a dry scalp. I've tried many products to alleviate the itchiness — Head & Shoulders, Selsun — and these are my favorites by far. They have a cooling effect that I love. The shampoo lathers flawlessly, and the conditioner gets to each of my hairs and hydrates them. They have a very luxurious feel for a very affordable price, in my opinion.
I will obviously use any hand sanitizer that is available, as I am completely neurotic when it comes to the coronavirus. But if there is an option, Purell is 100 percent my go-to. I love how it leaves absolutely zero stickiness behind, and it has a sanitary scent, unlike other hand sanitizers that smell like tequila or Expo markers.
I am constantly working on new designs and projects. Until recently, I always created my designs the old-fashioned way: on paper. Then my mentor Christian Cowan introduced me to the world of designing on an iPad with an Apple Pencil. It's now one of my favorite things to do. The pencil is extremely comfortable to use — it has amazing precision, and it eliminates the stresses of drawing a line incorrectly or spending a lot of time erasing. Plus, you save paper.
I've been obsessed with robes since I was 12. When my mom designed this one, I told her all of my thoughts about what the perfect robe should have. It needs to offer total moisture absorption — the worst thing is getting out of the shower and being freezing because you're still wet. And it needs to be comfortable — nobody wants to get out of the shower and put on a robe that sticks to the skin. The second that I put this on, it absorbs any water on my body. The robe is made from 100 percent Turkish cotton, inside and out. It makes me never want to put my clothes on.
The Strategist is designed to surface the most useful, expert recommendations for things to buy across the vast e-commerce landscape. Some of our latest conquests include the best acne treatments, rolling luggage, pillows for side sleepers, natural anxiety remedies, and bath towels. We update links when possible, but note that deals can expire and all prices are subject to change.