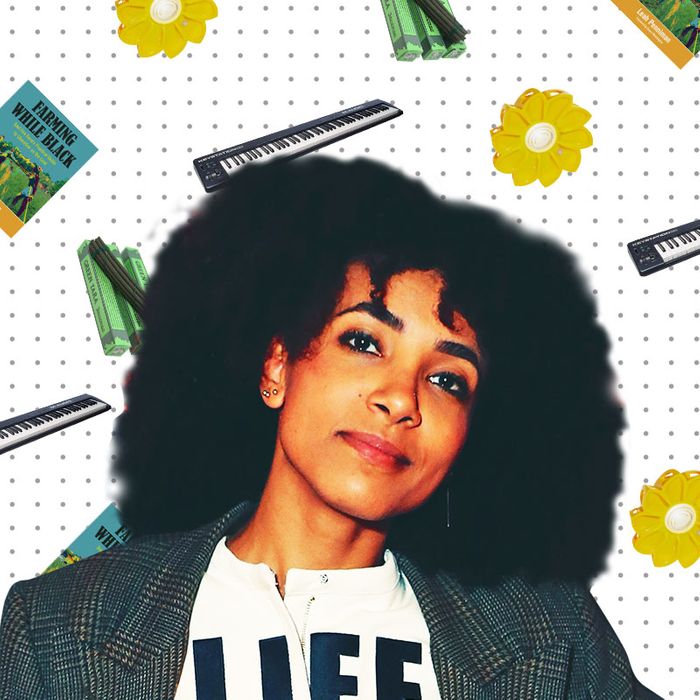 If you're like us, you've probably wondered what famous people add to their carts. Not the JAR brooch and Louis XV chair, but the hand sanitizer and the electric toothbrush. We asked Esperanza Spalding — musician and Harvard music-department teacher — about the incense, menstrual cup, and keyboard she can't live without.
This hand-rolled incense smells like a slightly sweaty man, but I kind of like that smell. I find it comforting because it smells like somebody that you love who worked really hard all day and is just around the house smelling a little bit funky. It has that smell to me. I find it really, really soothing. Especially in fancy hotel rooms, where there's often a clinical, floral smell. I really am very sensitive to smell, so this kind of brings the earth back into the room for me.
Most of us have heard of the Diva Cup. I just happened to find this one at this little spirit shop near my house in Brooklyn and grabbed it. You know, you can't be squeamish about your own body. I mean, it was not easy to figure out the placement of the cup — it's a leap of faith, still every time. But, I'm just grateful that folks are starting to really think about what sustainability looks like. And also you're less dependent on purchasing something every month, which is really powerful. I could also just see this as a tool for making women's lives easier in many places in the world where it's hard to access what they call "feminine hygiene products," because you just need one, and you can use it forever.
This book is so deep. I am really motivated by this vision that I have of engaging in some modality of communal land use, collective land stewardship by artists, or by individuals who really want to stay in proximity to the practices that nourish us, that keep us alive, like food production. I think well-being is deeply linked to connection with land. I don't know yet what my engagement with that practice looks like, but I read this book for inspiration and guidance. And I just love all the pictures of beautiful, stylish black people with their hands in the soil. In food sovereignty, you know.
I have to confess, I don't use very many colors. I just pretty much use blue and black. Sometimes I put rainbows above lists that I'm making. Did you ever use all the crayons in that giant Crayola box? There's something about knowing you have the option that makes it that much more of a delight when I'm just writing in blue. I love blue. And blue's one of my favorite colors — that's not relevant. I just feel empty if I don't have that pen on me. It's so ridiculous, but I do.
This is a play on those old black-and-white composition books. They're made out of 100 percent post-consumer paper — that's why they're called Decomposition Books. The one I have right now has light bulbs on it. I found it at the food co-op in Portland, Oregon, and I was moved by the 100 perecent post-consumer recycled nature of them. I use them for everything — for note-taking on calls, for lyric-writing, for mission-plotting. I don't know what happens to all that stuff I write down, but it's a part of my process, keeping information flowing.
Yeah, I mean, there's still plenty of plastic in these. And, you know, one individual purchasing a speaker that has a little bit of plastic isn't going to do much, but it's just an awareness practice, of looking at the materials of the things I buy. So when I needed a speaker I was just wondering, like, What are the options? It's a good exercise in discipline if nothing else. It can be a very disheartening practice because you realize just how much plastic we are accustomed to interfacing with. I will notice that when I choose not to buy something because it's plastic I often find out that I didn't really need it.
This is 100 percent plastic all over. All plastic, all the time. I have a smaller version for travel, but I have this if I know I'm going to be somewhere for a while, and I don't have a piano, because that's where I like to compose. And I'm just starting to delve into the world of making tracks — synthesized composition, composition with synthesized materials, electronic materials. That's a very new practice and I'm just dabbling in it now. Just having it there makes me be like, Alright let me sit down and see what sounds I can find and jam.
I've been really investigating my identity lately, as a descendent of very mixed people. I'm embracing my blackness. I'm embracing my lineage of African descent as a strand within my total identity, and it's a space that I dance my own black magic. And this sweatshirt is like a power garment. I don't wear it a lot outside of the house, but if I wear it, I'm like, Okay, today I am committing to being a practitioner of my own black magic. I want to clarify, I don't mean like, "dark arts" or something; I mean it like, cultural black, ancestral black, black of the mystery. Black like void, black like the inside of the womb where all life emerges from, black like the inside of your veins, black of infinite space and infinite potentiality.
You charge this thing up for 4 hours, and you can get 50 hours of dim light, like a low reading light, and 4 hours of bright light. To me, that's an incredible piece of technology. It's so basic, but it's so critical. And to those of us who are really, really acclimated to having lights on anytime we want we want, it's easy to forget how integral light is just for basic operating once the sun goes down — for the household, for study, for safety. And I really love that this company is super dedicated to … distributing illumination. It is made out of plastic, so we're still working through that, but I love it. It's nice to have a little reading lamp that you can charge with the sun. I love that as a portable symbol for the direction that we're headed.
Photo: Elena Mudd Photo
I love that this company's focus is sustainability and ethical craftsmanship. Well, actually, I should rephrase that: Their focus is on ethically sourcing the labor, and they particularly give jobs to women textile makers who are keeping alive their traditional craft of weaving, and the stories and narratives that are held in the patterns of their weaving. I love it because it's soft and perfect and warm, and I can roll it up into a pillow when I'm traveling. Or, if I'm feeling very grand, I'll wear it as a poncho. This is also a power garment for me; it feels ceremonial. I wore it when I recorded my album Exposure. Actually, I think that's why I don't often wear it as a poncho, because when I put it on as a poncho, some shit's about to go down.
The Strategist is designed to surface the most useful, expert recommendations for things to buy across the vast e-commerce landscape. Some of our latest conquests include the best acne treatments, rolling luggage, pillows for side sleepers, natural anxiety remedies, and bath towels. We update links when possible, but note that deals can expire and all prices are subject to change.