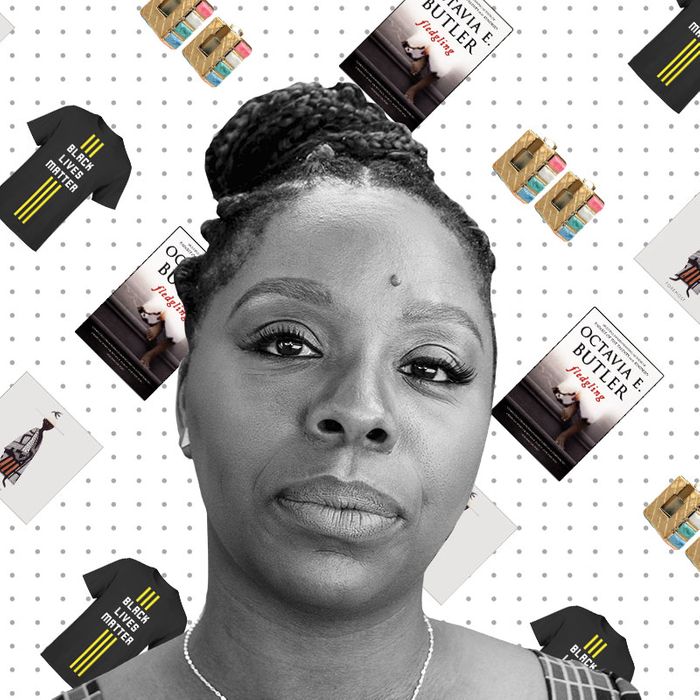 If you're like us, you've probably wondered what famous people add to their carts. Not the JAR brooch and Louis XV chair, but the hand sanitizer and the electric toothbrush. We asked artist, activist, and Black Lives Matter co-founder Patrisse Cullors — who will be presenting at the National Immigration Law Center awards this month — about the book, earrings, and art she can't live without.
Octavia Butler is one of my top favorite authors, and my favorite sci-fi writer of all time. Her writing is always at the intersection of race, class — and in this instance, vampires. I love fantastical things, and because this focuses on vampires and not humans it adds another element of imagination. In the book, she's having a conversation about racism, but through vampires, and you just never know where that's going to go. You're reading it, reading it, reading it, and then it takes a hard left, and you're like Oh shit, I didn't realize we were going to go into these deep political topics. Even though she always does that in her books. I've read pretty much all of them, but this was my favorite. She died pretty soon after she wrote it, so it has a lot of sentimental value for me.
I found Jennifer Fisher on Instagram because, you know, good old Instagram. I think J. Lo was wearing them and she tagged Jennifer Fisher, and I was like, Oh let me look at these hoops, and went to her page. I fell in love with her jewelry, but also her story — I don't think she started off as a jeweler, she was doing something else, and then became a mom and started to make jewelry. The hoops are kind of a staple. I travel a lot, and it's the jewelry that goes in my little jewelry purse and is my go-to earring. I was just in Houston for the debates, and I wore them there.They're just super classy.
I watched it for the first time when I was probably 8 or 9, and it was the first movie that I remember consciously crying and having an emotional response to. I just remember my older brother, who really took care of us because my mom worked a lot, was so worried about me, he was like, What's going on? Are you okay? I remember him ushering me into my room to calm down. It was interesting because I was so grateful he was nurturing me, but I wasn't ready to stop watching the film. It's a staple. I watch that movie at least once a month. It's nostalgic. Now I think the acting is not that great, so I don't think it could make me cry the way it did as a kid, but it's so nostalgic and reminds me of my childhood.