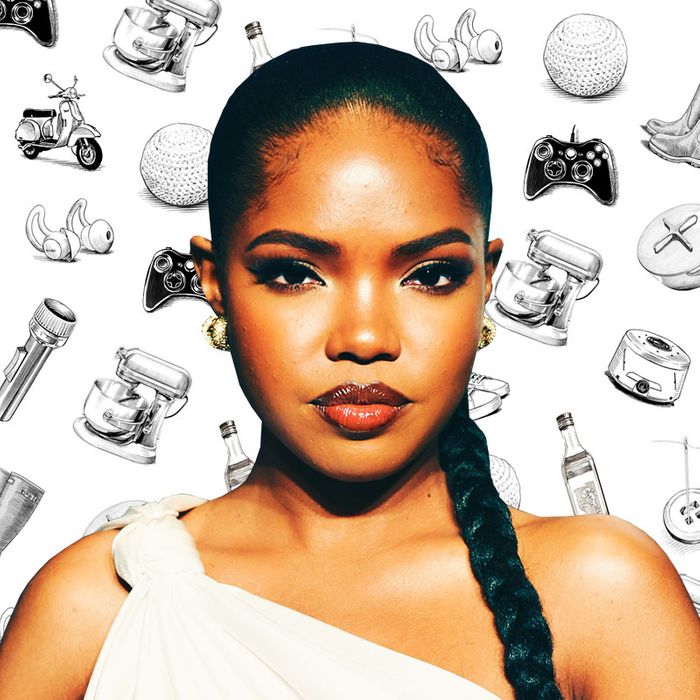 Photo: Rodin Eckenroth/WireImage, Illustration: Joe McKendry
If you're like us, you've probably wondered what famous people add to their carts. Not the JAR brooch and Louis XV chair but the hairspray and the electric toothbrush. We asked actress and singer Ryan Destiny — who recently became a brand ambassador for Black Opal Beauty — about the sparkling water, pimple patches, and air fryer she can't live without.
I go through candles like crazy, but this is the only one I've come across that I could smell as soon as I took the lid off. The fragrance filled my living room before I even lit it. The scent is hard to describe — it smells like a really great perfume. I used to like things that smell really sweet, but now I'm into bittersweet scents, which this has.
I used to have a really bad habit of drinking pop. This is what I drank to get me off of it. It tastes so good, it seems like a scam. It's the best sparkling water I've ever tasted, hands down. My top two flavors are peach and pineapple coconut.
I went through years of having dry, chapped lips, and I tried so many different lip balms. Even Aquaphor's actual lip balm doesn't work as well as this healing ointment. It has been the best thing ever for my lips. I don't need to reapply it like crazy, and they stay super-hydrated. It's also so easy to find.
This is my favorite feminine wash. I went through a lot of washes at a time when I was learning more and more about the ingredients that should be in them. I learned that certain washes we see in stores aren't exactly the best for down there. I found a natural feminine wash I liked, but it was hard to get — Honey Pot is sold at Target, so it's easy. It has a lot of the same ingredients as the natural one I liked and doesn't irritate me at all, like others have. It just keeps things smelling fresh. It's good at that.