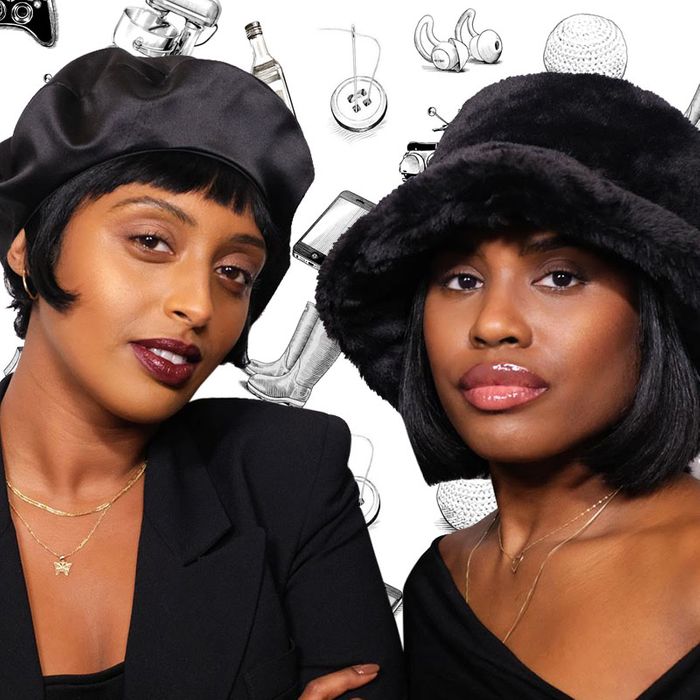 From left, Banna Nega and Shelby Macklin.
Photo-Illustration: Nayquan Schuler
If you're like us, you've probably wondered what famous people add to their carts. Not the JAR brooch and Louis XV chair, but the hairspray and the electric toothbrush. We asked Shelby Macklin and Banna Nega — the designers and co-founders of Glazed NYC — about the body lotion, home fragrance, and health supplements they can't live without.
Shelby
It's magic water. Banna actually got me into it — one of her good friends is from Paris and told her about it, so I started using it, too. I put it on a cotton round and use it to take all the dirt and makeup off of my face. It's so good for taking off makeup and not abrasive at all, and it has no smell.
My boyfriend gave it to me. It has a handle, so it's cute to carry around. I listen to music to start my days and get my mindset right. It motivates me and wakes me up. Playing music from my phone is fine, but the speaker gives it a different vibe. Lately, I've had SZA and Rihanna on repeat.
I struggle with really dry skin, especially in the winter, and Palmer's is the only thing that truly penetrates mine and leaves it moisturized for hours on end. I've been using it my entire life. I'll rub it on my feet, my hands, my face. I love to use it on models in photo shoots, too. It just gets your skin glowing and brings it to life. You see other people with these very glam products that are very expensive. But this most basic cocoa butter gets the job done.
The Kindle app has won me over. I don't actually read physical books that much anymore because I can read them on my phone with this. I love having a nice, organized hub for all of my books and having it right there on my phone is really nice. I'm also damn near blind, so it's nice to be able to change the text and make it nice and big. Right now, I'm reading Million Dollar Women: The Essential Guide for Female Entrepreneurs Who Want to Go Big by Julia Pimsleur.
It's called Libre and I'm a Libra, so it kind of called to me from across Sephora. It reminds me of me. It's fun, but still glamorous, and sweet without being childish. I feel grown wearing it. I even got my mom into it.
The Break is my favorite boutique in Brooklyn and I don't think enough people know about its 7pm Candle. It's the best. I like it better than Byredo. It smells really sexy and it's great for nighttime. Whether you are having dinner or just watching TV, it really sets the mood because it spreads throughout an entire home. Some candles are only really good for one room, but this one penetrates through walls. Whenever I have to gift someone something, it's a 7pm candle.