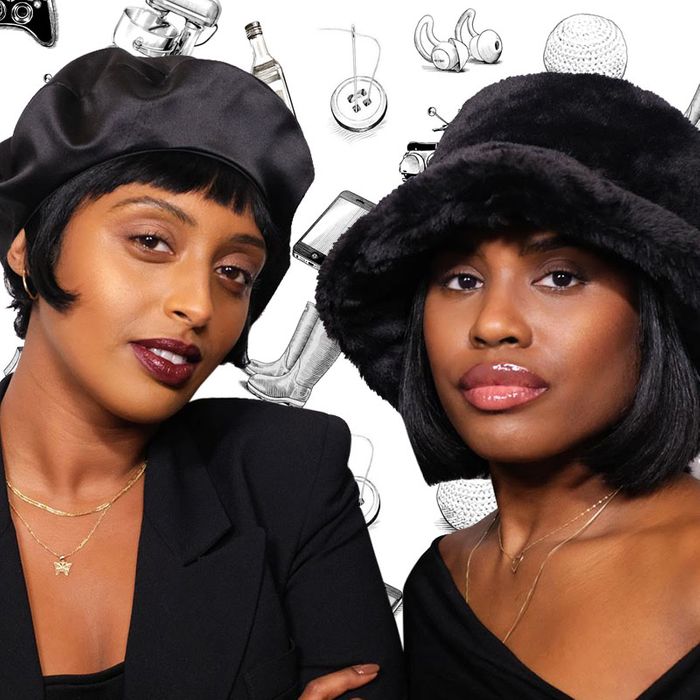 From left, Banna Nega and Shelby Macklin.
Photo-Illustration: Nayquan Schuler
If you're like us, you've probably wondered what famous people add to their carts. Not the JAR brooch and Louis XV chair, but the hairspray and the electric toothbrush. We asked Shelby Macklin and Banna Nega — the designers and co-founders of Glazed NYC — about the body lotion, home fragrance, and health supplements they can't live without.
Shelby
It's magic water. Banna actually got me into it — one of her good friends is from Paris and told her about it, so I started using it, too. I put it on a cotton round and use it to take all the dirt and makeup off of my face. It's so good for taking off makeup and not abrasive at all, and it has no smell.
My boyfriend gave it to me. It has a handle, so it's cute to carry around. I listen to music to start my days and get my mindset right. It motivates me and wakes me up. Playing music from my phone is fine, but the speaker gives it a different vibe. Lately, I've had SZA and Rihanna on repeat.
I struggle with really dry skin, especially in the winter, and Palmer's is the only thing that truly penetrates mine and leaves it moisturized for hours on end. I've been using it my entire life. I'll rub it on my feet, my hands, my face. I love to use it on models in photo shoots, too. It just gets your skin glowing and brings it to life. You see other people with these very glam products that are very expensive. But this most basic cocoa butter gets the job done.