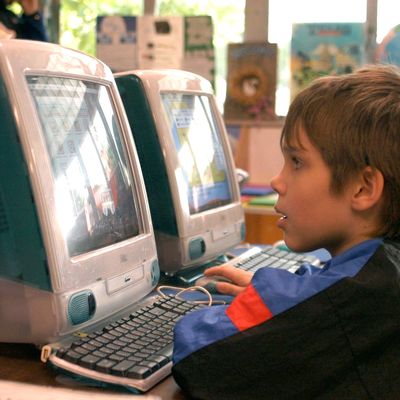 With the end of the school year approaching and many summer camps closing due to lingering coronavirus challenges, many parents are at a loss for what to do with their kids. They're also exhausted (rightly so) and not too jazzed about the idea of trading the role of untrained homeschool teacher for counselor at camp quarantine. But there is hope. As with everything these days, from haircuts to bat mitzvahs, you can find a ton of virtual options to stand in for almost any kids' summer activity. They may not be able to take an in-person gymnastics class with ten other children, but they can practice their beam routine via live livestream with a certified instructor. And if you're looking to help your kids brush up on their math or reading skills, there are a ton of academic-enrichment programs offering one-on-one tutoring and online classes for kids of all ages — including a bunch that are free. We talked to education experts about the best online classes and the kinds of learning kids need most right now.
Dr. Laura Phillips, a clinical neuropsychologist at the Child Mind Institute's Learning and Development Center, points out that due to school closures and the transition to remote learning, kids are at even greater risk of backsliding academically over the summer. To help support them, she suggests incorporating some academic work every day. "Younger, elementary school parents can think about incorporating 15 to 20 minutes of reading, writing, and math into the day," says Phillips, noting that closer to 30 minutes of each of those core subjects is good for middle and high school kids.
Khan Academy
Khan Academy is a nonprofit organization that offers free online courses for preschool kids all the way through high school. Your 4-year-old can get help learning letters, or your junior high student can catch up in AP chem. For those younger kids, the Khan Academy Kids app guides uses a friendly cartoon bear named Kodi to guide them through core early-learning subjects with a focus on creativity and social emotional skills. Meghan Fitzgerald, a former school principal, experienced educator, and co-founder of Tinkergarten, an educational resource focusing on learning in nature, uses Khan Academy Kids with her own children, saying that when they are engaging in screen time, she wants it to be really high-quality.
ABC Mouse
ABC Mouse is an easy-to-navigate online-learning universe for kids ages 2 through 13. For $60, you and up to three children get a year's access to hundreds of early-learning activities for a year. There are games, e-books, sing-alongs, printouts, and even a progress tracker. The whole thing is designed to be fun and easy for children to follow, with step-by-step, age-appropriate learning paths curated by teachers and educational experts.
Outschool
Imagine your 10-year-old son wants to take beginner Spanish and your 14-year-old daughter wants to try her hand at playwriting but you only have a certain amount of free time to get them to their classes a week. Outschool lets you fit both of those classes into your schedule with no commute time. Since they already had an online video class model in place before school closures and social distancing, Outschool has the system down pat. Classes for kids from 3 to 18 years old start at just $5 and can be done as a drop-in or as weeklong courses. And right now, they are offering a host of popular classes free of charge due to COVID-19.
Mystery Science
Fitzgerald and her kids are also fans of Mystery Science mini-lessons. Mystery Science is a membership-based online library of science and nature lessons primarily designed for K–fifth-grade teachers to use in their classrooms. However, due to school closures, they now offer a curated list of their most popular lessons, including explorations into biodiversity and meteorology free for anyone to use.
Scholastic Learn at Home
Scholastic's Learn at Home program offers free, four-week lesson plans for children from pre-K through middle school. Each week has daily lessons catered to grade level and curated from Scholastic's vast library of books, videos, and games. Lessons start with movement challenges to help kids get ready to learn through read-alongs, writing prompts, drawing, and critical-thinking practice.
MoMath
The National Museum of Mathematics is hosting a ton of spring and summer programming, from virtual field trips and free family Fridays to online student sessions. In many cases, classes are pay-what-you-can. Whether you've got a burgeoning fifth-grade statistician or a kindergartener who enjoys puzzles, there is most certainly something for you.
The Greer Meister Group
Caitlin Meister, founder of The Greer Meister Group, a private tutoring and educational consulting practice in Brooklyn, started offering small-group enrichment sessions after noticing how much of the community aspect of school was missing from remote learning. She says that "academic success for children often relies on a child feeling that they belong and that their voice is heard and respected in the academic environment." According to her, groups of three or four children interacting with a teacher over Zoom allows for that sense of community much more than larger groups. These small groups are often made up of kids who are friends or classmates, which helps them reconnect with their peers. Meister is also offering classes free of charge to children of frontline health-care workers and says that doesn't just apply to doctors and nurses. "We are liberal with how we define frontline health-care workers. If somebody is a janitor in a hospital or providing food service in a hospital, I consider that just as important of a role," she says.
Smarten Up
Another way for parents to give their children an academic boost this summer is Smarten Up. In addition to private tutoring and test prep, Smarten Up offers small-group workshops in a variety of subjects, from foundational writing and word problems to yoga and origami. Or you can sign your child up for their weeklong summer sessions for elementary, middle, or high school kids.
Mel Science
Mel Science is an educational subscription box service much like KiwiCo, MontiKids, and Nido Box, which we've written about before, for kids who are into science experiments. With each subscription, you also get access to a library of online science webinars (which they have made free due to the coronavirus) led by real-life scientists who guide your kids through hands-on chemistry, physics, or life-science lessons. Kids get a chance to interact and ask questions in a group setting. Some of the webinars require supplies found in one of the Mel Science kits; others you can do with household products.
Art,
music,
theater,
and
cooking
"One of the really unfortunate consequences of moving to distance learning is that it's removed a lot of the fun from the learning process," says Meister. According to her, kids learn best when they are exploring something they are passionate about, even if that thing is ice cream. She says that summer break is a great opportunity for children to pursue an interest they didn't have the time or opportunity to address during the traditional school year. Both Phillips and Meister encourage project-based learning and point out the ways in which studying things like cooking or the history of skateboards can teach kids about science and math.
The Dynamite Shop
Started by a James Beard Award–winning food writer and the former executive editor of Saveur as a culinary social club for teens and tweens in Park Slope, Brooklyn, the Dynamite Shop has pivoted their in-person cooking classes online. Young cooks aged 7 to 15 can join one of two daily afternoon classes (depending on their time zone), where they will learn to cook a hearty family meal. The spring semester is already underway, but drop-in classes are available, and a new schedule will be announced soon.
The Blue Balloon School
In these online classes, children learn to play an instrument through writing their own songs. Classes are available for kids ages 3 through 18, in small groups or as private, one-on-one lessons and include lyric writing, song structure, rhythm, and instruction on their chosen instrument.
Tinkergarten
If they love making mud pies or observing bugs in the wild, Tinkergarten's online offering is a great way to keep them busy. Fitzgerald and her husband started Tinkergarten as a free resource to help families get outside and take advantage of the early-learning opportunities nature has to offer. Now, with social distancing, they are offering weekly online live sessions where kids and families can follow along with DIY nature activities like building a bird feeder, planting seeds, or making paper from scratch. There are even ideas for how to bring nature indoors for families with limited access to outdoor space.
Sloomoo Institute
If your kid is crazy about slime, you can encourage their passion by signing them up for one of the Sloomoo Institute's online slime-making classes. For $20, they'll get an ingredient list, a one-hour lesson taught by an expert over Zoom, and a follow-up video so they can make their slime over and over again.
Sawyer
If you'd rather browse a ton of different classes to see what sparks your kids' imagination, Sawyer is your one-stop shop. They host a ton of drop-in, semester- or summer-long classes, from hip-hop and toddler yoga to coding and foreign languages, taught by instructors from all over the country.
Phillips tells us that a lot of the physical aspects of school have been lost with remote learning. Things like moving from circle time to their seats and moving from the classroom to the cafeteria to recess are an integral part of their daily education. "That movement is really, really helpful for mental health, for helping kids recharge their focus and attention and for helping with executive skills," says Phillips. So adding some sort of regular physical education to their summer schedule will help them manage stress and prepare for learning.
GoNoodle
Chances are, your kids have already moved to a GoNoodle dance or yoga video in school. The movement and mindfulness videos are used by millions of educators nationwide. But they also offer free weekly roundups of kid-friendly activities on their site, including some that feature special guests like the Harlem Globetrotters, who will teach them about balance and coordination.
Industry Gymnastics
Meister recommends Industry Gymnastics, which has made the most of their kids' classes available as free videos for kids from infants up to 8 years old. On top of getting your kids moving and helping them practice their somersaults and backbends, Meister likes that they are one of the rare gyms that offer gender-nonconforming classes. "Gymnastics can be challenging for kids who are gender-nonconforming, 'cause it's such a gendered sport. But this gym has done really amazing work in remedying that by making all children feel included," she says.
Activity Hero
Like Sawyer or Outschool, Activity Hero is a one-stop shop for online classes from hundreds of different teachers and schools across the country. In addition to art and academic classes, they also offer a huge swath of sports and movement classes from beginner Tae Kwon Do and soccer to virtual ballet and aerial-circus lessons.
The Strategist is designed to surface the most useful, expert recommendations for things to buy across the vast e-commerce landscape. Some of our latest conquests include the best acne treatments, rolling luggage, pillows for side sleepers, natural anxiety remedies, and bath towels. We update links when possible, but note that deals can expire and all prices are subject to change.