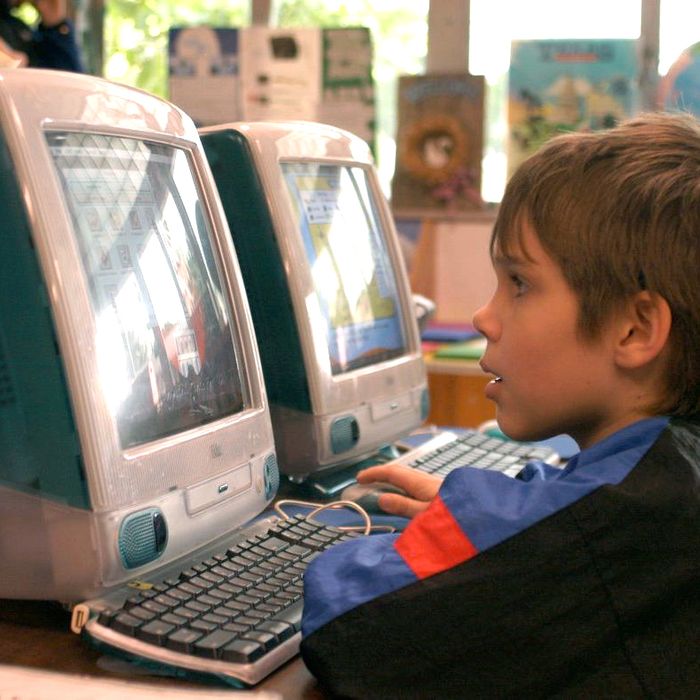 With the end of the school year approaching and many summer camps closing due to lingering coronavirus challenges, many parents are at a loss for what to do with their kids. They're also exhausted (rightly so) and not too jazzed about the idea of trading the role of untrained homeschool teacher for counselor at camp quarantine. But there is hope. As with everything these days, from haircuts to bat mitzvahs, you can find a ton of virtual options to stand in for almost any kids' summer activity. They may not be able to take an in-person gymnastics class with ten other children, but they can practice their beam routine via live livestream with a certified instructor. And if you're looking to help your kids brush up on their math or reading skills, there are a ton of academic-enrichment programs offering one-on-one tutoring and online classes for kids of all ages — including a bunch that are free. We talked to education experts about the best online classes and the kinds of learning kids need most right now.
Dr. Laura Phillips, a clinical neuropsychologist at the Child Mind Institute's Learning and Development Center, points out that due to school closures and the transition to remote learning, kids are at even greater risk of backsliding academically over the summer. To help support them, she suggests incorporating some academic work every day. "Younger, elementary school parents can think about incorporating 15 to 20 minutes of reading, writing, and math into the day," says Phillips, noting that closer to 30 minutes of each of those core subjects is good for middle and high school kids.
Khan Academy
Khan Academy is a nonprofit organization that offers free online courses for preschool kids all the way through high school. Your 4-year-old can get help learning letters, or your junior high student can catch up in AP chem. For those younger kids, the Khan Academy Kids app guides uses a friendly cartoon bear named Kodi to guide them through core early-learning subjects with a focus on creativity and social emotional skills. Meghan Fitzgerald, a former school principal, experienced educator, and co-founder of Tinkergarten, an educational resource focusing on learning in nature, uses Khan Academy Kids with her own children, saying that when they are engaging in screen time, she wants it to be really high-quality.
ABC Mouse
ABC Mouse is an easy-to-navigate online-learning universe for kids ages 2 through 13. For $60, you and up to three children get a year's access to hundreds of early-learning activities for a year. There are games, e-books, sing-alongs, printouts, and even a progress tracker. The whole thing is designed to be fun and easy for children to follow, with step-by-step, age-appropriate learning paths curated by teachers and educational experts.
Outschool
Imagine your 10-year-old son wants to take beginner Spanish and your 14-year-old daughter wants to try her hand at playwriting but you only have a certain amount of free time to get them to their classes a week. Outschool lets you fit both of those classes into your schedule with no commute time. Since they already had an online video class model in place before school closures and social distancing, Outschool has the system down pat. Classes for kids from 3 to 18 years old start at just $5 and can be done as a drop-in or as weeklong courses. And right now, they are offering a host of popular classes free of charge due to COVID-19.
Mystery Science
Fitzgerald and her kids are also fans of Mystery Science mini-lessons. Mystery Science is a membership-based online library of science and nature lessons primarily designed for K–fifth-grade teachers to use in their classrooms. However, due to school closures, they now offer a curated list of their most popular lessons, including explorations into biodiversity and meteorology free for anyone to use.
Scholastic Learn at Home
Scholastic's Learn at Home program offers free, four-week lesson plans for children from pre-K through middle school. Each week has daily lessons catered to grade level and curated from Scholastic's vast library of books, videos, and games. Lessons start with movement challenges to help kids get ready to learn through read-alongs, writing prompts, drawing, and critical-thinking practice.