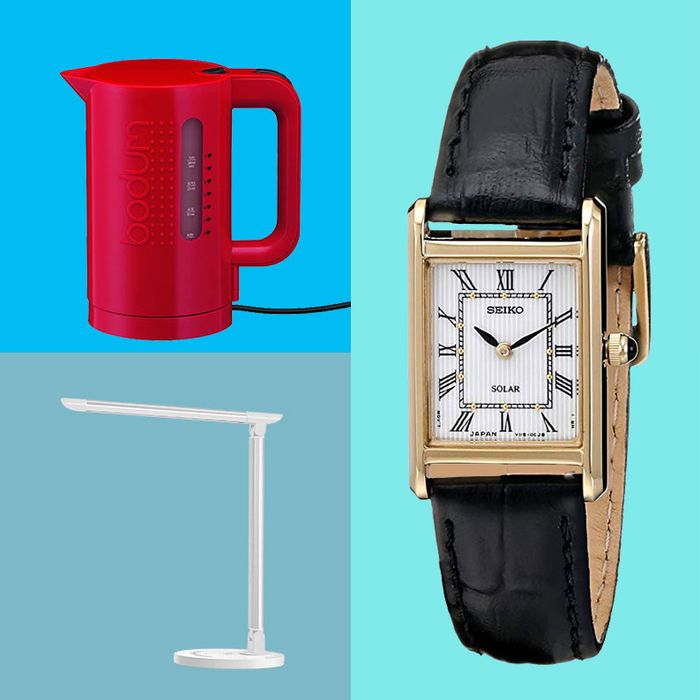 Photo-Illustration: Courtesy of the retailer
As we noted in our mega gift guide for every kind of mom, not all women like the same things. Some are into cashmere sweatpants. Others like a pair of new show shoes. Bearing that in mind, we've attempted to find Valentine's Day gifts for several dozen specific female archetypes that we hope will at least spark some ideas. All of the items below are on Amazon, which means they'll get here fast. (And check out our guide to Valentine's Day Gifts for Every Type of Man.)
For the woman who has Zoom meetings back-to-back
If she has been considering buying a ring light for more flattering Zoom-call illumination, give her this TaoTronics desk lamp instead. According to Strategist writer Jordan Bowman, it "doesn't just work as great makeshift ring light; the seven brightness settings and five color modes will solve pretty much every lighting problem you might have."
For the woman who needs some help falling asleep
According to sleep experts, a tracker like this one from Withings/Nokia will help her figure out which habits may be leading to a lack of shut-eye — whether it's too much coffee or too much screen time — by giving feedback about how well she sleeps each night.
For the woman who needs a little help waking up
More gentle than a shrieking alarm, this clock taps into the fact that our bodies naturally rise with the sun by imitating the effect of increasing sunlight.
For the woman with parched skin
She'll appreciate this African shea butter, which is a favorite of Princess Nokia. "African shea butter is a great moisturizing agent that a lot of Caribbean and Black people use. It's something I grew up with in Harlem," she told us when we asked about the things she can't live without.
For the woman who wears her heart … on her sock
She may not be able to throw her annual Valentine's Day party this year, but she'll still appreciate these festive socks.
For the woman who has a varied cocktail repertoire
Give her the bitters that one beverage director calls a "staple" — with their slightly fruity flavor, Peychaud's bitters are perfect for Sazeracs.
For the woman who starts her day with a brisk walk
Whether or not she's actually planning to hit the slopes, this "Dik-Dik" face cover from our favorite street-ski brand Matek will keep her face warm, and it has a built-in mask and filter system.
For the woman who hates watching her bouquets wilt
This DIY miniature bonsai kit comes with soil disks, biodegradable growing pots, seeds for four different kinds of bonsai trees, and a guide that will help her get everything set up.
For the woman who loves a clean slice
Wüsthof is one of the best German steel knives companies out there, and this two-piece prep set will be ideal for chopping everything from garlic to an unwieldy head of kale.
For the woman who prefers her plants "self-sufficient"
She'll never have to worry about forgetting to water this artificial monstera (which looks just like the real deal).
For the woman who always sends a thank-you note
If she loves to send a handwritten note, she'll appreciate this box of floral watercolor notecards — which, in a pinch, could be used as a birthday card, too.
For the woman who's ready to hit the (snowy) trails
If she already has cross-country skis and/or snowshoes, a fresh pair of trekking poles would be a useful addition to her snow day supply.
For the woman who wears lipstick … even under her mask
According to makeup artists, this clear top-coat balm will keep her lipstick from budging, even under a mask.
For the woman with celestial interests
It's always a full moon with this bas-relief lamp.