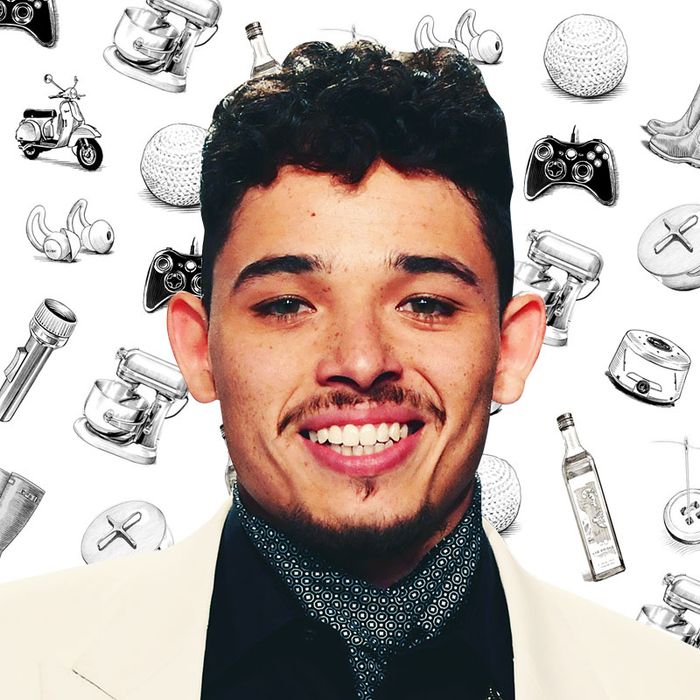 Photo-Illustration: Getty
If you're like us, you've probably wondered what famous people add to their carts. Not the JAR brooch and Louis XV chair but the hairspray and the electric toothbrush. We asked actor-singer Anthony Ramos — whose new movie Honest Thief is in theaters now — about the scooter, record, and hat he can't live without.
Photo: retailer
I just love their music. It feels so grounded and raw. It's the kind of music I grew up loving — with so much emotion and feeling. It's refreshing to find a duo like them. "Lost in Translation" is my favorite song on the album, which I own on vinyl. It's so smooth. I listen to it when I want to catch that vibe, you know? I try to keep it eclectic and find new music and stuff like that, but Johnnyswim is my go-to, especially when I'm feeling like crap and really need a pick-me-up. I'll put on a couple of songs from the album and just rock out. It makes me feel better pretty fast.
It's probably my favorite thing I own. I wanted an electric scooter when I was a kid. It's one of those things that, back then, I just thought would be so cool, and I never forgot about it. For a long time, I couldn't afford one. I bought my first one last year, but that scooter would stop on me when I hit a hill. It ruined the vibe. So I went online to Amazon and found this one, which looked pretty legit. It can go up to about 20 miles per hour and around 40 miles before I have to charge it again, which is unreal. When it got to my house, the box was mad heavy. I took it out and was like, "Okay yeah, this is what I need to be real serious." I've been going everywhere with it.
I wear this all the time — mine is black because black is my color. I've been a Mets fan since I was a kid. We couldn't afford to go to Mets games often, but when we did it was so special. I still look up to all my favorite players: Al Leiter, Rey Ordonez, Robin Ventura, Edgardo Alfonzo, Mike Piazza, Carlos Beltran, Carlos Delgado. I grew up watching them. When the Mets were in the 2015 World Series against the Royals, I was there. I mean, they lost, but I was there. I once sang the national anthem for the National League Championship Series, too, with my boy Chris Jackson. Being a Mets fan, my heart is resilient. I believe that they will win the World Series in the years to come because we have heart. We can do it.
Photo: Netflix
I've watched every episode multiple times. If I'm with my girl, we'll watch Peaky Blinders, but if I'm alone, I'm putting this on. Jesse Terraro, who worked on it, is an amazing director. If this was the only show I could watch for the rest of my life, I'd be good. I can watch it over and over and never get bored. I grew up listening to Nicky Jam when he was in the band Los Cangris with Daddy Yankee. They were a duo, but then Daddy Yankee went solo, which kind of made Nicky Jam go solo, too. I didn't know the backstory, though, because I was kind of young. So I didn't really understand why they went solo. Watching Nicky Jam's journey in this series is so incredible — how he made a comeback and overcame all the obstacles and drugs and craziness that he went through. The show has a really great message.
My manager bought this for me. When I saw it, I was like, "This is fire." I don't know what type of fabric it is, but it's very comfortable. I started wearing it in the street, just to hang out, but then I wore it in the music video for my latest single, "Stop." I like being able to speak through accessories I wear. I bring things that I love and that I'm passionate about into my clothes. The mask has a double message: Let's stay safe, and let's vote. We can make a difference just by voting. Every vote matters.
I rock it all the time. My girl is like, "You have other clothes and you should wear them." But this just matches everything, and it's mad comfortable. I like the style, too, and the brand — I like to represent Brooklyn everywhere I am. Obviously, I make sure it's clean. I ain't wearing no dirty sweater, so I don't wear it every day because I have to wash it. But it's in heavy rotation.
Photo: Negril BK
The food is amazing. During quarantine, I ordered from here on Caviar all the time because it's my favorite spot. I was like, "I'm going to give them my money so they stay open." It's my spot, man. The atmosphere. The incredible staff. The owners. I miss being able to go there and chill. Picking a favorite dish? That's tough. I usually get the passion-fruit margarita. I usually get a side of macaroni and cheese, too. For a main dish, sometimes I get the oxtail, but lately I've been getting the curried goat. That is amazing. Oh, and the jerk chicken. And the spring rolls; you've got to get the spring rolls. The menu is just wild. I started going to Negril, I want to say, in 2017. I went more in 2018 and really started to hit it hard in 2019.