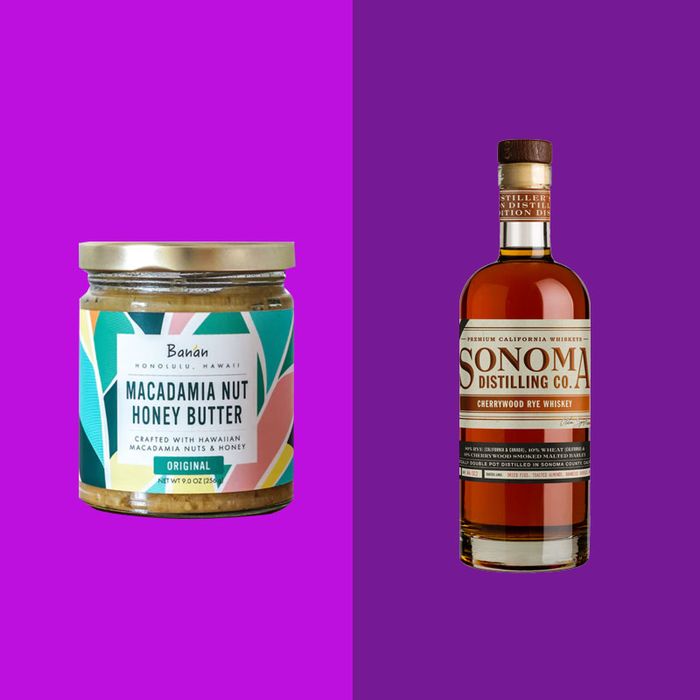 Photo-Illustration: Goldbelly
If you can't take your dad out for dinner at his favorite steakhouse or join him in the backyard as he fires up the grill this Father's Day, that doesn't mean you can't gift him his favorite food. Thanks to innovations in cold shipping and a few neat delivery services, sending dad local delicacies has never been easier — even if he lives in Los Angeles and those delicacies are made in Greenwich Village. To help you find the right edible or drinkable treat, we've rounded up the best food gifts from a variety of retailers. There's everything from heat-and-eat dinners to easy snacks to bar essentials, and our list covers every type of dad, whether he's a meat-and-potatoes guy, a clean eater, or a teetotaler.
We've noted shipping costs and estimated delivery times where applicable, but know that delivery estimates are constantly changing. Since Father's Day is June 19, the sooner you order, the better. (If you're prone to procrastination and would rather not worry about shipping, we've rounded up a slew of virtual gifts for dad, too, which you can send with just the click of a button.)
For the old-school dad with a sweet tooth
Junior's is a New York City institution — and its signature cheesecakes are a sure bet. They ship frozen and need a day to thaw in the fridge, so keep that in mind when you order.
For the dad whose sweet tooth requires chocolate
Jacques Torres is a famous chocolatier — and his crackly, gooey, supremely chocolatey chocolate chip cookies do not disappoint. The box comes with 12 total, and at five inches across, they're quite substantial. He'll have to eat them all within a day or so or freeze what he can't finish to keep them fresh.
For the dad whose sweet tooth requires variety
If he wants some (but not all) chocolate, try the best-seller's box from Cream Bakery, which comes with four different types of bars: fudge brownie, cookies 'n' cream, chocolate chip, and raspberry swirl to change things up. Each treat comes individually wrapped, so they'll last a couple of weeks, and you can add a note for dad, too.
For the dad who misses his favorite steakhouse
Maybe he tried Peter Luger once and can't stop talking about the porterhouse for two (that he swears he could have polished off on his own). Or maybe it's at the top of his must-try list. Either way, this indulgent gift will allow him to savor that very famous steak in the comfort of his own home.
For the dad who prefers his meat cured
For the dad who prefers his meat in a sandwich
If he knows anything about deli food, he's probably heard of Zingerman's. The iconic deli, headquartered in Ann Arbor, Michigan, is offering their perennial-favorite sandwich in kit form. You can buy it for dad and spend Father's Day DIY-ing lunch for the whole family, a.k.a. layering delicious corned beef onto rye bread.
For the dad who's ready to fire up the grill
Butcher Box, a meat-delivery service that ships choice cuts right to you, curated this one specifically for grilling. It's filled with hot dogs, sausages, rib eyes, chicken wings, and more. He can stock the freezer and pull out his protein of choice whenever the mood strikes, or he can invite friends over for a big barbecue and fire it up all at once.
For the dad who's already a grilling master
If he uses up condiments like nobody's business, he'll be thrilled with this fun set of small-batch mustards. There's "Dijonish" (the most classic), jalapeño, horseradish, and a truffle-flavored one you can only find in this four pack. And yes, they all go great with sausages.
For the dad who can't get enough condiments
If he's already stocked up on mustards, try this sweet and citrusy yuzu preserve recommended by Annie Shi, co-owner and manager at King restaurant in New York City. She describes it as a "more versatile and delicious orange marmalade." Indeed, you can make a gin spritz with it, add it to baked goods, use it as a glaze for poultry, and stir it into tea as a sweetener.
For the dad who likes a glass of wine with dinner
Photo: retailer
Going to the wine shop can feel like a to-do, but the sommelier-approved Primal Wine Club will send a selection of natural wines — made with minimal intervention using organic or biodynamic grapes — right to his door every month. Subscriptions start at $85 for monthly three-bottle deliveries, and he can always take over paying for it if you don't want to foot the bill for an entire year. Shipping is free and will go out the next business day once you place your order.
For the dad who sips whiskey
Photo: retailer
If he likes whiskey more than wine, you can't go wrong with this Cherrywood Rye from Sonoma Distilling Co. According to expert Jenna Elie, who originally recommended the bottle, "maker Adam Spiegel has honed in on a craft to be proud of." She notes this particular one has "unctuous notes of leather, figs, and toasted almonds, with a lovely kick of spice."
For the dad who starts cocktail hour at five o'clock on the dot