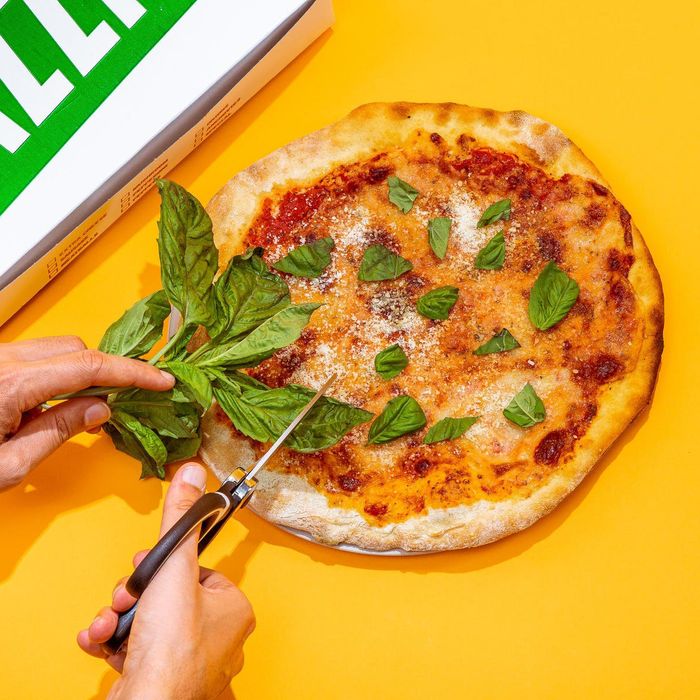 If you can't take your dad out for dinner at his favorite steakhouse or join him in the backyard as he fires up the grill this Father's Day, that doesn't mean you can't gift him his favorite food. Thanks to innovations in cold shipping and a few neat delivery services, sending dad local delicacies has never been easier — even if he lives in Los Angeles and those delicacies are made in Greenwich Village. To help you find the right edible or drinkable treat, we've rounded up the best food gifts from a variety of retailers. There's everything from heat-and-eat dinners to easy snacks to bar essentials, and our list covers every type of dad, whether he's a meat-and-potatoes guy, a clean eater, or a teetotaler.
We've noted shipping costs and estimated delivery times where applicable, but know that delivery estimates are constantly changing. Since Father's Day is June 20, the sooner you order, the better. (If you're prone to procrastination and would rather not worry about shipping, we've rounded up a slew of virtual gifts for dad, too, which you can send with just the click of a button.)
For the old-school dad with a sweet tooth
Junior's cheesecakes are a New York original, and doesn't your old man deserve the best? Shipping is free and if you order now, it will get there before Father's Day.
For the trendier dad with a sweet tooth
Anyone who's had a bite knows that this is like the birthday cakes he grew up eating — but better. Milk Bar perfected its classic birthday cake over two years, and the result is a honking, three-tier confection of rainbow-flecked vanilla cake, frosting, crunchy crumbs, and sprinkles. Shipping starts at $15 (and will get this to dad before the holiday).
For the dad who misses his favorite steakhouse
Maybe he tried Peter Luger once and can't stop talking about the porterhouse for two (that he swears he could have polished off on his own). Or maybe it's at the top of his must-try list for whenever he can dine out again. Either way, this indulgent gift will allow him to savor that very famous steak in the comfort of his own home. Overnight shipping to New York starts at $40.
For the dad who misses his favorite steakhouse (for the wine)
Photo: retailer
If dad misses flipping through the wine list to find a new bottle to pair with his filet, he'll likely appreciate a subscription to the sommelier-approved Primal Wine Club, which ships a selection of natural wines — made with minimal intervention using organic or biodynamic grapes — right to his door every month. Subscriptions start at $85 for monthly three-bottle deliveries, and he can always take over paying for it if you don't want to foot the bill for an entire year. Shipping is free and will go out the next business day once you place your order.
For the dad who prefers his meat cured
While he might not have a game to watch while nibbling on it, that doesn't mean dad can't still enjoy his favorite snack of charcuterie. This "Slam Dunk" bundle from Murray's includes Genoa salami and Prosciutto San Daniele, along with maple-leaf-pepper-jack cheese, Boerenkaas gouda, French double crème brie, chocolate, and crackers, all of which arrive packaged inside "Murray's signature gift box," according to the brand. Shipping starts at $20 for overnight delivery.
For the dad who prefers to just snack on chocolate
These sweets, which we declared Halloween's status candy, are also chef approved. They're delicious (trust us) and quite giftable, what with their fun, candy-colored packaging. This set of four includes both milk and dark varieties.
For the chill dad who prefers to just snack on chocolate
This CBD-infused chocolate bar "isn't just a great edible," says House of Puff founder Kristina Lopez Adduci, "it's hands down" some of the "most delicious" chocolate she has tried. Flavors range from classic dark to ghost-pepper caramel, and each bar is made up of 12 pieces that contain ten mg of CBD each — just enough for dad to take the edge off (or counteract a sugar rush). Orders are estimated to arrive in one to three business days.
For the dad who's trying to eat cleaner
Perhaps dad has decided to give up the red meat, wine, salty snacks, and chocolate for a new low-carb or vegetarian diet. If so, Green Chef makes it easy to try eating healthier before making a complete lifestyle change. The meal-delivery service offers dishes to suit a variety of diets — from keto-friendly to paleo to plant-based — all made from organic ingredients (whenever possible), which it ships to him in precise amounts along with recipes that take no more than about 30 minutes to whip up.
For the low-carb dad who's also low-maintenance
If he'd rather not mess with cooking, Pete's Paleo may be a better option. It ships heat-and-eat dishes that are gluten-, dairy-, and soy-free — all of which are all created by a Le Cordon Bleu–trained chef. Weekly subscriptions start at $70, which will get dad five fully prepared meals that only require heating up. Pete's Paleo also sells its dishes à la carte for $15–$18 per dish (with a five-meal minimum), if you'd rather let him try it for himself before committing to a subscription. And for Strategist readers, the company is offering $10 off its meals (both onetime purchases and subscriptions) using the code STRATEGIST.
For the dad who enjoys a cold one
If dad misses weekends spent visiting new breweries and trying their brews, he'll surely love this "beer of the month" club that comes recommended by Nikki McCutcheon, the beverage director at Magic Hour Rooftop Bar and Lounge at the Moxy Times Square hotel. For $39 a month, the service will send monthly deliveries of four varieties of award-winning beer from two independent craft breweries (a total of 12 beers per delivery), all of which are curated by a panel of experts.
For the dad who'd rather brew his own beer
This kit comes with everything he needs to brew his first batch of beer, including hops, IPA grain mix, and reusable equipment (glass fermentation jug, thermometer, racking cane, tubing, tubing clamp, screw-cap stopper, and airlock). If he wants to try making a different brew, all you need to do is get another beer mix.
For the dad who starts cocktail hour at 5 o'clock on the dot
When he's that rigorous about his nightly ritual, he probably won't use any old ingredients to make his nightly gin and tonic. According to bartenders, this small-batch tonic syrup made with a hint of lemongrass and orange peel will take his drink of choice to the next level.
For the (minimalist) dad who starts cocktail hour at 5 o'clock on the dot
Maybe dad appreciates a good cocktail but not having all the ingredients and gear needed to make one littered around the house. These ice cubes are actually freezable fruit-and herb-infused mixers that take the fuss out of creating a fancy cocktail at home. They arrive unfrozen, so all dad has to do is pop them in the freezer and then, once frozen, pop one in a glass then pour his favorite spirit over it, and voilà! His drink is served. They're available in five different flavors — the Cooper (blood orange ginger), the Cecile (cucumber and watermelon margarita), the Clyde (peach with benedectine), the Oliver (an "unclassic" negroni), and the Seymour (Meyer lemon daiquiri) — which you can buy individually at $36 for 24 cubes, or in sets for a bit more money. Standard shipping rates start at $9, and orders likely won't arrive until early next week.
For the dad who's a teetotaler
Bartenders agree that Seedlip's non-alcoholic spirits are among the best you can buy, with the Garden 108 flavor being one of their favorites for its "herbaceous, bright, and spring-y" taste. The pros say it's best used in light, floral cocktails or just with a splash of tonic water. Shipping from Seedlip is $5, and orders likely won't arrive until early next week.
For the dad whose drug of choice is caffeine
Help him find some new favorite varieties of mud to sip on with a subscription from barista-approved Trade, which sends coffee hand picked for him based on his preferences. Does he use a drip machine or a Chemex? Prefer light, medium, or dark roast? Plans start at $15 for one bag shipped every one to three weeks. If you up that to two bags at a time, each one drops to $12.50 a piece. All subscription orders ship free and come directly from different roasting facilities, so delivery times will vary.
For the dad who prefers his caffeine green