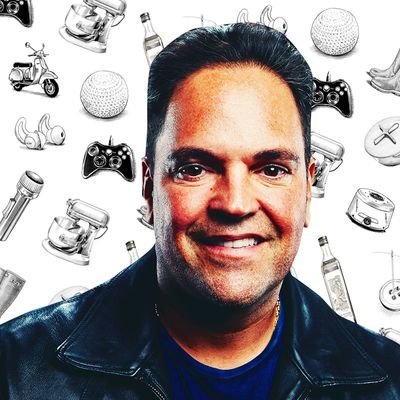 Photo-Illustration: retailer
If you're like us, you've probably wondered what famous people add to their carts. Not the JAR brooch and Louis XV chair but the hairspray and the electric toothbrush. We asked retired New York Met Mike Piazza — who recently launched an Italian-made vodka brand, TRUE Vodka, in collaboration with GrapeStars — about the olive oil, golf clubs, and sheets he can't live without.
Coffee is my addiction. I tell Americans, when you come to Italy you can't have coffee with milk in it after 11 in the morning. The taste of milk after a meal for Italians is kind of repulsive. Like, if you eat a really nice pasta dinner or fish, and you go, "Oh I want a cappuccino," the Italians kind of look at you like you're crazy or you're German. At home, I like Lavazza, Illy — any Italian coffee. I remember, as a kid, my mom with the percolator and the Maxwell House or Folgers. I grew up in that culture of loving coffee.
They don't make movies like it anymore. This was made in the classic age of Hollywood, which is just kind of a throwback, romantic time. I'm dating myself, but, you know, Charlton Heston and all of the movies from the '50s and '60s that had the big, Cecil DeMille type of vibe — I watch them now. I first saw Ben Hur as a kid and I still get a tear in my eye when I watch the emotional scenes. I'm not saying there aren't good shows and movies today, but there's so much stuff that was made when Hollywood was in its golden age.
This is a guilty pleasure. A lot of my fans bust my chops about it. But yeah, I'm a cigar guy. I try to keep it to two or three a week; I usually have them on the weekends. It's a common misconception that Cuban cigars are the best in the world. I think there are some really outstanding cigars coming out of the Dominican Republic. Cigars for me are something I do on the golf course with guys. Michael Jordan is a friend of mine and he loves cigars — I don't know, maybe it's just one of those alpha-male type things, we enjoy having a whiskey or tequila or vodka and a cigar. It's a fun way to pass the time. And I have to say, with cigar guys, it's really a nice fraternity. Everyone's very friendly. I like a medium-bodied cigar with a lot of flavor. My go-to is a Davidoff Special R. It's just a very nice lunchtime cigar, medium-bodied, very well made. I go to the Davidoff store on Madison; you go in there on a lunch break and it's cops, Wall Streeters, businesspeople. Everyone's having a cigar and we all start exchanging stories. I don't ever feel like it's pretentious — people look at me like one of the guys.
Every time my wife complains about a package coming from eBay, it's a golf club. It could be worse — it could be cars. Michael Jordan has a big Ferrari collection. I collect golf clubs. I buy them online and I go to a shop in Miami where the guys know my configurations. Golf has become my competitive outlet. Epon is a Japanese brand, and it follows the traditions of making samurai swords, like in pure steel. There are some great manufacturers in the U.S., but I always kind of preferred Japanese equipment when I played baseball, and now I do with golf. It's just my little fetish, I guess.
As an Italian, olive oil is like water. I think Italians live equally on water and olive oil. I put it on everything except my cereal. I like extra virgin, first-pressed. In Italy, olive oil from the North and Tuscany traditionally has more of a rich, pine-y, green-forest taste, and olive oil from the south and in Greece and Spain is a little more nutty tasting. Believe it or not, there are sommeliers who taste the olive oils from different regions — it's a little like a wine vibe. This olive oil is from the Lago di Garda, which is Garda Lake, and it's Garda DOP. Garda Lake is a cool region by Verona that a lot of Americans don't go to. The olive oil definitely has a unique floral flavor, you can tell it's from the North.
I have to give credit where credit's due: This is my wife. When we started dating, she said, "You have the most disgusting sheets I've ever seen." I was not into bedding or sheets, but now I'm hooked. We love sheets, but they have to be very high thread-count sheets, like Frette's. Our little thing is tailoring sheets, we enjoy it. It's a little addictive and there are some really expensive sheets out there. But my true feeling of peace is plopping into a fresh-pressed bed and putting on the TV. I tell couples all the time, you've got to get a nice set of sheets and just watch something at night. It's fun.
Woodway has a Jetsons vibe. When I played baseball, I was never a big cardio guy. I was one of those guys who looked at people on the treadmill and would go, "Look at those geeks." But now I'm all the way in the tribe, man. I'm just addicted to my treadmill. I love running on it for 30, 45 minutes, doing interval training, doing some sprints, jogging. You just have to start slowly — walking and then jogging. It's incredible. If I get insomnia, sometimes I run on the treadmill. I just think there's nothing better than having a treadmill at home, if you can. If you're going to work, get up half an hour earlier and you can do it in your underwear.
I love red wine, white wine, Moscato, vodka, single-malt whiskey. The unique thing about True Vodka is the brand's perspective. There are some great vodkas out there — potato vodka, winter-wheat vodka, Skyy, Stoli, Smirnoff. There are amazing players in the industry, but I just think when the Italians do something, they do it in a very special, stylish way. The automobile was invented in the U.S., but Ferrari is a very stylish automobile. This has a very unique, Italian taste. When I first tasted it, I was impressed — it has a very clean taste. It mixes well, but it also tastes exceptionally good on the rocks. It has a very silky presence. Personally, I like it with a little bit of soda and a twist.
The Strategist is designed to surface the most useful, expert recommendations for things to buy across the vast e-commerce landscape. Some of our latest conquests include the best acne treatments, rolling luggage, pillows for side sleepers, natural anxiety remedies, and bath towels. We update links when possible, but note that deals can expire and all prices are subject to change.