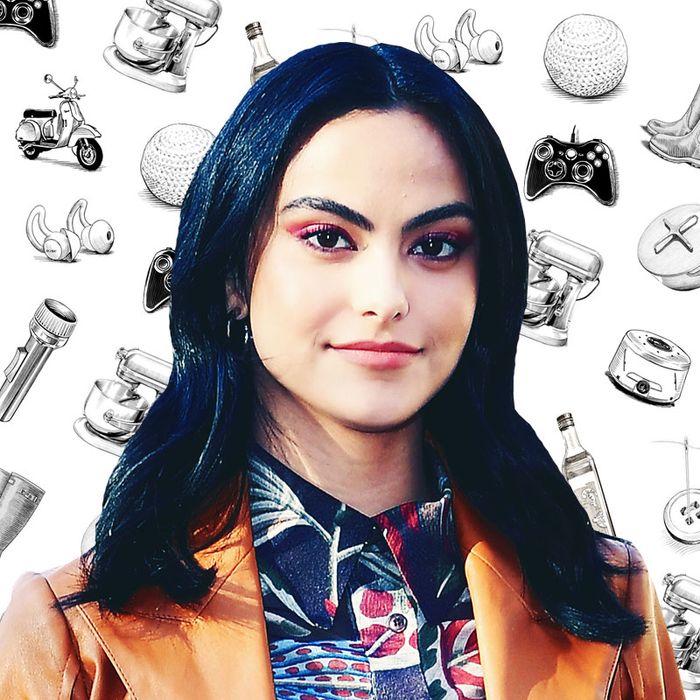 Photo: Jacopo M. Raule/Getty Images for Salvatore Ferragamo, Illustration: Joe McKendry
If you're like us, you've probably wondered what famous people add to their carts. Not the JAR brooch and Louis XV chair but the hairspray and the electric toothbrush. We asked actress Camila Mendes — who recently became the face of Urban Decay's Naked Ultraviolet Eyeshadow Palette — about the gum, fabric face mask, and sunscreen she can't live without.
I read Zoey Deutch's What I Can't Live Without interview where she mentioned that 5 Gum's spearmint is her flavor of choice, but I will definitely debate her on that. I think Orbit Sweet Mint is the best flavor. I've been obsessed with it for so long and someone recently got me a 20-pack of it for my birthday. I chew gum all the time, but unlike Zoey, I don't drink wine while I chew gum — I always spit it out. When I run out, I panic. When I'm shooting in Vancouver, I can't get Orbit, because it's basically unheard of. I don't know why, but it just doesn't exist there. So whenever I go to an American airport, I stock up so much that it's become a joke between me and my friends.
Obviously, everyone has to wear a mask now. I wanted one I could have fun incorporating into my daily style while embracing this new reality. I wear a mask from Collina Strada, which makes a statement. It's got a very strong pattern on it, but it's also feminine and soft. And it's really comfortable: light enough so I can breathe but thick enough that I feel protected. I can wear a white T-shirt and jeans with it and feel like I have a really cool outfit on. I've always done that — have one part of my outfit stick out more than the others. Right now, it's my mask, which is interesting.
Even at home, I'm getting more sun than usual right now because I'm always in my backyard. I love the feel of this sunscreen. The most annoying part about a sunscreen is when it feels thick and oily, but this one is superlight. Now that we're wearing masks all the time, I don't want half of my face to be tanner than the rest. Having sunscreen on will definitely help keep it even.
My colorist, Matt Rez, recommended this to me about a year ago as a more long-term way to tame my frizz. I've been using it when my hair dries after a shower, and it really seals my hair in a beautiful way. It also absorbs nicely — I don't feel like my hair has too much product in it or looks too styled or unnatural. Two weeks into quarantine, my hair started drying differently — I had gotten Keratin treatments years ago that I thought should have worn off before then but seemingly did not. Then, all of a sudden, it started drying wavy again, and now I am in a place where I don't actually need to do anything to it. I just put this in as it's drying and it stays consistently wavy. I'm like, "Yay! Less effort in the morning!"