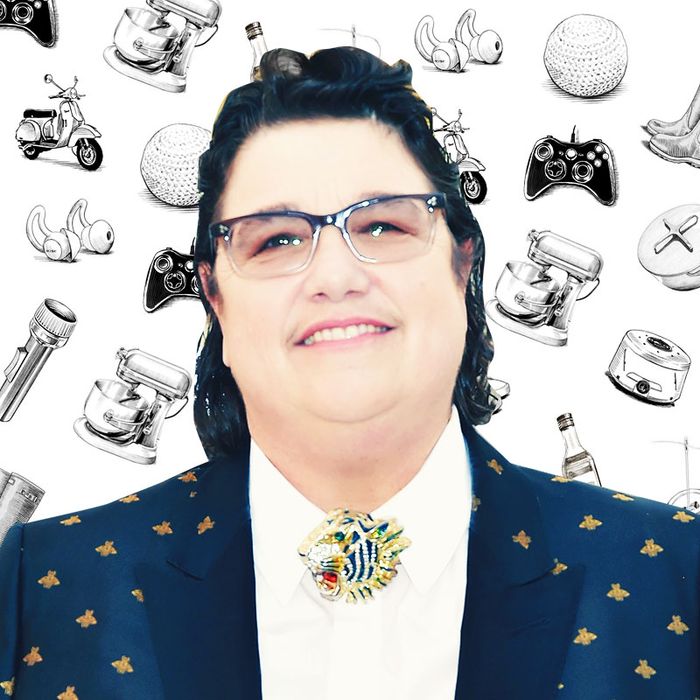 Photo-Illustration: Getty
If you're like us, you've probably wondered what famous people add to their carts. Not the JAR brooch and Louis XV chair but the hair spray and the electric toothbrush. We asked photographer Catherine Opie — whose work is featured in a new coffee-table book from Phaidon — about the black T-shirts, chef's knife, and birding camera she can't live without.
I was wearing other T-shirts that started to get holes in them. They were expensive and disintegrating. So then I went to Buck Mason, whose T-shirts are half the price. I love the cotton they use and I love the way these fit. They're cut well enough that if I put a sport jacket over one, it can be somewhat formal. I have stacks of them in my closet. I kind of wear a uniform of jeans and a black T-shirt. Once in a while, it's a gray T-shirt.
My wife and I are big cooks. We cook most of our meals at home. The weight of this knife is great. I like to do a lot of chopping and try to work the cutting board pretty quickly. It isn't too long — it's kind of the perfect length. It feels so good in your hand. I also like how it has a beautiful design and handle. I got it about five years ago. The handles on the knives I used to get would break down, so I finally was like, "I'm going for it and buying the higher-end knife."
I'm a big-bottomed girl. I don't mind saying it: Everybody who knows me knows that I have a fairly large body. A weird thing with some jean brands is that their larger women's sizes are bedazzled. Like Ralph Lauren and other brands have weird buttons and beads. I don't know why they think we want them that way. I just want a pair of jeans that look like Levi 501s — even Levis bedazzles its larger women's jeans. Dapper Boi's slim-straight jeans are good for my butch identity. They fit like 501s and are kind of the perfect jean for a larger body.
I have sensitive eyes. They are always kind of weepy. A friend who lives in Germany told me about this lotion; I was in Munich doing work for BMW and complaining about how dry it is in California and how lotion and stuff like that bugs me. That was about 30 years ago, and I've been using this ever since. It's the only thing that doesn't make my eyes weep or cause a bad reaction. The scent is also really nice.