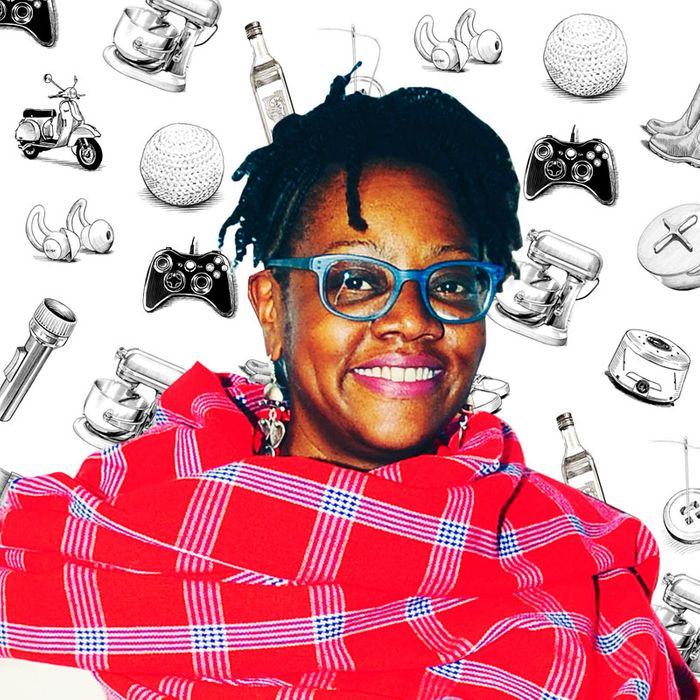 Photo: Paul Bruinooge/Patrick McMullan/Getty Images
If you're like us, you've probably wondered what famous people add to their carts. Not the JAR brooch and Louis XV chair, but the hand sanitizer and the electric toothbrush. We asked artist Cauleen Smith — whose new solo show at the Whitney, "Cauleen Smith: Mutualities," will run through May 17 — about the bike gear, jumpsuit, and cleaning product she can't live without.
If I could get away with wearing Dickies jumpsuits every single day, I would do it. I have three. I like that they're designed to fit anybody, but they still somehow manage to fit every body really well — I've never seen anyone look bad in a Dickies jumpsuit. On all shapes and sizes, they work. They also allow you to move around — I wear them to work in my studio, or if I'm installing a show — and they repel dirt, so you can just do whatever you want in them without worrying.
I plan on using my iPhone 6 until the thing just self-destructs. But that would not be possible without this bionic battery charger. It rescues me every day and keeps me mobile instead of tethered to a wall outlet.
I never feel alone when I'm surrounded by the creative works of my friends. LaToya is a good friend of mine and a phenomenal photographer. This is her first book: It covers issues like ecological racism, toxic environments that working people have to live in, and health care. She manages to present all of these very serious issues in a very empathetic way through her own life story. I think it's a really important book, and the photographs themselves are classically perfect, black-and-white photos. A great body of work.
Transitioning from container gardening to cultivating an entire backyard made me feel like Martha Stewart, I swear. Seed Savers has a wonderful herb-seed selection. Growing herbs from seeds feels like an act of faith, really. You put a little nugget in the ground and then it turns into a big plant that feeds you? Amazing. The first time I planted seeds in the ground was in Chicago — nasturtiums and chives. I didn't expect either to break through. Not only did they sprout and thrive, they returned the following spring, stronger and more generous than ever. What's better than a plant that gives you food and flowers? A plant that makes flowers that are food, that's what! I try to cook what I grow, and if I can't eat it all, I try to give it away. I try to plant stuff I'm going to eat, but that's another nice thing about having the full garden — I can give stuff away to neighbors.