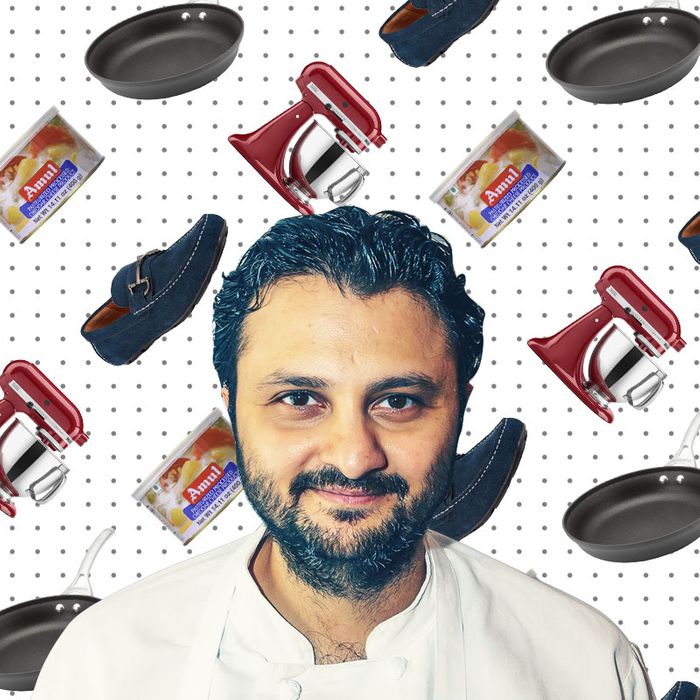 If you're like us, you've probably wondered what famous people add to their carts. Not the JAR brooch and Louis XV chair, but the hand sanitizer and the electric toothbrush. And in celebration of New York Taste, we're going to be asking some of the 40-plus chefs and mixologists whose food and drinks will be served on October 21 about the things they can't live without. (You can learn more about New York Taste and buy tickets here.) Next up is Chintan Pandya, executive chef of Adda Indian Canteen and Rahi, on his must-have backpack, protein bars, and kitchen tweezers.
I like the convenience of these. Whenever I get a call, I don't need to hold my phone in my hand, I just put on my headphones. In the morning, because we have multiple things happening [at the restaurants], we have to be on calls about different projects, so that's where they help a lot. For me, they're a lifeline.
I have a lot of ideas that I keep updated on my laptop. Once I had a laptop that crashed, and [I lost] everything. Since then, I'm very careful about keeping a backup on my hard drive. I always have this in my bag. Every time I come up with something new like a recipe, or take a picture of something that I like, I put a copy of it on my hard drive. I keep different folders on it with everything work-related.
It's hard for me to eat super-healthy because of my long work hours, but I try to avoid eating late at night. Still, I work late every night, so I always keep these protein bars in my bag. This one is low in sugar, but I also just like the taste of it. If I get hungry at night before getting back home I grab one. It just soothes me.
I've had this backpack from Outdoor Products for a while, and I just replaced it with a new one. If I'm traveling and I don't want to check a bag, I can pack at least two or three days' worth of clothes in it. On a daily basis, my hard drive, paperwork, laptop, water bottle, and protein bars are all in there.