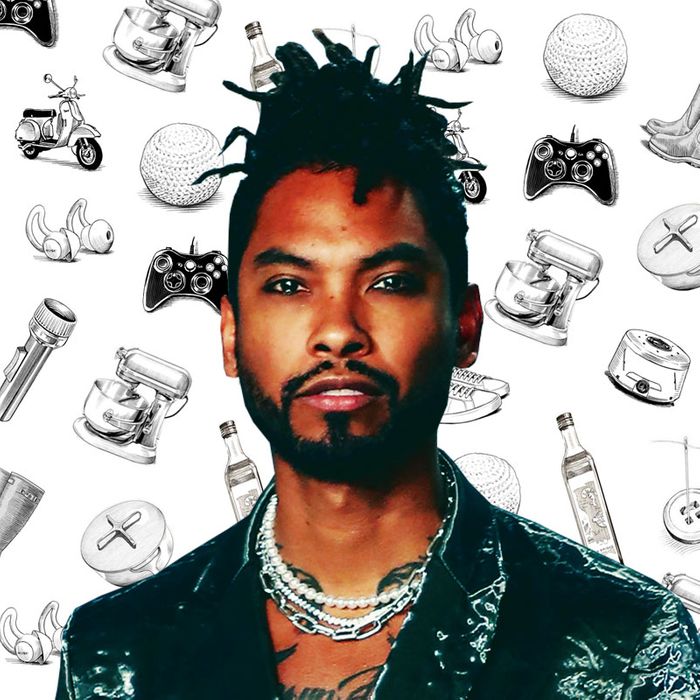 Photo: Taylor Hill/FilmMagic, Illustration: Joe McKendry
If you're like us, you've probably wondered what famous people add to their carts. Not the JAR brooch and Louis XV chair but the hair spray and the electric toothbrush. We asked the singer Miguel — the founder of clothing brand S1C who recently partnered with electronics brand Modern Fidelity — about the planner, deodorant, and pens he can't live without.
Bad breath is a pet peeve of mine. I floss multiple times a day. I prefer floss picks to regular floss because of the convenience. There's no subtle way to use regular floss — you have to pull out the floss, wrap it around your fingers, and basically put your hands in your mouth. It's a two-handed activity, and I just can't get into that. Picks are much easier. These are the ones I always tend to pick up.
I hate when I pick up a pen and it doesn't work. These rarely ever give me a problem. They're very reliable pens. They glide. They're super-easy. I don't have to put too much pressure on one to get a nice, consistent line of ink. They feel great in the hand. I don't like pens with caps; I'll lose the cap and then the pen dries out. I can't stand that, so the clicker is better for me.
I wanted a deodorant without aluminum, and finding the right one was a journey. Some deodorants are such a trip because after a few weeks or months, they completely stop working. It took some time to find it, but Native has been incredible. First and foremost, after using it for about a year now, it still works. But it also smells great and doesn't have anything in it that I don't want in or on my body.