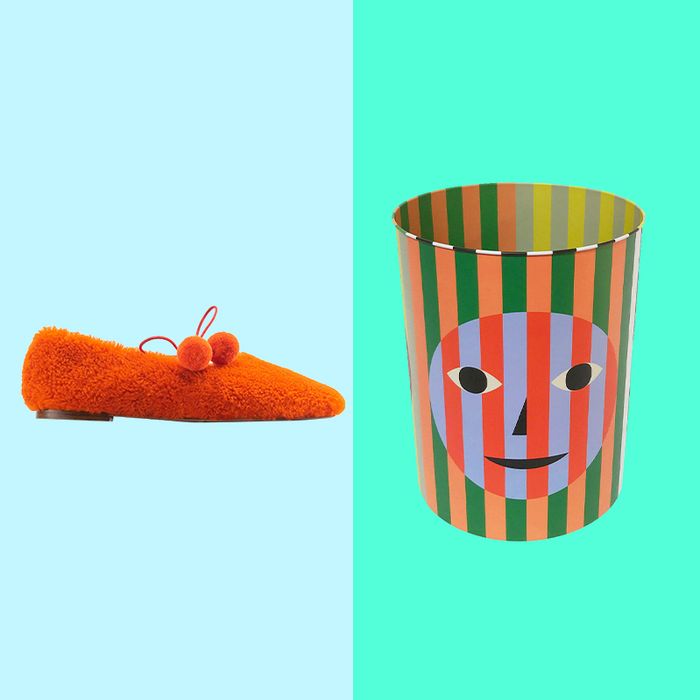 Photo-Illustration: retailers
We have highly specific gift guides for every kind of person, from grandparents to babies, gamers to bookworms, hikers to home cooks. But the gifts below — from fashion-y PPE to DIY mushroom farms — are novel, new, and, above all, very 2020. We mined the internet, sleuthed around social media, and tapped into our own shopping hive mind to unearth the latest, coolest stuff at truly every price point, from four bucks to, well, about 400 times that.
$25 and under
The same game they know and love (or love to hate), except this iteration's notably stylish.
We love a non-fusty puzzle, and it doesn't get less fusty than John Derian.
Classic Ikea storage, Lego-fied.
A sparkly sponge to make doing dishes (something we're all spending more time on these days) infinitely more enjoyable.
Hand-poured in Brooklyn by Japanese designer Yui Kobayashi.
This all-natural playdough (plant-based colors! compostable glitters! essential oils!) isn't just for kids.
Or perhaps they'd prefer the pandemic pastime of tie-dye?
If they've already knitted, embroidered, and tie-dyed to excess, here are 52 other suggestions for ways to pass the time.
Photo: Courtesy of Glossier
Photo: Courtesy of Humankind
This new hair line is vegan, cruelty-free, Black-owned, and beloved by our curly-haired friends at the Cut.
Some especially well-designed, easy-to-apply falsies, courtesy of former J. Crew creative director Jenna Lyons.
For the stressed-out kid.
Status vinegars are having a moment and this small-batch version is good enough to drink.
If sipping vinegar doesn't appeal, consider these tablets that promise fresh, fizzy kombucha in an instant.