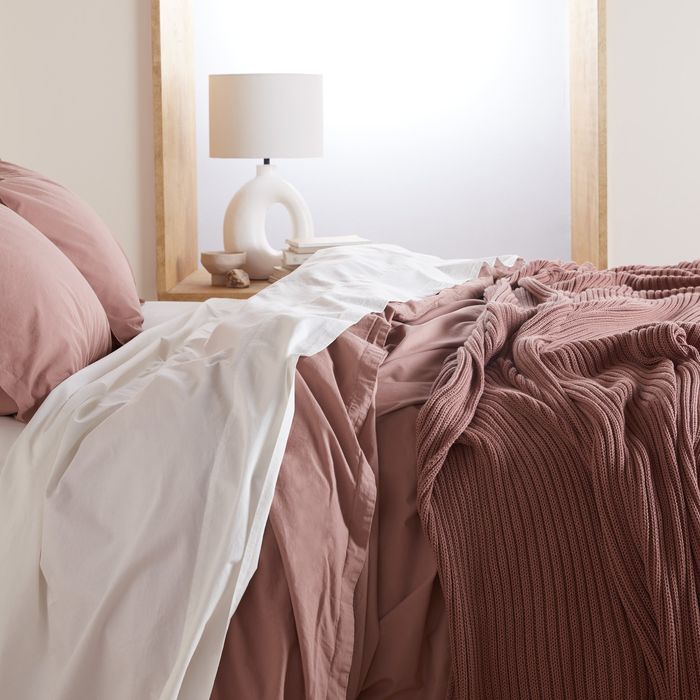 Parachute's Memorial Day sale is here, and it's slashed its prices on everything — and we do mean everything — by 20 percent this weekend, making it the perfect time for a home refresh. Sure, you could sift through pages and pages of items, but we've written a lot about the best of what Parachute has to offer. So here, we've rounded up some of our favorites. The site's interior-designer-recommended towels, the Strategist-tested and -approved mattress, and the brand's highly coveted robe are all up for grabs. There's even decor for the home and stuff for kids and pets on sale, too. The discount is only good while supplies last, and there's a hard stop on the sale at midnight on May 31, so don't dillydally.
Bedding
If you're a stomach and side sleeper like mattress tester Margaret Rhodes, you'll love this all-springs, no-foam firm mattress, which she says feels like a luxury hotel–style mattress.
If you like a softer mattress, Parachute's mattress topper takes the No. 1 spot on our list of the best plush mattresses toppers for being light, airy, and cool.
And if it's your pillows that need the refresh, these come in soft, medium, and firm density to support any kind of sleeper.
Former senior staff writer Lauren Levy described these linen sheets best: "Parachute, in my opinion, is the best all-around option, factoring the middle-of-the-road price, the substantial feel of the linen, and the cool-placid-hazy bed environment you can create with the color options — I bought the sheets in coal and the duvet cover in fog." If those colors don't suit your taste, there are a total of 10 to choose from.
There's also this great linen quilt option for kids, but hurry: Two of the colors are already sold out.
And who could forget about our furry friends? The small dog bed can accommodate pets up to 35 pounds and the large version up to 75 pounds.
Bath
There was once a 1,900-person waitlist for this robe, so we recommend taking advantage of it being in stock and on sale in every color and size.
The robe above is praised for how warm it is, while this waffle robe is more lightweight, making it perfect for summer.
We're also fans of the waffle-weave towels, which have been recommended to us by three interior designers for being thin and fast drying, but also plush and soft. Today, the hand towel is just $20, and the bath towel is $31.