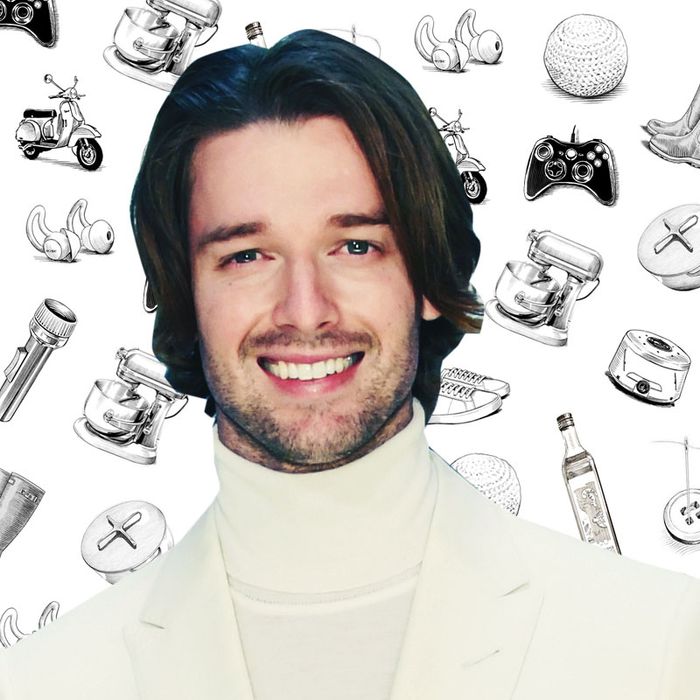 Photo-Illustration: Getty
If you're like us, you've probably wondered what famous people add to their carts. Not the JAR brooch and Louis XV chair but the hairspray and the electric toothbrush. We asked actor Patrick Schwarzenegger — whose new movie Echo Boomers is out now — about the ice cream, water flosser, and almond butter he can't live without.
I used to eat like three, four, or five bowls of cereal every morning. Sometimes I would even get a smaller box, pour milk right inside, and eat it with a spoon. I love cereal and Cinnamon Life is so underrated. It hits differently than Cinnamon Toast Crunch or Honey Bunches of Oats or Captain Crunch. It's the flavor and the fact that I'm kind of eating healthy but it still tastes great.
I got it about four years ago. I saw a commercial and was inspired. I use it every night. Once you turn it on high mode and watch all the stuff that comes out of your mouth, you'll never want to go without one again. I have an electric toothbrush and even after I brush my teeth the amount of stuff this gets out is crazy. I have turned a lot of people on to it; some are skeptical, but I tell them to trust me and try it. When they do, they're blown away. I don't know what else to say besides that it's really something I have to use every single day.
I take these daily to boost my vitamin C. I have one sitting next to me right now. I take them with me everywhere, especially during the pandemic. I made sure to have them with me when I recently traveled to Tennessee for the CMAs. One of my doctors put me onto the product. I used to get IVs a lot, and the doctor told me I should take these because taking vitamin C gummies or pills or whatever isn't as good as delivering the vitamin lypospherically. The body absorbs it much faster and better this way. They're not the best-tasting things, but definitely one of the best things for my well-being.
I'm a huge ice-cream addict. I can easily eat a whole pint myself. I like a bunch of different brands and have actually been ranking them on Instagram lately. I've tried Jeni's, McConnell's, Sweet Rose, and all the big-name brands you can get at a supermarket, but Salt and Straw has received my highest ranking so far. It makes my favorite flavor ever — Pots of Gold and Rainbow, which almost tastes like Lucky Charms. I just tried another flavor, Candytopia, which is also great.