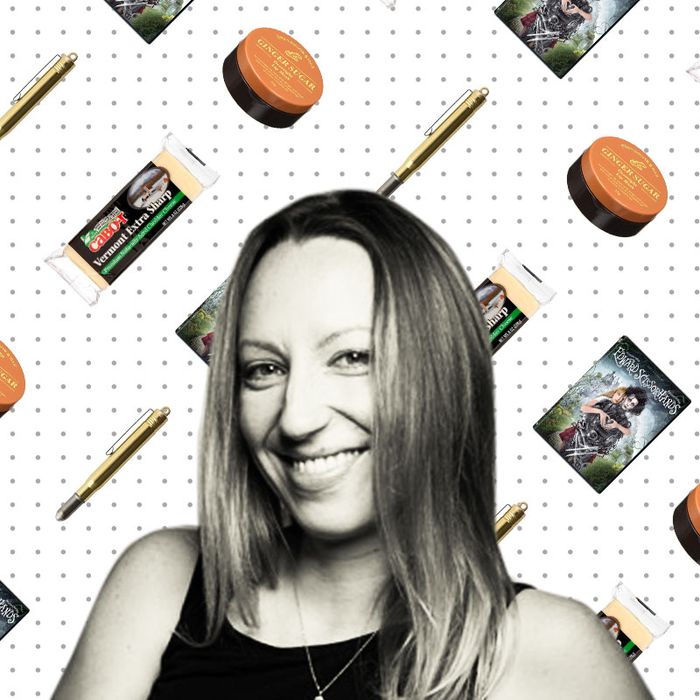 Photo: Courtesy of Anna Konkle
If you're like us, you've probably wondered what famous people add to their carts. Not the JAR brooch and Louis XV chair, but the hand sanitizer and the electric toothbrush. We asked Anna Konkle, co-creator and star of Hulu's PEN15 about the weighted blanket, ballpoint pen, and cheddar cheese she can't live without. (And you can read about her co-star Maya Erskine's favorite things, too.)
I got my weighted blanket a few months ago, and it makes me feel calm, and not cold. It feels like you're being held. I tend to overpack all my days with things to do, and I'm learning slowly to not do that. The blanket is a moment at the end of the day to just relax and take care of myself.
I have — for some reason — chosen to live in the desert known as L.A. It's so dry here, and since I was young, my hands and lips have always been really, really dry, like a little monster (sexy). I found this and it's like a shot of Aquaphor, but better. I used to use Aquaphor but then you read all this stuff about how bad petrolatum is for you, so this is probably exactly the same but since it's in Korean, I can't read it. It's meant to be an overnight mask for your lips, but I use it all day everywhere — on my lips and elbows or anywhere dry. It's really, really sticky, like it's meant for a car, but it works.
These pens are 20 bucks on Amazon, and I just discovered them from clicking around. [Editor's note: We've written about this pen before.] I was actually at this bougie boutique in L.A. and saw the same thing for three times the price, and I thought, "My Amazon pen is so worth it." I love a deal, especially on things you can give people as gifts. This pen has this cap that you can take off, and then you stick it on the back of the thing, and it becomes a longer pen for you to write with. It writes really well, too, and the barrel that you use to hold and write with is wood, which feels nice on your fingers.
I destroy everything. When I was a kid, my Trapper Keepers would get really fucked up, but this is the first notebook I've gotten that feels indestructible. [Editor's note: This is Celeste Ng's favorite notebook, too.] It has big pages that I can take all my notes in. I write these notes that are basically scribbles — these huge maps of words that I think make perfect sense but when I show someone else, they're like, I can't follow that. Maya calls me Rain Anna. Especially with the show and all the to-do lists of things, it's nice to put something on a piece of paper and find it three months later. I can look back at the end of the year on all the thoughts I've had. It just feels so well-made, too. The paper is sturdier than the average notebook. It makes me feel creatively safe.
I didn't grow up watching a lot of entertainment. My parents weren't on the up-and-up with that kind of thing. The culture in my family was that you didn't spend money to go to the movies, but when I saw Edward Scissorhands, that was the first time I saw something and felt changed. It changed my point of view about what was artistically possible. I laughed and I cried, and I'm not alone in that obviously because it's an iconic movie, but it definitely played a role in how I create. Even with the way Edward was created with the makeup and the scissors; Maya and I really miss practical effects in movies, and Tim Burton was such a leader of that obviously. I last watched it six months ago, and I think I'm due for it again.
This has been kind of a revelation for me. I sound like such a hippie, but apparently in pink Himalayan salt, there is an unbelievable amount of minerals, and with a lot of how we eat now, a lot of the bacteria and good minerals have been stripped away from foods. It was suggested to me that you should put some of this salt in water in the morning, along with a squeeze of fresh lemon juice (so you don't taste the salt), and drink it to help alkalize and give you the minerals you need. I do that every morning, and I do feel healthier at least.