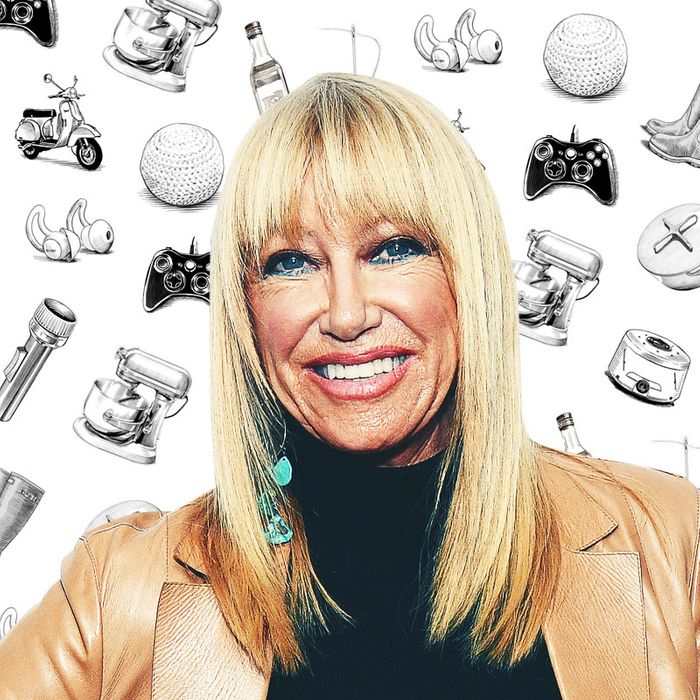 Photo-Illustration: Getty Images / Dia Dipasupil
If you're like us, you've probably wondered what famous people add to their carts. Not the JAR brooch and Louis XV chair but the hairspray and the electric toothbrush. We asked actress and entrepreneur Suzanne Somers — who is hosting social distancing happy hours every Friday night on Facebook Live — about the cotton sheets, tequila, and eyeliner she can't live without.
I've written nine cookbooks and I cook every day. I love coconut oil for so many reasons. If you want to make the greatest fried potatoes ever, do them in coconut oil. They come out crispy and delicious and taste better than if you did them in vegetable oil or olive oil. Coconut oil doesn't burn in high heat like olive or vegetable oil does, and it doesn't have bad ingredients in it. You think, "Oh, vegetable oil, that's got to be good." But vegetable oil on its own tastes bad, so they load it up with chemicals to give it the kind of flavor we're used to. Coconut oil is so much better for you. It's also good for an upset stomach. I take three spoonfuls a day to help soothe and heal my digestive system. I have a small jar on my vanity because sometimes I put it on my face before I go to bed — it's very hydrating. A lot of the products in my own line, Suzanne Organics, are made with coconut oil as a base because it does wonders for your skin. I'm telling you: Coconut oil is your friend.
When I was doing Three's Company, my very first makeup artist — his name was Bjorn — transformed my look. He said, "Baby, I think Chrissy Snow should have dark-black eyeliner, pink cheeks, pink lips, and snow-white hair." And I said, "Okay, do it." That's when I think the Chrissy character came to life. He helped me internally understand her. She was a sex object but not sexual: Women loved her; men wanted to protect her. I kind of stuck with the whole black-eyeliner look after that. It's my signature. I've worn many, many different black eyeliners in my life. I found this Thrive brand online. It's great. You can really line your eyes all the way around, and it stays. It's also got a little thing on the end where you can smudge it if you don't want a distinct line. It's a very versatile eyeliner.