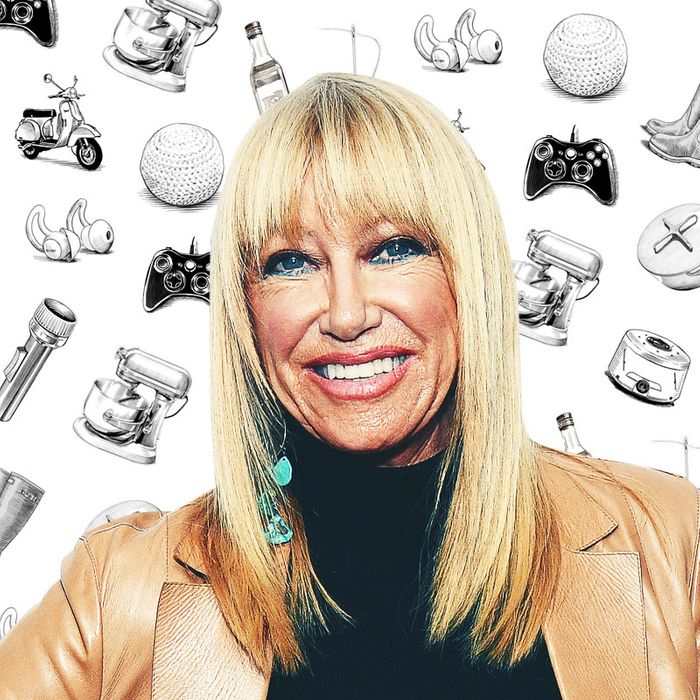 Photo-Illustration: Getty Images / Dia Dipasupil
If you're like us, you've probably wondered what famous people add to their carts. Not the JAR brooch and Louis XV chair but the hairspray and the electric toothbrush. We asked actress and entrepreneur Suzanne Somers — who is hosting social distancing happy hours every Friday night on Facebook Live — about the cotton sheets, tequila, and eyeliner she can't live without.
I've written nine cookbooks and I cook every day. I love coconut oil for so many reasons. If you want to make the greatest fried potatoes ever, do them in coconut oil. They come out crispy and delicious and taste better than if you did them in vegetable oil or olive oil. Coconut oil doesn't burn in high heat like olive or vegetable oil does, and it doesn't have bad ingredients in it. You think, "Oh, vegetable oil, that's got to be good." But vegetable oil on its own tastes bad, so they load it up with chemicals to give it the kind of flavor we're used to. Coconut oil is so much better for you. It's also good for an upset stomach. I take three spoonfuls a day to help soothe and heal my digestive system. I have a small jar on my vanity because sometimes I put it on my face before I go to bed — it's very hydrating. A lot of the products in my own line, Suzanne Organics, are made with coconut oil as a base because it does wonders for your skin. I'm telling you: Coconut oil is your friend.
When I was doing Three's Company, my very first makeup artist — his name was Bjorn — transformed my look. He said, "Baby, I think Chrissy Snow should have dark-black eyeliner, pink cheeks, pink lips, and snow-white hair." And I said, "Okay, do it." That's when I think the Chrissy character came to life. He helped me internally understand her. She was a sex object but not sexual: Women loved her; men wanted to protect her. I kind of stuck with the whole black-eyeliner look after that. It's my signature. I've worn many, many different black eyeliners in my life. I found this Thrive brand online. It's great. You can really line your eyes all the way around, and it stays. It's also got a little thing on the end where you can smudge it if you don't want a distinct line. It's a very versatile eyeliner.
My bathroom is kind of my happy place. My husband and I built it ourselves. I love our bathtub — it's big enough for the two of us and we take a bath with epsom salts together every night. It's a big connecting thing as a couple. The epsom salts make it rejuvenating. Epsom salts are something from my parent's generation — they were a remedy for whenever someone had aches or pains. I always thought they were something that old people use. But then I started learning about the benefits of epsom salts — there are so many. They're loaded with magnesium, which calms you down. After I pat myself dry from our bath, I get into bed and sleep so soundly.
This is the most decadent brie I have ever had. It's a triple-cream; if you've ever been to France, you can order triple-cream brie. They'll put it in front of you and as soon as you try it, you'll never forget it. It's better than butter. I like to put it on a thick cracker with a little dollop of truffle honey. It's so yummy. It's one of my indulgences and splurges, but it lasts a long time. I buy it by the wheel — it's about 30 bucks that way — and just put out a wedge at a time.
Every Friday night, I've been hosting what I call America's biggest virtual cocktail party. We do it from the bar at my house — which we call Big Al's bar, after my husband — and it's just me with a ring light, a camera, and my husband filming. The guidelines are no politics allowed, let's just have a good time and be united as a country. Drinking is sort of a lonely thing, so people can come and have a drink with me and my husband and shoot the breeze. I only drink clear tequila because there's little to no sugar in it. I could not handle sugar because mold got into my intestines at this house I stayed in after our house burned down in Malibu. I'm not really a tequila connoisseur, but I think this brand tastes really good.
Dinah Shore originally gave me these glasses. She was the first person I ever saw on television when I was a little girl. Then many, many years later after I became famous, I would do her show all the time — I would cook on it. When I got married, she gave me 12 of these Baccarat glasses. Some broke over the years, so I've had to replace them. I'm down to four. They're the only glasses I use for my tequila. I fill one to the top with ice, then I pour in maybe two shots. Then I refresh the drink with ice to make me feel like I'm drinking more than I actually am. My father was a terrible alcoholic, so I've always been very careful.
There's something about truffle salt on potato chips that makes my eyes roll into the back of my head. They're just yummy. When I drink, I like to have something salty. So I put them out in a little dish to pick from, along with some black olives, prosciutto, a little bit of that brie, some hummus, and a few vegetables. I buy about ten bags at a time so I never run out.
I used to buy these really expensive sheets that I had to take to the laundromat to have specially washed. The whole thing expense on expense on expense. I saw an ad for the Boll and Branch brand several years ago, so I ordered a set, and you know what, I like these better. They're not cheap either, but they don't need ironing, and the more you wash them, the softer they get. Also, they're organic, which is a very important aspect to me. I have organic sheets, an organic mattress, and organic pillows. If you've ever had cancer, you start to really question a lot of life choices. I changed my diet and started to really value sleep. I used to stay up all hours of the night writing my books because I thought at three in the morning I would have uninterrupted time. But sleep is where we repair, so I changed my sleep patterns and made my bed something I love and want to be in without any chemicals. The pillows aren't foam, so your head doesn't make that big indentation, and I can throw them in the washer and dryer. I'm a side-sleeper and there's just enough lift to hold my neck in the right place. But the other night, I fell asleep sitting up: I was binge-watching Tiger King. I totally think Carole killed her husband.
I use these to tie my hair back for yoga and other things. They're cute, come in so many colors, and don't make a dent or a bump after you take one out. I've had the same hairdo my whole life — I think I was born with bangs, and I wouldn't know who I was without them — so this is, I guess, how I mix it up.
I know not everyone can garden, but if you can, even just herbs in your windows, I encourage you to try it. There's something so satisfying about knowing where your food comes from. My garden is very gratifying — the only thing I have to worry about are the squirrels. I'm in a constant battle with the squirrels. I have arches made of chicken wire over each plant — I call them my planter prisons. No squirrels can fit through the wire, and I just lift it up to get in and get what I want.
I think hair is a window to your health. If you have good hair, that's your body saying things are happening; your internal compass is working really well. I notice that, in my age group, hair can take a hit from lack of hormones. So I made this supplement to help people who have hair issues, because losing hair is traumatic. I swear it only takes a couple of weeks before you notice that your hair — and your nails and skin — are looking so much better. At 73, I probably shouldn't have nice hair, but I get compliments all the time. People say, "Do you wear extensions?" And I go, "I don't, feel my head, it's natural." I've actually had to do that.
The Strategist is designed to surface the most useful, expert recommendations for things to buy across the vast e-commerce landscape. Some of our latest conquests include the best acne treatments, rolling luggage, pillows for side sleepers, natural anxiety remedies, and bath towels. We update links when possible, but note that deals can expire and all prices are subject to change.