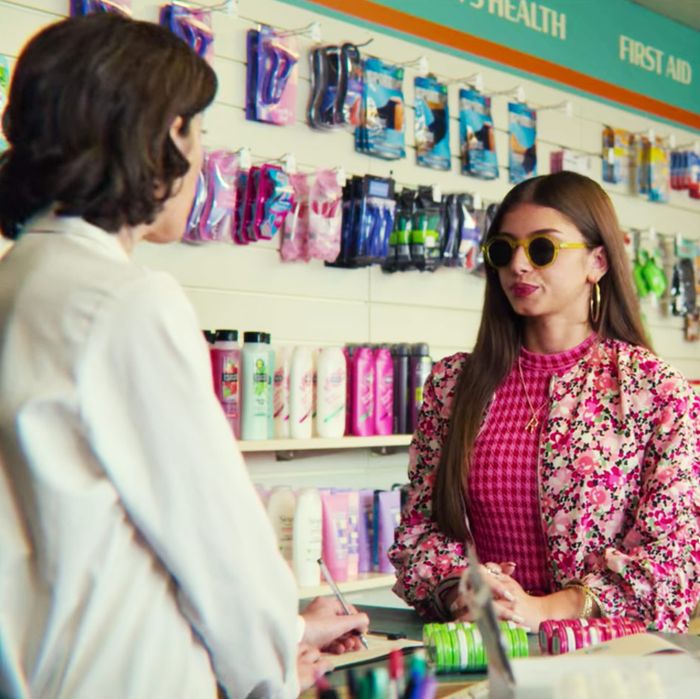 Photo: Courtesy of the retailers.
If you want to know what's cool at any given moment, whether it's the best white sneakers, the trendiest lip gloss, or even the newest way to say "cool," usually your best bet is to ask a teen. What's more, most teens have limited funds with which to buy said lip gloss and sneakers, so they're uniquely positioned to sniff out good deals. As part of our ongoing drugstore shopping coverage, we wondered, do teens still shop at drugstores? And if so, what drugstore products get the cool-teen seal of approval? We talked to 14 teens about the hair-ties, concealer, cleansing wipes, gum, and condoms they buy over and over again at the drugstore.
Unsurprisingly we heard a lot about beauty products, tampons, hair-ties, and candy. But our panel of teens also told us about their less obvious purchases like press-on nails and underwear. "Drugstores are a good place to buy cheap boxers in bulk," says Isaac, 18. Alette, also 18, put it this way, "I always thought of drugstores as a tampons and mascara type of shopping destination, but chances are, if you need something random, it'll be waiting for you in one of the aisles of your drugstore."
Gum
The most common thing our panel of teens reported buying was gum. Eight of them say they regularly stop into CVS, Walgreens, or Duane Reade for a pack or two. Isaac and Didi, who are both 18, say that Wrigley's 5 sugar-free gum in peppermint is their current go-to. Other favorites include Extra Peppermint gum, 18-year-old Chloe's pick for long study sessions. "When I study, you will never see me without gummy bears and this gum," she says; and Trident Tropical Twist, which is beloved by 15-year-old Lena because of the flavor and the fact that it's sugar-free. It also doesn't hurt, she says, that "Trident gum is known for whitening teeth and helping prevent stains."
Toner
We didn't get a full picture of everyone's skin-care routines, but we did see a few repeat products and brands worth mentioning. "I've seen a lot of people use Thayer's Witch Hazel Toner," says Georgia, who is 15. "It's supposed to reduce the size of your pores and clear up your skin but besides that, it just feels really nice," she says. Alette is also a fan of the all-natural astringent. "I love to pick up Thayer's Witch Hazel," she says, "because I have oily skin and witch hazel works fantastically for that. I particularly love the rose with aloe, because it smells so nice." (In addition to Georgia and Alette, Thayer's Witch Hazel is beloved by Strategist beauty writer Rio and has been recommended to us by professional barbers as a gentle and effective aftershave alternative.)
Cleansing wipes
Both Chloe and Georgia stock up on Neutrogena face wipes at the drugstore. Georgia says her go-to skin-care product is Neutrogena Acne pads because they stop her breakouts fast. "I only have light acne so I can use these and wipe it out pretty quick instead of going through a longer routine. They're also great for when I'm running late, or I'm tired at night," she says. Chloe goes for the milder light blue pack of Neutrogena makeup remover wipes, saying, "They're perfect for sensitive skin like mine and take makeup off so easily."
NYX makeup
Three of the teens we talked to say they love buying drugstore beauty brand NYX. But of all the line's offerings, the lip gloss and the eye-shadow palettes got the highest marks. According to Caitlin and Hannah, both 16, NYX makes high-quality lip gloss without a high price tag. Hannah says she wears it in pink everyday. Georgia loves this rainbow eye-shadow palette from NYX because it's more affordable than other similar quality palettes and the 16 colors mean she can easily try new colors. "I can switch it up with styles like all the Euphoria-inspired looks that are really trendy right now," says Georgia.
Other lip balms
Apart from gum and a lot of snacks (more on that later), lip stuff is the most popular product our teens reported buying. Two of them — Patty, 15, and Holly, 18 — mention buying Burt's Bees on a regular basis. The Strategist favorite and fancy-for-a-drugstore brand is also a go-to product for teen actor Noah Schnapp, who says he keeps a tube of their lip balm on him at all times. Holly gets hers at CVS and says she recently tried a new flavor. "This is my first time trying the cucumber mint flavor. I like that it feels very refreshing, and applies much-needed moisture to my wintry chapped lips," she says. But Patty goes for the brand's tinted lip shine over the colorless balm. She says, "I love a good affordable lip gloss, and this one is my favorite on the market. It's something I would never want to part ways with." Chloe, on the other hand, is loyal to the classic medicated lip balm from Carmex, which she buys in three packs at the Walgreens near her school. "I always stock up as soon as I run out," Chloe says, adding that the balm has many different uses. "Carmex is my favorite lip plumper, and I also use it on any cuts or bruises. It's the perfect remedy for blisters, too," she says.
Concealer
Two of the teens we spoke to say they buy concealer at the drugstore. Holly pointed us toward this one from Maybelline, which she says has been her go-to for years. It's worth noting that she likes it more for the texture and the easy-to-use applicator than for its anti-aging properties. (Holly is, after all, 18.) "It's incredibly easy to apply and has worked better than the high-end concealers I have purchased," she says. The other concealer fan we talked to didn't call out a specific brand and asked to remain anonymous. His very relatable reasoning is that he uses the concealer he buys specifically for hiding hickies.
Nail polish and fake nails
It is not surprising that drugstore nail polish is a popular teen purchase. But we're inspired by Lena's mention of this French manicure set of acrylic nails. Lena says that a lot of her emergency drugstore purchases, including these press-on nails, occur on the way to her Latin dance competitions. "They stick onto your nail for a good amount of time and are very pretty," says Lena of the nails. In addition to the French tips, Lena says, "I also enjoy a nail polish brand called OPI," explaining that they make nice quality polishes with rich colors that are easy to apply. Another teen, Vivian, tells us that when it comes to her drugstore polish, she's team Essie. "There's nothing worse than spending 30 minutes painting your nails only to have them peel off an hour later. So I always go for Essie polishes because I know I can trust them." She says she loves the brand's muted blues, sweet pinks, and orangey-reds. If she can't decide on a color, she likes to put a different color on each nail.
Mascara and fake eyelashes
Mascara is as classic a drugstore purchase as tampons and bandaids. But as with the fake nails, we're intrigued by Vivian telling us she buys Kiss false eyelashes (the same brand Lena says makes the best affordable fake nails). Vivian admits she's not an expert when it comes to applying her false eyelashes. "I'm not quite Kylie Jenner lash-approved yet," she says. But, according to her, this kit makes putting them on a cinch. She also attests to the fact that they, as the name implies, look very natural, and the glue is less messy than other brands. "I like the glue because the brush applicator is much easier to use than the ones you have to squeeze," she says.
The teens called out two mascaras by name, both for the same reason — because they give you big lush lashes that don't look over the top. Hannah discovered her current go-to in a beauty subreddit and says that because of the low price, she was willing to take the risk. "It really does give you voluminous lashes. They still look natural, but it emphasises their thickness," says Hannah. Alette's pick, Covergirl Lash Blast, is more of a classic and one she's been using since she was in 7th grade. "It's never failed me," she says. "I really like the waterproof version, because it doesn't flake and keeps my lashes curled all day."
Condoms
Two of the teens we spoke to mentioned buying condoms in an emergency at the drugstore. Neither of them had more to say about the matter — they are teenagers, after all — but when it comes to favorite brands, Didi says Durex and Alette's one-word response came via email: Trojan with an exclamation point.
Disposable cameras
Over the last few years we've been seeing a rise in popularity of disposable film cameras. And they popped up in both the article we wrote about cool dorm room décor and the best gifts to give to college students. So it's not a total shock that two of the teens we spoke to about drugstores mention them, too. Alette says, "One random-ish thing that I frequently get is Fujifilm disposable cameras. And I get the photos developed from CVS, too. I love having those tangible memories." Vivian also stocks up on disposable cameras for weekend trips with her friends and special events. "I pick two or three of these up for every special event and I love how you have no idea how the photos will turn out," says Vivian, explaining that, "you can't take a thousand until you look the way you want, you just capture the moment as it is." She points out that they can be a little pricey if you consider the cost of developing and printing, but she says the photos are better memories than what you'd take on an iPhone, so it's worth it.
A razor
The only shaving purchase we heard about from the teens came from Didi who recently bought this Gillette razor saying "My disposable razors kept giving me breakouts, so I figured I'd buy a more expensive one."
And one teen's drugstore hack
We also asked the teens if they had any creative tricks for making the most out of what you can find in a drugstore. Overall their responses were good but not revolutionary — shop the discount bins, buy every flavor of chips and host a party, or get your photos printed for cheap. But Vivian's hack is on another level. While visiting Austin, Texas, for her sister's college graduation she found herself without a proper bra to wear with a backless dress she was borrowing for a night out. Remembering the athletic tape she sometimes used to tape her chest during dance performances, Vivian popped into a CVS looking for something similar. Instead, she found a better solution: KT Tape, short for kinesiology therapeutic tape. The stretchy tape is used by athletes to protect their muscles and also by Vivian as a modular sticky bra. "I use two of the strips to tape my boobs together and it holds all night long, no matter how much you move or sweat," says Vivian. According to Vivian the tape works for all bra sizes and doesn't show under clothing. She recommends the pre-cut strips because they're so convenient.
The Strategist is designed to surface the most useful, expert recommendations for things to buy across the vast e-commerce landscape. Some of our latest conquests include the best acne treatments, rolling luggage, pillows for side sleepers, natural anxiety remedies, and bath towels. We update links when possible, but note that deals can expire and all prices are subject to change.