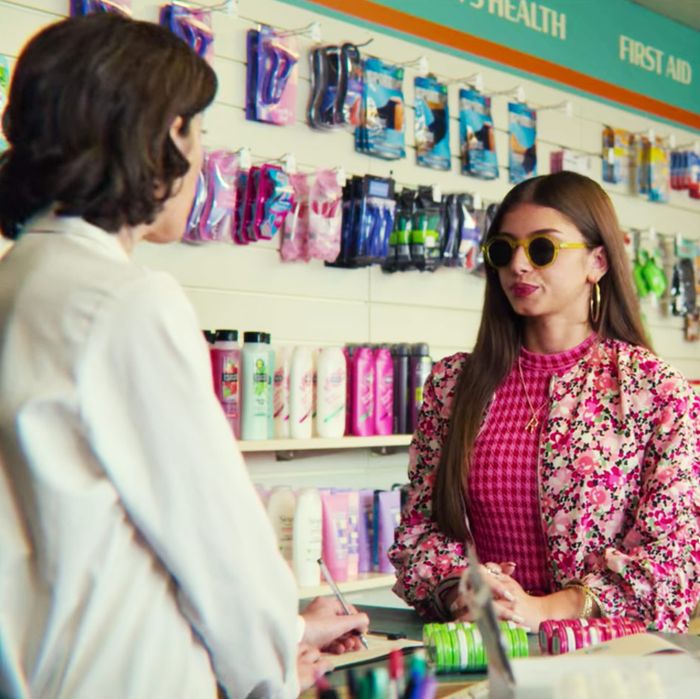 Photo: Courtesy of the retailers.
If you want to know what's cool at any given moment, whether it's the best white sneakers, the trendiest lip gloss, or even the newest way to say "cool," usually your best bet is to ask a teen. What's more, most teens have limited funds with which to buy said lip gloss and sneakers, so they're uniquely positioned to sniff out good deals. As part of our ongoing drugstore shopping coverage, we wondered, do teens still shop at drugstores? And if so, what drugstore products get the cool-teen seal of approval? We talked to 14 teens about the hair-ties, concealer, cleansing wipes, gum, and condoms they buy over and over again at the drugstore.
Unsurprisingly we heard a lot about beauty products, tampons, hair-ties, and candy. But our panel of teens also told us about their less obvious purchases like press-on nails and underwear. "Drugstores are a good place to buy cheap boxers in bulk," says Isaac, 18. Alette, also 18, put it this way, "I always thought of drugstores as a tampons and mascara type of shopping destination, but chances are, if you need something random, it'll be waiting for you in one of the aisles of your drugstore."
Gum
The most common thing our panel of teens reported buying was gum. Eight of them say they regularly stop into CVS, Walgreens, or Duane Reade for a pack or two. Isaac and Didi, who are both 18, say that Wrigley's 5 sugar-free gum in peppermint is their current go-to. Other favorites include Extra Peppermint gum, 18-year-old Chloe's pick for long study sessions. "When I study, you will never see me without gummy bears and this gum," she says; and Trident Tropical Twist, which is beloved by 15-year-old Lena because of the flavor and the fact that it's sugar-free. It also doesn't hurt, she says, that "Trident gum is known for whitening teeth and helping prevent stains."
Toner
We didn't get a full picture of everyone's skin-care routines, but we did see a few repeat products and brands worth mentioning. "I've seen a lot of people use Thayer's Witch Hazel Toner," says Georgia, who is 15. "It's supposed to reduce the size of your pores and clear up your skin but besides that, it just feels really nice," she says. Alette is also a fan of the all-natural astringent. "I love to pick up Thayer's Witch Hazel," she says, "because I have oily skin and witch hazel works fantastically for that. I particularly love the rose with aloe, because it smells so nice." (In addition to Georgia and Alette, Thayer's Witch Hazel is beloved by Strategist beauty writer Rio and has been recommended to us by professional barbers as a gentle and effective aftershave alternative.)
Cleansing wipes
Both Chloe and Georgia stock up on Neutrogena face wipes at the drugstore. Georgia says her go-to skin-care product is Neutrogena Acne pads because they stop her breakouts fast. "I only have light acne so I can use these and wipe it out pretty quick instead of going through a longer routine. They're also great for when I'm running late, or I'm tired at night," she says. Chloe goes for the milder light blue pack of Neutrogena makeup remover wipes, saying, "They're perfect for sensitive skin like mine and take makeup off so easily."
NYX makeup
Three of the teens we talked to say they love buying drugstore beauty brand NYX. But of all the line's offerings, the lip gloss and the eye-shadow palettes got the highest marks. According to Caitlin and Hannah, both 16, NYX makes high-quality lip gloss without a high price tag. Hannah says she wears it in pink everyday. Georgia loves this rainbow eye-shadow palette from NYX because it's more affordable than other similar quality palettes and the 16 colors mean she can easily try new colors. "I can switch it up with styles like all the Euphoria-inspired looks that are really trendy right now," says Georgia.
Other lip balms
Apart from gum and a lot of snacks (more on that later), lip stuff is the most popular product our teens reported buying. Two of them — Patty, 15, and Holly, 18 — mention buying Burt's Bees on a regular basis. The Strategist favorite and fancy-for-a-drugstore brand is also a go-to product for teen actor Noah Schnapp, who says he keeps a tube of their lip balm on him at all times. Holly gets hers at CVS and says she recently tried a new flavor. "This is my first time trying the cucumber mint flavor. I like that it feels very refreshing, and applies much-needed moisture to my wintry chapped lips," she says. But Patty goes for the brand's tinted lip shine over the colorless balm. She says, "I love a good affordable lip gloss, and this one is my favorite on the market. It's something I would never want to part ways with." Chloe, on the other hand, is loyal to the classic medicated lip balm from Carmex, which she buys in three packs at the Walgreens near her school. "I always stock up as soon as I run out," Chloe says, adding that the balm has many different uses. "Carmex is my favorite lip plumper, and I also use it on any cuts or bruises. It's the perfect remedy for blisters, too," she says.
Concealer