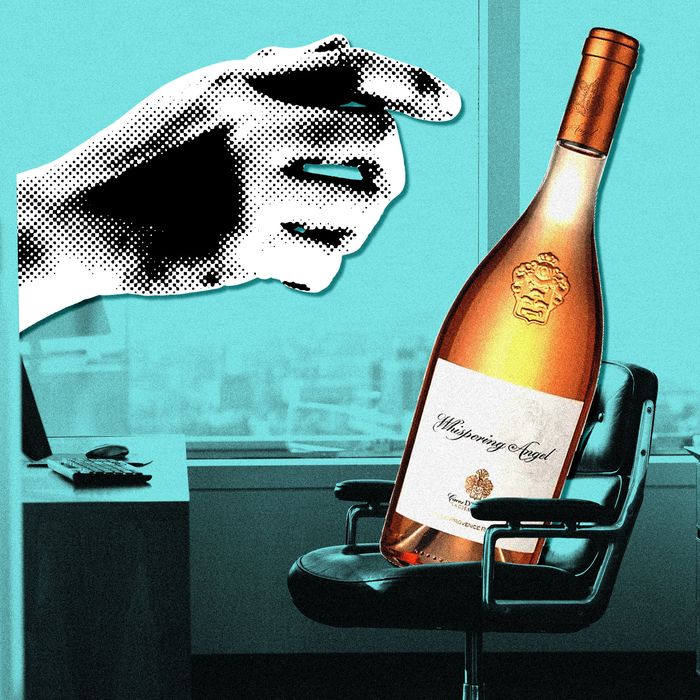 Photo-Illustration: Strategist; Photos: Getty, Retailer
Assistant is a bit of a catchall term. Sure, assistants schedule meetings, take notes, and retrieve coffee, but they can also act as a quasi concierge, sending fruit baskets to top clients and buying gifts for partners. In an effort to unearth the highly specific material needs of powerful people, we sat down with "Marcella," the executive assistant to the CEO of a fashion-production company with a roster of well-known clients. We spoke with Marcella about the 50 bottles of Champagne she raced to pick up across the city, the designer dog collar she imported from Europe, and the composter that makes fresh soil her colleagues "fight over."
Office Essentials
Marcella began working at the company as the office manager, and by the end of 2021, she was promoted to the CEO's first-ever executive assistant. Though her boss likes being self-sufficient, Marcella says he decided to change her role after they worked together on a demanding office renovation. She now manages his calendar and stocks supplies for a dog-friendly, sustainable office.
Because Marcella's boss is a wine connoisseur, he likes having several varieties — only white, so it doesn't stain — from makers the company works with on tap in the kitchen for late nights. On one of those evenings, he was on a call and signaled a "W" with his hands, which Marcella thought meant "water." When she went to fill up a glass, she saw him shake his head. He then started wobbling in his chair to pantomime what he was asking for, but she still couldn't figure out what he wanted. Finally, he texted her, "Whispering Angel, please." Marcella ran to the nearest wine shop and bought him a bottle. She now makes sure to order the well-priced and not-too-sweet rosé for his conference room's mini-fridge and is looking to add it to their office tap.
A little over a year ago, the CEO rescued two mixed-breed puppies that Marcella says he's "crazy about." When one of the beloved dogs had surgery, the CEO wanted to bring him to the office and asked Marcella if she could find a crate that wasn't wire and would match the furniture. After some online sleuthing, she landed on this one that has ample space and a half-end-table, half-crate design. Her boss was happy with it, too — when Marcella recently asked if he wanted her to put it away because the dogs haven't visited the office in months, he decided to keep it because of how it looks.
Cutting down on food waste at the office is important to the CEO, Marcella says. If there's an event with leftovers, for example, she takes them to the community fridge at a nearby church. The CEO also brought in a Lomi composter last spring so employees could dispose of their food scraps. "It took a little while for people to get used to it," Marcella says, "but it's everyone's favorite thing now." The soil the Lomi produces is often used for the office plants, and Marcella bags up extra for her colleagues. "Sometimes people fight over it, and I have to be like, 'Guys, there will be soil tomorrow,'" she says. (The CEO himself takes soil for gardening.) The composter requires charcoal filters to absorb odors, so Marcella has a monthly auto shipment set up.
Personal Items
Marcella assists her boss with personal tasks, such as ordering his lunch (nearly always Springbone Kitchen's vegan shakshuka bowl and chicken broth) and tracking down some elusive potpourri for a company party. Because her boss is a "big family man" and dog lover, Marcella often ends up purchasing items for his young children and puppies as well.
For the CEO's 50th birthday, the company's managing director wanted to give him 50 bottles of his favorite Ruinart Champagne. Marcella originally placed an order at a Manhattan liquor store, but at the last minute, the shop said it was out of stock. So she paid an Uber driver a $500 flat fee to take her across the city to pick up handfuls of bottles from multiple shops until she reached 50. "My phone was on DND that day, and the only person who could get through to me was our managing director, because I was like, 'I have a mission and I need to accomplish it,'" she says. The whole operation took seven hours.
She then put all the bottles in his building's elevator and sent them up to his loft as a surprise. The next day at his office birthday celebration, the CEO expressed how shocked and happy he was, saying, "I don't know what I'm going to do with 50 bottles. That's kind of absurd." He did bring in about 15 to share, and they now open bottles on late nights and for toasts.
Before hosting a company party last summer, the CEO's partner asked Marcella if she could pick up some potpourri he said was called "Santa something." Marcella googled terms like "Santa NYC potpourri" but didn't have any luck. She texted him again, and he remembered it was called Santa Maria. She was able to find the potpourri at a store near the office and picked up two bags, one for the party and one as an extra. Now, she buys it every four to six months for her boss's homes. "He says it's a welcoming scent that's not too harsh for anyone visiting," she says.
That same summer, one of the company's Paris-based producers who was in town for campaign shoots gifted Marcella's boss a green Goyard dog collar. Because the CEO has two puppies, he tasked Marcella with finding a second collar so his dogs could match. It was sold out everywhere online, so Marcella set stock notifications and visited the store frequently. After about a month, she was able to order one from the brand's European website and paid an extra 40 euros to have it imported. It took another four weeks to arrive, but both dogs now wear the collars all the time.
When Marcella's boss travels for work, he likes to give his children gifts when he returns. LEGOs are their preferred toys, and they've amassed so many builds that they have an entire display wall in their playroom —Marcella even has to keep a running list of ones they own so she doesn't buy duplicates. In the past eight months, she's purchased six sets for the kids, the most recent being a Friends shopping mall and the Shanghai skyline, because her boss wants to expose his children to new cities.
Want to be featured in Assistant Files? If you've been an assistant in the past three years and want to tell us about your boss's shopping habits (anonymously or not), email strategist@nymag.com with "Assistant Files" in the subject line.
The Strategist is designed to surface the most useful, expert recommendations for things to buy across the vast e-commerce landscape. Some of our latest conquests include the best acne treatments, rolling luggage, pillows for side sleepers, natural anxiety remedies, and bath towels. We update links when possible, but note that deals can expire and all prices are subject to change.