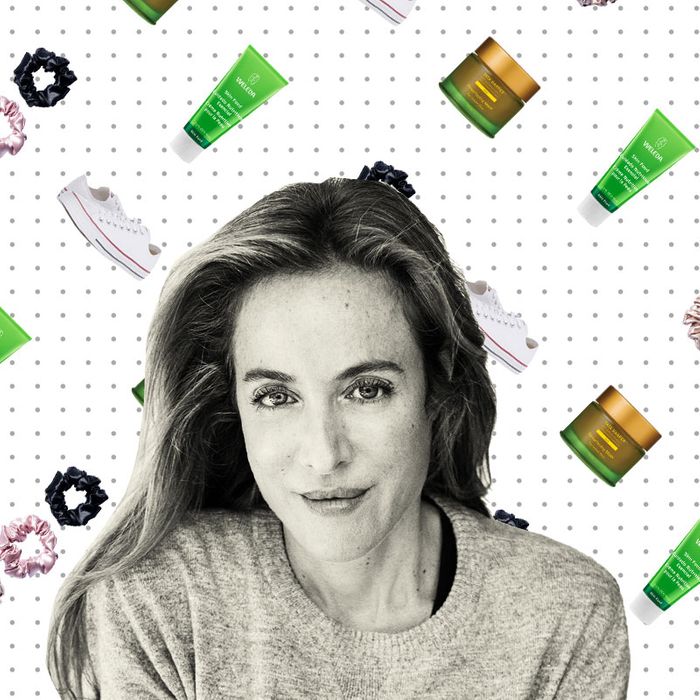 If you're like us, you've probably wondered what famous people add to their carts. Not the JAR brooch or the Louis XV chair, but the hand sanitizer and the electric toothbrush. We asked jeweler Aurélie Bidermann what sneakers, hand cream, and hair scrunchie she can't live without.
I'm obsessed with it. A couple months ago I was having lunch with an editor when she told me I had to get it — she knows I'm obsessed with lipstick and hand cream — and I love the smell of it so much that I put it on at least four times a day. Usually, I'll use it on my hands, but I'll also put it on my cheeks to bring some light. It's become my little thing. If I see I'm about to run out, I'll buy two of them. The smell is like cut herbs mixed with essential oils. [Editor's note: Sweetbitter author Stephanie Danler has written about this before.]
I have ten of them, and I don't even know why I love them so much. I'll give them to my friends, and they'll look at me like, "We're not 16." They're the right material for a ponytail though because they'll never crimp your hair the way a regular scrunchie will. They even give your hair volume. I have them in every color.
It's crazy, but I wear them almost every day. If I'm not in proper shoes, I'm in Converses. I like to get them dirty, and then once they're too dirty, I'll put them in the washing machine. I like them a bit broken — not with a hole on the side, but almost. They just go well with everything from pants to jeans to a dress. I actually don't have several pairs because I like to wear the same pairs over and over but I have white ones and black ones and navy ones. And then when they get too dirty or ripped, I'll buy a new pair and be unhappy for at least a month because they need to get old again.