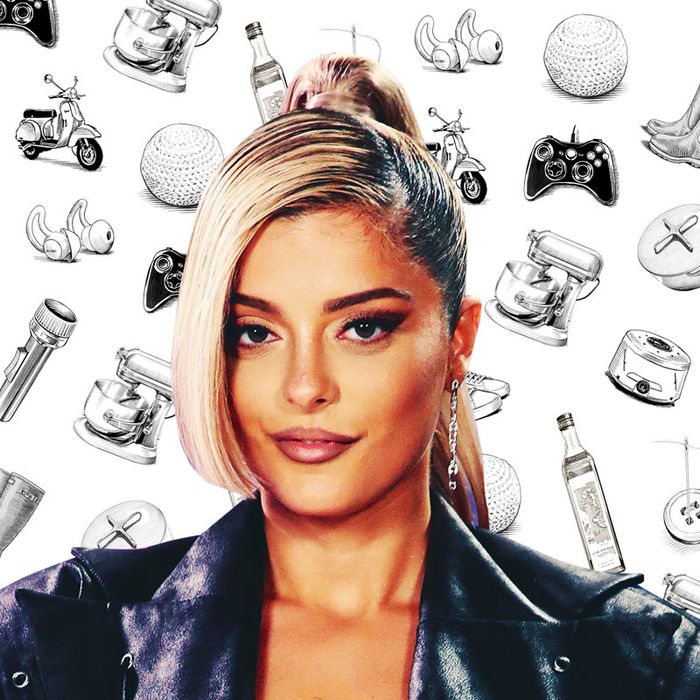 Photo-Illustration: Getty
If you're like us, you've probably wondered what famous people add to their carts. Not the JAR brooch and Louis XV chair but the hairspray and the electric toothbrush. We asked singer Bebe Rexha — whose Halloween-themed nail collection with SinfulColors is out now — about the candle, moisturizer, and seasoning she can't live without.
I'm a big cook — I really kill it in the kitchen. This is a very important seasoning in Albanian cooking. It's all just veggies, like carrots and onions and parsley. We use it on everything; you really cannot have an Albanian dish without it because it just doesn't taste the same. This and paprika go hand in hand with Albanian cooking. We make something called pite, which is kind of like a Greek spanakopita. Imagine very thin phyllo dough filled with meat and onions then baked so it's super crunchy. Putting this in it really makes the dish. It does have MSG, which I know is really, really bad, but it's really hard not to use it. I tried to get a healthier version, but it had this really weird name on the ingredient list. I Googled it and found out it was just another name for MSG, so there's really no avoiding it.
Back when I was home every day during quarantine, I would make this multiple times a day. I don't drink it solely for energy — I also love the taste. I really hope people don't buy it, though, because I want it all for myself. I use a French press; I grind the beans myself and let the coffee sit for eight to ten minutes after making it. It's really nice to have a routine for myself in the morning.
This makes my whole bedroom smell like rose ice cream. It's definitely sweet, but not too sweet — I'm kind of over that insanely sweet vibe. If I got a giant five-wick candle from another brand, it'd probably be like $600, but this is just a little more than $200. It'd make a great gift for someone. I got the big one after Saweetie posted a video online — I don't remember exactly what she was doing, going through her makeup or cooking in her kitchen or something, but she had this massive candle next to her. I was like, "Oh my god, I need that candle." And I don't regret it.
I had a makeup artist once who said whether or not you wash your face, you should always, always moisturize. I kind of live by that now. I never forget my neck, either — you need to moisturize your neck. I've tried a lot of stuff, and this just works really well on my skin. I know it's really, really pricey, but for me, it's worth it. And a little goes a long way. I've actually tried other really expensive moisturizers — more expensive than this — and after I put them on, I literally got a rash.
At one point, I was eating these every day, but then I had to be like, "Bebe, you cannot be eating 30 chocolate-covered almonds every day." So I cut myself down to 15. Midway through a day, I'm always craving something sweet. I've tried every type of chocolate-covered almonds out there, and I swear these ones are the best. I get them from Costco. They're so addicting, like it's really hard to stop. You have to get the milk chocolate ones, though, not the dark. My mom was getting the dark chocolate ones, and I was like, "No, you have to get the milk chocolate ones."
Which Puma sneakers don't I have? I have a bunch, but I like these the best because I do different kinds of training and working out — cardio on some days, boxing on others, and sometimes weight training — and I hate constantly changing my sneakers for different types of workouts. These are kind of an all-purpose shoe and I don't have to change them for every type of workout I do. They're super comfortable and they keep me stabilized. I've tried everything from Nike to Fila — literally everything — and these are the ones I've stuck with.
The founder is this woman from L.A. who has always had a problem that I've had, too: When you have to size up in bottoms because you need extra room for your booty, but then the waistband doesn't fit. It's annoying how a lot of big brands just don't really cater to curvier women. These leggings make your butt look so amazing and juicy. I have so many pairs. They're all so chic and they fit really, really well.