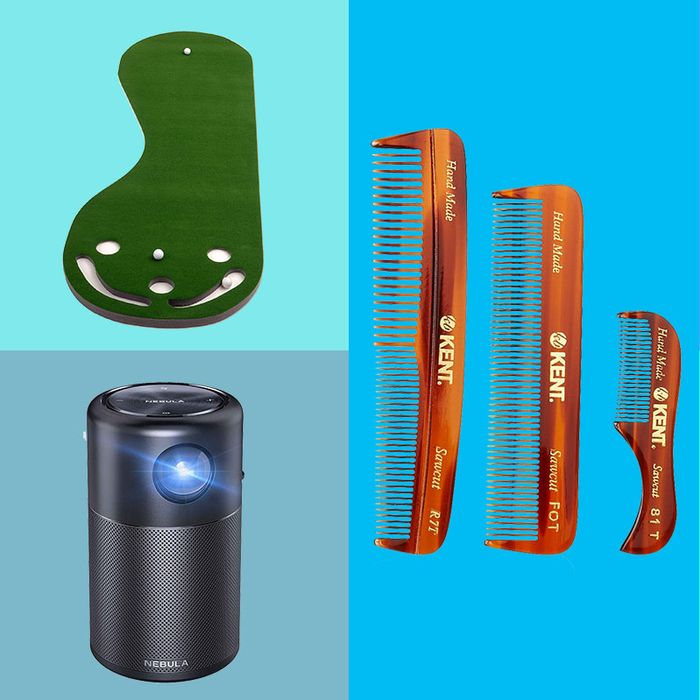 Photo-Illustration: retailers
When it comes to holidays and birthdays, dads are notorious for "not needing anything." As much as we appreciate the self-effacing sentiment, it doesn't make them any easier to shop for. Even if your dad has a hobby or new obsession, be it astronomy or 20th-century history, there are only so many star guides and World War II books you can buy him. To help you find the perfect gift for his next birthday, we've gathered 32 items across the useful-to-delightful spectrum (many of which are both useful and delightful) for dads of all kinds. While all of the things on this list are available on Amazon, we've found some of them elsewhere, too, for those who like to shop around.
For the dad who's still waiting to return to the green
In the meantime, he can perfect his putting game on this indoor putting mat that one Strategist contributor (and father of a Strategist editor) says, with a little ingenious planning, "felt almost like the real thing."
For the dad with big ideas
Photo: retailer
If, like author Karin Slaughter, your dad is full of ideas and says his best ones always come to him in the shower, give him this waterproof notepad (it comes with a pencil) that Slaughter uses to jot down anything the moment it comes to her, even if that's mid-shampooing. With it, his great ideas will never escape him — or go down the drain — again.
For the DIY dad
If he uses his tools all over the house (and then leaves his tools all over the house), Dad may appreciate this well-reviewed toolbox from DeWalt that has an organizer for nuts and bolts on top of a spacious compartment for everything else. The best part? Should Dad need more tool storage, he (or you) need only order a second of these because the boxes are designed to stack on top of each other.
For the dad who's not kidding when he asks for "a cold one"
Whether he wants to enjoy an ice-cold beer on the beach or around the camp fire, there's nothing better than the Yeti (one of our favorite coolers) to keep his beers (or any other beverage of choice) cold for hours.
For the new dad who's also a coffee snob
New parents know that in those early days, few things are more handy than caffeine. But chances are the new dad in your life doesn't have time to brew a proper cup for himself. With 16 cans in each pack, this batch of La Colombe cold brew should keep him going for a little while — and all he needs to enjoy it is a free hand, meaning Dad can grab one even while balancing a newborn on his shoulder.
For the outdoorsy dad who's a mosquito magnet
This plastic doodad might not look like much, but Strategist writer Lauren Ro swears by it for soothing the itchy and often painful reactions caused by mosquito bites and bee stings. Essentially a syringe, with the push and pull of a handle it removes an insect's irritation-causing saliva or venom from a bite or sting site by way of suction.
For the dad who misses going to the movies
For the dad who uses an alarm clock from the '80s
Spare your dad the chaotic beeping of the digital arm clock he's had since 1988 by giving him this wake-up light, which comes recommended by sleep experts and works by lighting up slowly for 30 minutes before he's ready to rise 'n shine.
For the dad who appreciates an old-fashioned shave
This safety razor is a favorite of barbers, including Brian Porteous, owner of Heritage Barbershop in Portland, Oregon, who says the handle is "wide and well-balanced." Because its on the shorter side, Porteous adds that it's "easier to grip" and more maneuverable.
For the dad who's getting into fitness
Not only will your dad be able to tell you how many steps he took this week, he'll also be able to tell you the number of laps he swam and how many miles he biked.
For the dad who loves to sauté
A liter of olive oil that works just as well served with bread as it does for sizzling some garlic.
For the dad who loves fried food (but is trying to be healthy)
Not only does this tiny oven toast, bake, and broil, it also air fries, significantly cutting down cooking time — and the amount of oil needed to give his favorite foods the perfect crunch. With it, dad can whip up crispy (and healthier) French fries in minutes.
For the dad who's even more capable in the kitchen
If he's mastered sautéing and air-frying, a Bluetooth sous-vide cooker may be more his speed. He can use it to perfectly cook his steak (and will likely get a kick out of monitoring the process from an app).