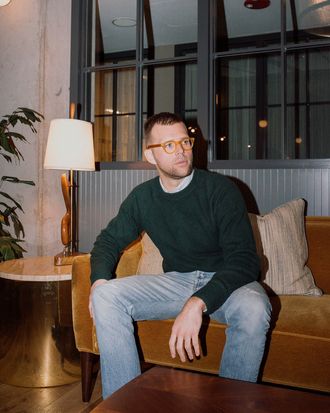 Photo: Samantha Parquette
If you're looking for the most powerful hair dryer or the handiest chef's knife, those things can be easy enough to find. Other objects of desire are a little more taste-based. What's the next status water bottle or hand wash, for instance? Chris Black (he's a partner at brand consultancy Public Announcement) is here to help in the form of a regular column. If you have a burning question about the next fanny pack or Noah rugby shirt, drop us an email with the subject line "Ask Chris" at strategist@nymag.com.
What's your take on mock necks? Which are good and which should I maybe avoid?
The mock neck is an advanced move. A style I equate with my dad's '90s cold-weather running looks and cool, young European shop assistants who listen to techno and do ketamine. But if you have the confidence, go for it.
For a layering piece that strictly goes under something else, allowing the beloved mock neck to just peek out, we go tech. Advanced fabrics will keep you warm and achieve the look. This simple black Nike Men's Therma shirt, which is moisture-wicking, will do the trick.
Uniqlo's fleece Heattech option comes in a myriad of colors and could be worn alone. In dark green, it's particularly lovely. And right now, select sizes are $5 off.
If you want to go upmarket, Needles has you covered. Its long-sleeve jersey mock neck is also minimal — but not too minimal, with the brand's signature butterfly logo on the chest. You could layer it, but the logo is almost too good to hide.
What type of plant should the tasteful follower of yours rock in their new crib?
TBH, I used to have a Tumblr-worthy amount of cool plants, but I don't have a single one in my current place. I don't know; I just got tired of it. That being said, they look great and bring life into a room. I should probably revisit.
We all need to breathe CLEAN AIR. Especially at home, the easy-to-care-for parlor palm will encourage just that. When you are having a meltdown, your deep-breathing exercises will work better. This plant is basically going to save your life. And for the price, the Sill's mini parlor palm can't be beat — especially because it comes with the ceramic pot, which you can get in three other colors in addition to this festive mint. If something a little bigger better suits your space, you can get a parlor palm in the next size up for a not unreasonable $31 (it also comes potted).
My personal fave, though, is the monstera. It's gotten trendy and is now printed on tea towels and wallpaper. But nothing beats the real thing. Treat this baby right, and it will grow nice and tall. Like humans, it will require a mix of sun and shade. You can find them for a range of prices; at the less expensive end, Amazon has this smaller guy in a basic planter's pot. It's not available via Prime, but it does ship for free.
At the more expensive end is the Sill's large monstera, which comes in the fancier ceramic pot.
A money tree for your desk or home workspace is a good omen. It doesn't require much care, and the braided trunk is fun! This 16-inch one from Amazon comes with the ceramic pot.