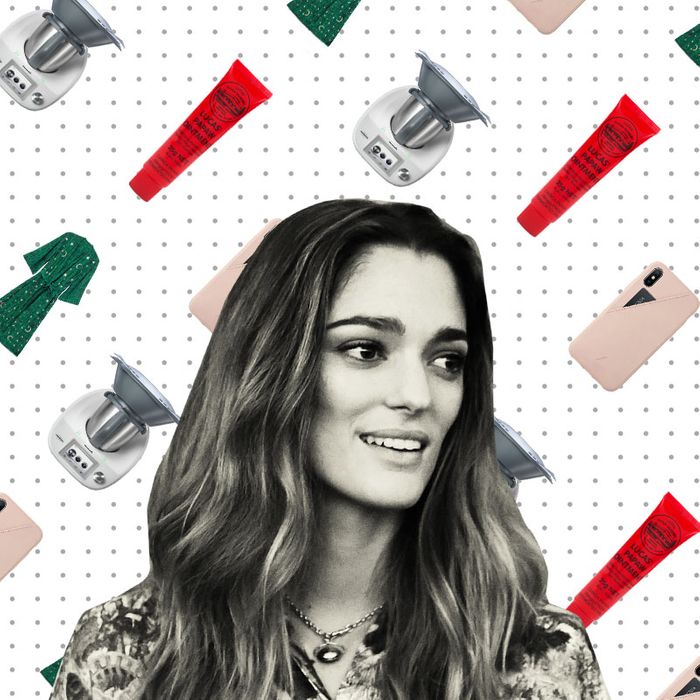 Photo: Courtesy of Sofia Sanchez de Betak
If you're like us, you've probably wondered what famous people add to their carts. Not the JAR brooch and Louis XV chair, but the hand sanitizer and the electric toothbrush. We asked fashion consultant and designer Sofía Sanchez de Betak about the items she can't live without.
This has been in my pouch forever. And with this dry, dry winter, I always have one on me. I also put it on my hands and fingers because they tend to get very dry too. I've been using it for ten years. [Editor's note: This is Aubrey Plaza's favorite, too.] It used to be impossible to find in the U.S. An Australian makeup artist first put it on me, then I remember trying to track it down. I had to have it shipped it from Australia. Now you can find it on Amazon.
When I travel or if I'm running low on energy or if I'm about to get sick, I take vitamin C. I always have these on hand. I take them three times a week, depending how I'm feeling or how cold it is.
What can I say? I wore them so much, I got three pairs. When I love a product, I wear it to death. So I have a pair that I leave in New York and another that I leave in Paris, so I don't have to travel with my jeans because it's a lot to pack, but I like to have them wherever I am. You can wear them during the day and go to a meeting comfortably. I like that it's high-waisted with that light color and vintage feel, but it's much more flattering than old Levi's you'd find from an actual secondhand store.
I've been wearing this moisturizer forever. I have very sensitive skin, so I barely wear product at all — this is one of the few things that I like putting on. It's sort of gel-like, and isn't greasy or shiny at all. It's mostly just hydrating. It feels like summer. I put it on in the morning and sometimes at night, but I don't really overdo it. I think you should let your skin go back to its own natural balance, too. I pretty much did a detox of all face products, and then after that started using this product again.
This face elixir is great after a day at the beach, or even just after a long day in the city when you feel dirty and run-down. It's a refreshing smell — I don't know what it is exactly, but it's almost minty, and feels bracing and almost spicy on your face. It wakes you up! After a beach day with all the sun and salt, I don't like putting a whole bunch of product on my skin, so this is kind of a go-to afterward.
So I just use my fingerprint on the door lock, and it opens. It gives you a bit more control over who can come in, unlike a key, whether it's a friend or a housekeeper or someone that comes in and out. So you never have to change a full lock, you just change the fingerprint or the code. I change the code every few months and give it to the people I want to have it — it's a lot more convenient and safe.
I've always used credit-card phone cases because I like leaving the house hands-free. I just need a credit card most of the time, the rest you can pay with Apple Pay — that's all I need. And maybe the lip ointment. When I'm without the baby I try to be as hands-free as I can be. I haven't used my wallet in years. It's too much responsibility. If you lose that, you lose everything.
To be honest, I asked my husband to make this my Valentine's present. I have been trying to get it for a year. It's like a multipurpose kitchen gadget that has a whole bunch of different options like whipping and mixing and sautéing in one device. People told me that it's amazing after you have a baby and don't have time to do anything because you just put the ingredients in and it prepares the whole recipe for you, from a cake to bread to lentil soup.