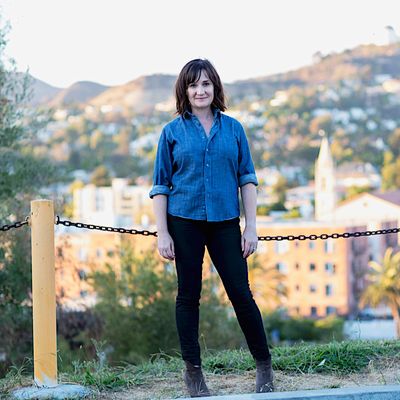 The author in Los Angeles.
Photo: Courtesy Doree Shafrir
Every month, the Strategist editors do their version of a haul blog, jibber-jabbering about their favorite purchases of the last four weeks. To get that same personality and taste insight (via receipts), we're inviting interesting friends of the Strat to run down their own buys. For this installment of the Guest Strat Haul, Doree Shafrir, author of the novel Startup and host of the Forever35 podcast, on her purchases last month.
I've lived in L.A. for five years, but it's only recently that I've truly learned how to dress for L.A. weather — which really just means that it's only recently that I've come to appreciate the need for, and power of, a cotton scarf. May and June here are known for having gloomy, cloudy mornings, and you need something light and pretty to wrap around your neck that later, when the sun comes out, you can shove in your bag or leave in your car. I love Block Shop — they are owned and run by two sisters, and everything is made by hand; plus, their stuff is gorgeous — and when I saw them recently at the Echo Park Craft Fair, I snatched up a scarf from a previous season at a discount. (The one pictured is similar to the one I got, which is no longer available.)
In my completely unbiased and correct opinion, this is the most important invention to hit the living room since the remote control. A true game changer for people, such as myself, who are too lazy to reach all the way to the coffee table for their drinks while watching TV.
Le Feu De L'Eau is an L.A.-based candle-maker that makes all of their candles under water (yeah, I don't totally get it either), and they collaborated with Edible Gardens L.A. for a line of candles that all smell completely amazing. I got the lemongrass and rosemary candle, but the cardamom candle from this collab is also super dreamy. I light it in my office and I swear it helps me focus.
I started using CoQ10 serum after my reproductive endocrinologist had me start taking CoQ10 supplements in preparation for IVF treatments — I'd never heard of it before, but it's an antioxidant that some studies say helps improve heart health and improve metabolic function — and when I saw that it also came in serum form, I decided that it couldn't hurt to put it on my face, too.
The Caudalie night oil is a newer addition to my skin-care repertoire — I use it every other night, when I'm not using any other actives; I am wary of putting too much on my face at once — and I really like how it keeps my skin soft. [Editor's note: Fran Drescher loves this stuff, too.] I live in a not-very-humid climate, and it took me awhile to understand that my skin needs a lot more moisture here than it did when I lived on the East Coast.
I went to a new hairstylist recently and his eyes widened — with horror? Shock? Displeasure? — when I told him that I used a brush on my very fine hair. He urged me to buy a "Tangle Teezer," which is apparently much gentler. So far, my hair seems to appreciate the change. [Editor's note: Strategist senior editor Simone Kitchens loves her Tangle Teezer, too.]
My sister is due with her second baby later this month, and my go-to gift for a second child is always something personalized because most people still have all of the baby crap they got for the first kid and don't actually need anything, but you still want to get them something. Also, everyone gives baby blankets as gifts, so I decided to mix it up and get the new baby some personalized wall art. (I cleared the design with my sister first, though.)
My husband and I recently put it together that perhaps one of the reasons that our pots didn't cook things very well was because they were 15 years old and from Ikea, so we decided that it was time to upgrade. I cross-referenced what America's Test Kitchen, the Wirecutter, and the Strategist had to say about saucepans, and decided that these would best suit our needs — and the price point was great (we got the four-quart saucepan, too). So far, rice, sauces, and penne seem to agree.
The perfect jean jacket has been my sartorial white whale for, gosh, 20 years? I've never been able to totally nail it — the jackets I've gotten have always turned out to be too light or too dark or too small or too distressed or YOU GET THE PICTURE. Nothing was exactly right, until I found the Madewell jean jacket in Pinter wash. When I say this is the perfect jean jacket, I mean it. The color is perfect, the cut is perfect, the fit is perfect (although, be warned that I did have to size up). I'm in love, and I'm never letting it go.
Editor's note: It's available at Nordstrom if you prefer, too.
On Forever35, we like to say that "butt care is self-care." Take that as you will, but for me, that means that I have become fully converted to the pleasures of a bidet. I resisted for a long time, but a combination of growing awareness that wet wipes are horrible for the environment and an urge to stay as hygienic as possible in my butt region led me to the Luxe Bidet Neo 185, which was recommended by a couple of podcast listeners — it's cheap, easy to install, and seriously, my butt has never felt better.
My husband Matt and I rent a small house whose kitchen appears to have not been renovated, except for new appliances, since the house was built in 1926. It has very little counter or cabinet space, and it has a small dedicated area that I suspect was intended as a breakfast nook, but is actually too small to eat in comfortably, so the table we bought for that space when we moved in three-and-a-half years ago had quickly become a depository for random stuff.
Finally, we had enough — but since it's a rental, it didn't make sense for us to put too much money or effort into any changes. So Matt measured and Googled and came up with the idea of getting two sets of InterMetro shelving from the Container Store set up at right angles to each other. We have this baker's rack and another shelf that's essentially the baker's rack minus the top half. For around $300, we doubled our counter space and increased our storage space by 25 percent, and for the first time since we moved in, I'm actually starting to enjoy cooking again.
My mom loves baths, but she, surprisingly, didn't have a nice bathrobe. So for her birthday this year, I got her this really soft robe from Restoration Hardware — it's not the first place that comes to mind when you think "really soft robe," but I've had one of their robes for years, and it honestly blows every other robe (hotel, spa, whatever) out of the water. My mom is petite, so I got her the shorter version and it fits her perfectly. The day it arrived, she sent me a photo of herself in it and informed me that she was "frolicking around the house in my beautiful new robe," so I would say it was a hit.
I work from home now, which of course leaves me in grave danger of never getting out of my pajamas. These Calder Blake pants are the perfect happy medium between completely giving up and just wearing leggings all the time, and putting on clothes that I used to wear to the office — they're still elastic waist and loose-fitting, but still presentable and cute enough to venture out of my house in.
The Strategist is designed to surface the most useful, expert recommendations for things to buy across the vast e-commerce landscape. Some of our latest conquests include the best acne treatments, rolling luggage, pillows for side sleepers, natural anxiety remedies, and bath towels. We update links when possible, but note that deals can expire and all prices are subject to change.
Every editorial product is independently selected. If you buy something through our links, New York may earn an affiliate commission.