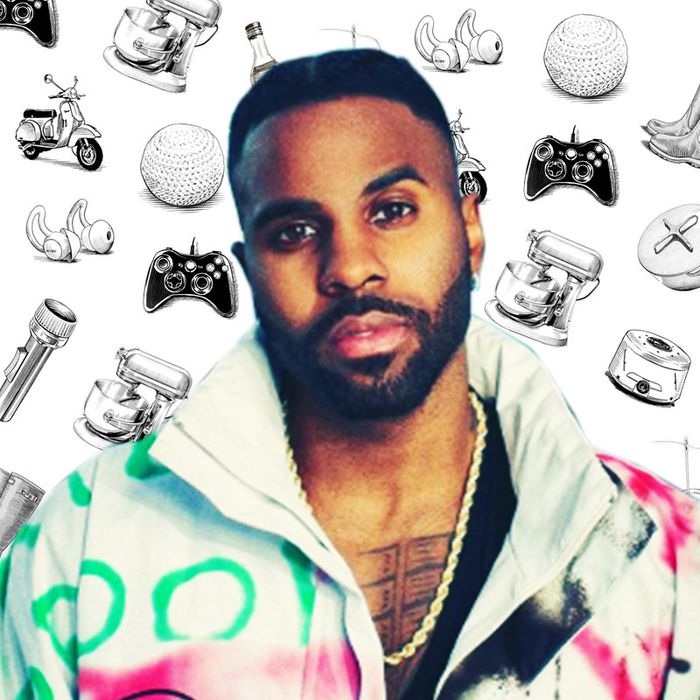 Photo-Illustration: courtesy
If you're like us, you've probably wondered what famous people add to their carts. Not the JAR brooch and Louis XV chair but the hairspray and the electric toothbrush. We asked Jason Derulo — who recently partnered with spirits brand Bedlam Vodka —  about the tea, deodorant, and toothpaste he can't live without.
This tea coats your vocal chords. I drink it once or twice a day. After I've been on tour for a while, my voice gets fatigued — just a laugh or a sneeze could mean a really, really difficult show. So the more that I'm able to ease and comfort my throat, the better. A lot of people think that you should put lemon or lime in tea to coat the throat, but that's actually the worst thing you can do. It's kind of like putting citrus on a cut. If your vocal chords are stressed, citrus just makes it worse.
I like the original. I've used it for seven or eight years, at least. Sometimes I work out twice a day, and they say your body still burns calories hours after a workout, right? So throughout the day, my body's really active. I'm always on the go, so I've got to stay fresh.
I grew up playing basketball. After I didn't make the team in ninth grade, I spent every waking moment practicing until I made the team and became the best person on it. We went on to win a state championship. I still play often, and I like a classic Spalding basketball.
If I can't have coffee in the morning, I will literally try to stay in bed. Coffee helps me kickstart my day, gets me up and going, and I feel like it makes me a lot more useful. In quarantine, I realiz