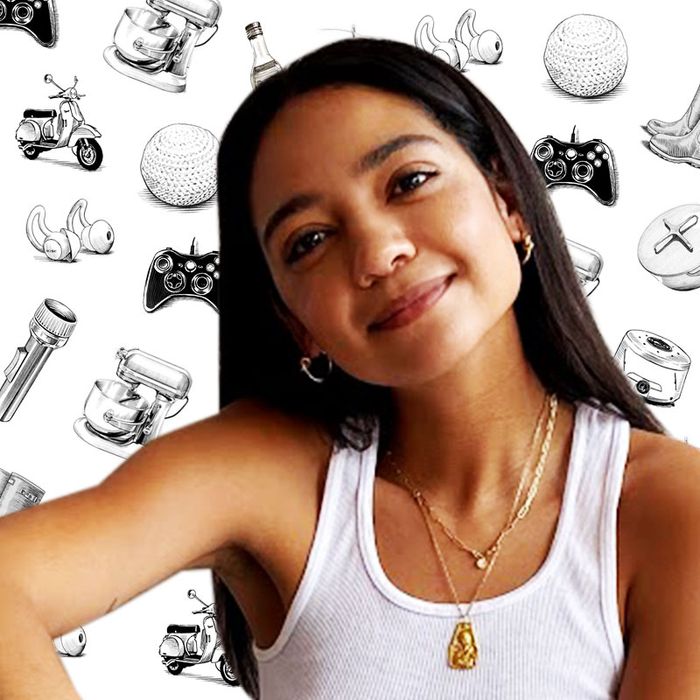 Photo-Illustration: courtesy
If you're like us, you've probably wondered what famous people add to their carts. Not the JAR brooch and Louis XV chair but the hair spray and the electric toothbrush. We asked Maggie Holladay — the founder of vintage home-décor retailer and interior-design studio Claude Home — about the pens, wine, and white T-shirt she can't live without.
This mask is brilliant for cleansing. I have oily skin and large pores, and it feels like it sucks everything out of my face yet moisturizes at the same time. It's very detoxifying and it also helps with inflammation. I use it probably three times a week.
I have a weird infatuation with really, really thin pens. These are the absolute best. They come in multiple colors and have this smooth, slick feeling that makes me want to write and work harder. When I first bought them, I didn't think much of it. But when one of the pens went missing, I started freaking out. I was like, "I can't work because I don't have my pen." Now I always have one on me.
The best-fitting T-shirts. My go-to uniform is this white tee with black Levi's. If I'm trying to be fancy, I'll wear a blazer or a trench coat, too. I walk to Kmart and get packs of them. And when all of the tees inevitably get stained, I can just get a new pack because they're so affordable.
Photo: Retailer
When I first got it, I did one side of my face for 20 minutes and it was a solid inch higher than the other side. You really do see a difference after you use it. It's instant gratification and just a really fun thing to do. I'm addicted. I'll get really into it and do it three times a day for like a week.
It's the best wine in the world. Super affordable, slightly bubbly, and tastes just like summer. I first bought it because I liked the label, but then I started buying it every time I went to my wine store in the East Village. I brought four bottles when I went on a trip upstate with some friends and they were all like, "Holy fuck!"
I used to make fun of everybody who wore them. Now I've had a pair for five years and they've completely molded to my feet. They're so comfortable. I love to wear mine with socks and Levi's.
I'm so bad at doing my hair. But with this, I can almost make it look like somebody other than me did it. It's cordless, which is really convenient. It heats up super, super fast and is 100 percent less damaging than other straighteners I've used. You don't have to keep going over the same piece of hair again and again.