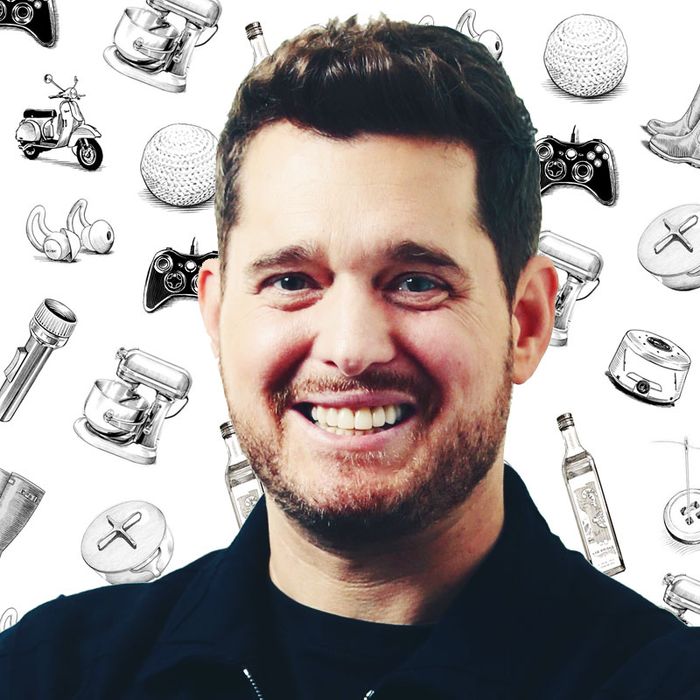 Photo-Illustration: Getty
If you're like us, you've probably wondered what famous people add to their carts. Not the JAR brooch and Louis XV chair but the hairspray and the electric toothbrush. We asked singer Michael Bublé — who recently partnered with SodaStream for the launch of its bubly drops — about the foam roller, scalp massager, and gaming system he can't live without.
It is a magical concoction. I first heard of it when I was in Australia a long time ago — 15, 20 years now. Everyone uses it there. I use it a lot: if my lips are dry, if my kids get a cut, if I get a burn. It's as good as gold in our house. When I give my wife gifts for an anniversary or her birthday or Christmas, usually I include a big tub of Papaw ointment.
I'm not a big fan of hair products. But a lot of times for work, whether I'm on stage or on television or whatever, they put a lot of stuff in my hair. I was complaining to my hairstylist about how all the hairspray that's used dries onto my scalp and makes it itchy. He gave me this scalp massager to help get all the product out. I use it in the shower and it has made such a difference.
I'm not a great sleeper. I have a little insomnia, so I use a few things to help. One of those things is the Calm app. A friend who also has a hard time sleeping told me about it. He said, "Mike, there's this thing called Calm and this guy called Alan Sklar who just puts you to sleep." Alan has this really soothing, deep voice. He goes "Hi, this is Alan Sklar, and tonight, I'm going to read you a sleep story." Every time, I'm like, "Oh Alan, you're so dreamy." He really does put me to sleep. I also love Matthew McConaughey's sleep stories — he's another favorite that I listen to often. I once sat next to him on a television show and I told him that he was in my bed every night.
Yes, this is a foam roller, but I don't use it to roll out. It has this vibrating feature; I put it next to me in bed and the vibration puts me to sleep. I've been using it for about three years. My wife hates it because it makes the whole bed shake.
These prawn crisps are one of the best snacks I've ever had. The flavor is kind of like that of salt-and-vinegar chips, but so much better. I know it sounds weird, but they're delicious. When you spend so much time in other countries, you sort of adopt these things and they become part of your life.
As my wife has pointed out, I'm getting older. I'm not a kid anymore. I have no choice but to take care of myself, so it was either get a full skin-care routine or get a lot of Botox, and I wasn't interested in the Botox. My wife sees a dermatologist, so I asked her what I should get. She suggested this Zo skin-care set. It has a cleanser and an exfoliator and all that stuff. My wife showed me how to use everything and now I do it every night. It's one of those things that if you take the time to do it every day, you'll see the results over time. Plus, I kind of enjoy it.
I love playing video games. But being a dad of three kids, I don't have a ton of time to play. I treat myself to some time with the Oculus every once in a while. My wife bought it for me for my birthday. She knows me very well. There's this Star Wars game called Vader Immortal — it is the coolest game I have ever played. You get to be Darth Vader. You can use the Force and a lightsaber. As a Star Wars nerd, it's a dream come true to feel that power and like I'm actually in the Star Wars world.