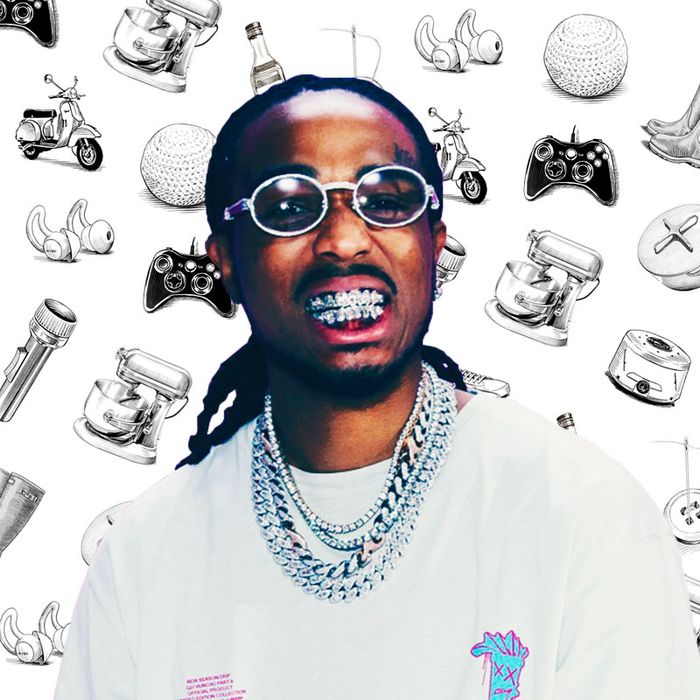 Photo: Courtesy of boohooMAN
If you're like us, you've probably wondered what famous people add to their carts. Not the JAR brooch and Louis XV chair but the hairspray and the electric toothbrush. We asked Migos's Quavo — whose second clothing collaboration with boohooMAN recently launched — about the protein powder, headphones, and video-game controller he can't live without.
As a kid, I grew up eating fruit snacks — Fruit by the Foot and Fruit Roll-Ups were always my two favorites, but Fruit Roll-Ups now win because they did a collab with Jolly Ranchers and come in all of the Jolly Rancher flavors. I stock boxes of them. You know, Jolly Ranchers are hard, but I'm addicted to the flavor — so these are like a soft, chewy, stretchy Jolly Rancher. They're so good.
I had the episodes early, and watched it with Travis Scott. I loved it. It showed me that, mentality-wise, I'm on the right track for my music career — I really train like a champion. To see the role that Jordan had as a leader of a team that won championships … I compare that to our group.
I was a Jordan fan growing up, so the original Jordan 5s have been my favorite forever. I'm talking about the OG 5s, the pair that first came out, not the rerelease. I don't wear them: I cherish them and put them in a case. I got mine when I was in Paris for Fashion Week; I was looking for the Paris 5s — Michael Jordan had dropped an all-Paris edition of the shoes — and ended up finding the original OG 5s instead.
I'm constantly listening to unreleased Migos music, and I walk around with this boombox. I'm like a walking party. You just have to pull up and press play.