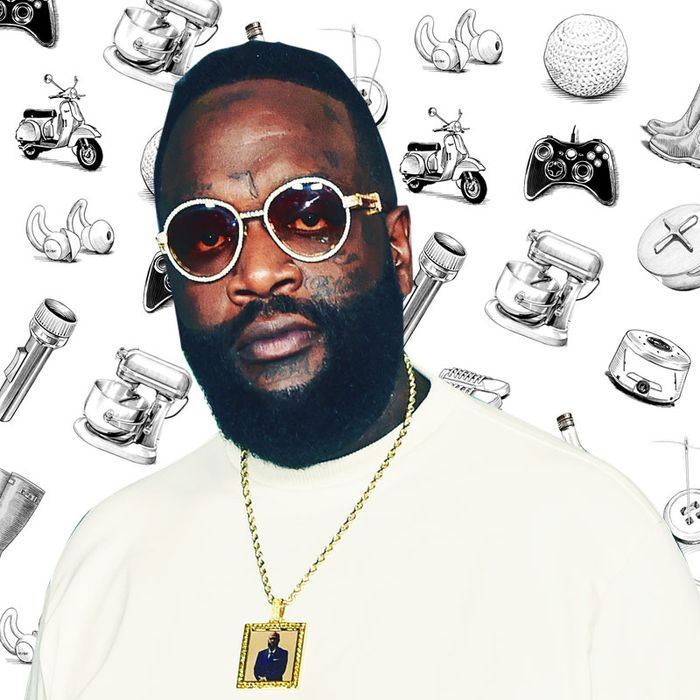 If you're like us, you've probably wondered what famous people add to their carts. Not the JAR brooch and Louis XV chair but the hairspray and the electric toothbrush. We asked rapper Rick Ross — who just launched his own strains of cannabis with the California-based dispensary, Cookies — about the floss, underwear, and rolling papers he can't live without.
Photo: retailer
I hate the string floss. It's almost like you're going fishing. With the picks, there's a toothpick on one end, and the other end is set up for you to put it in between each tooth and floss. I use two at a time. One for the bottom, one for the top. White teeth are bomb. This is something that comes from my mom. She always made sure she took me to get my teeth cleaned as a youngster, when a lot of my homeboys never had their teeth cleaned. The elders that I grew up around — my father, for one, and some of my uncles, too — they put their teeth on the dresser at night, and when they woke up, they picked them up and put them back in their mouth. But I want to be able to sleep with my teeth the whole time. So I have to floss.
I fall asleep to Forensic Files on Hulu. I'm not sure if it's the voice narrating, or the stories that it's telling as I'm dozing off, but when I fall asleep watching the show I sleep like a baby. I actually watch it all the time. I thought I grew up in the worst area — and I may have, but what I see on this show is what you'd call horrendous. These people are really insane. They have nine-to-five jobs, so they get up and conduct themselves like normal people every day. But at night, they go home and hit their grandmother in the head with an iron just to collect some money to go get a Dodge Ram truck and a fishing boat. I can't even fathom that.
There's just something about this deodorant. I don't use anything else. I feel fresher than a newborn baby when I wear it, and I smell powdery fresh, like money, all day. All of that clear stuff is just slime under your arm.
Photo: retailer
I'm a boxers type of guy. I like the relaxed feel. When I wear these Versace ones, I feel sexy — like a sexy, fat model. I wear them when I'm really feeling myself or for a special occasion. I graduated from Hanes. I still respect Hanes, but I no longer wear it.
Photo: retailer
I'm proud to say that I can trust the people around me with most anything. I could leave millions of dollars in cash with them and wouldn't have to worry about it. But an iPhone charger? That motherfucker won't last 30 minutes. If I plug my phone in, walk away, and come back, its battery will still be flashing red and the charger will be gone. So I'm always buying new ones because they vanish like David Copperfield.
I have a lot of aliases because I evoke different vibes with different music. Big Fish is one of them because I feel like I'm a big fish in this small pond. Another is Golden Eagle. Those birds have to flap their wings every 15 seconds, and they glide for like two weeks at a time — it's amazing. I happened to be at a Neiman Marcus in Miami, and I saw a big golden-eagle statue on the top of a display. I told them I wanted to buy it because it embodied my alias, but they wouldn't sell it to me. So I was like, "Okay, well, what is this brand?" And they told me it's Stefano Ricci. So I said, "Okay, give me the cologne instead." The bottle has a golden eagle on it, too. I've been wearing it for the last year and a half. If I'm in the house by myself, a lot of times I will still put the cologne on because it makes me feel good.
I've been purchasing shades from this company for more than a decade. I love these round frames, but I will switch it up. I'll do tinted-blue lenses, or raspberry-rose-tinted lenses, instead of just black. I probably own hundreds of sunglasses, but I lose them, I break them, I leave them in cars, or I throw them at concerts. I try to keep as many as possible, but shit happens.
I've been smoking since I was 13 or 14 years old, so I've been through every brand. I feel like the papers from Vibes give the cleanest smoke, so I can enjoy the actual taste and the THC. I go back and forth between their natural papers and their hemp papers. If I smoke the same strain on the same papers for a month, I probably would stop enjoying it two weeks in. I have no idea how many joints I go through a week. It's definitely more than a dozen. I launched my own strains of cannabis with the company Cookies — I'm actually smoking it now — so that's what I've been into recently.
The guy behind the brand actually designs clothes. He will go and buy Louis Vuitton scarves and make me all kinds of different clothes with them, and he began making custom masks that have prints from Louis Vuitton, Dior, Fendi, and all that. I've been wearing them because masks are something you just have to have now. Mine looks fly, but the chicks know the Boss is underneath it, especially because my beard is always sticking out. I wish it didn't, though. If anyone reads this that can design me a mask that will cover my nose and my beard, DM me.
Photo: retailer
When I first began going to clubs, before I could afford to be in VIP, I would watch everybody doing their thing on the floor. I would sip on my cup of Hennessy — which I hated. I wanted to be drinking the good stuff, the rosé. I was introduced to Luc Belaire at a club in New York by DJ Clue, and I fell in love with it. That just really began the relationship — I've been an ambassador for the brand since 2013 and also have an investment in the company. The taste without a doubt is what I love about it the most. Now I start my morning with the rosé. I like to have an omelet with a glass.
The Strategist is designed to surface the most useful, expert recommendations for things to buy across the vast e-commerce landscape. Some of our latest conquests include the best acne treatments, rolling luggage, pillows for side sleepers, natural anxiety remedies, and bath towels. We update links when possible, but note that deals can expire and all prices are subject to change.