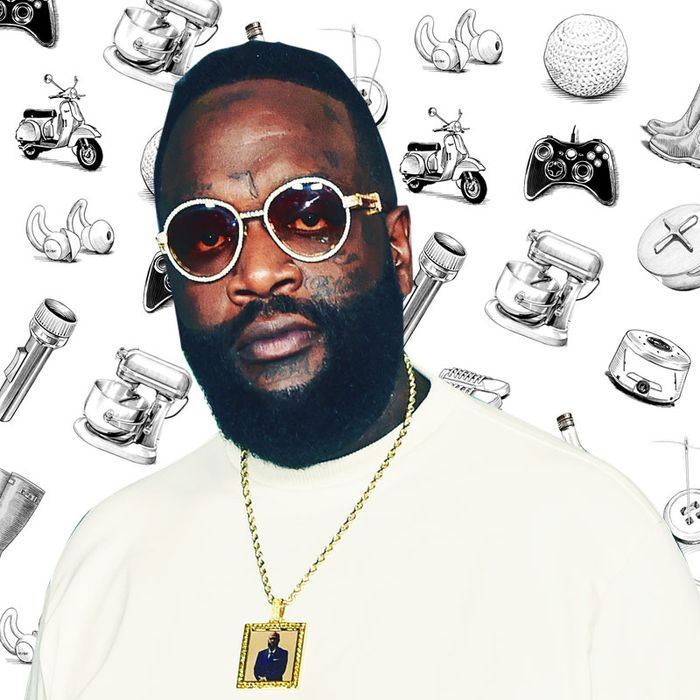 If you're like us, you've probably wondered what famous people add to their carts. Not the JAR brooch and Louis XV chair but the hairspray and the electric toothbrush. We asked rapper Rick Ross — who just launched his own strains of cannabis with the California-based dispensary, Cookies — about the floss, underwear, and rolling papers he can't live without.
Photo: retailer
I hate the string floss. It's almost like you're going fishing. With the picks, there's a toothpick on one end, and the other end is set up for you to put it in between each tooth and floss. I use two at a time. One for the bottom, one for the top. White teeth are bomb. This is something that comes from my mom. She always made sure she took me to get my teeth cleaned as a youngster, when a lot of my homeboys never had their teeth cleaned. The elders that I grew up around — my father, for one, and some of my uncles, too — they put their teeth on the dresser at night, and when they woke up, they picked them up and put them back in their mouth. But I want to be able to sleep with my teeth the whole time. So I have to floss.
I fall asleep to Forensic Files on Hulu. I'm not sure if it's the voice narrating, or the stories that it's telling as I'm dozing off, but when I fall asleep watching the show I sleep like a baby. I actually watch it all the time. I thought I grew up in the worst area — and I may have, but what I see on this show is what you'd call horrendous. These people are really insane. They have nine-to-five jobs, so they get up and conduct themselves like normal people every day. But at night, they go home and hit their grandmother in the head with an iron just to collect some money to go get a Dodge Ram truck and a fishing boat. I can't even fathom that.