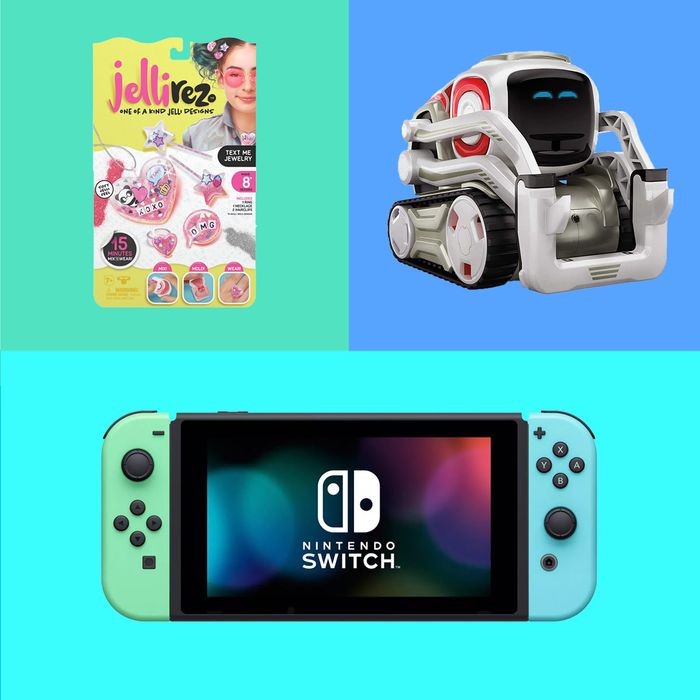 At age 11, kids are typically entering sixth grade, which a lot of times means starting at a new middle school. "Their social scene is changing and they're starting to think more about their social identity and who they are as a more mature person," explains Lisa Goldstein, a librarian with the Brooklyn Public Library. Alyson Cohen, a Manhattan-based social worker and psychotherapist specializing in adolescents, young adults, and millennials, adds that such environmental changes, coupled with the physical changes kids start to experience at this age, can make 11-year-olds quite fickle. "Puberty is beginning, so they're facing physiological issues that are hormonal that can also affect their emotional states," she says. It's also the age when kids start to become more independent, according to Cohen. "They're not as excited to spend time at home with family and are really looking to blossom out into the world."
If you're thinking that this confluence of changes can make finding a gift for an 11-year-old tricky, you're not wrong. To help, we asked Cohen, Goldstein, and four other experts about the best gift ideas for kids that age, from books, to toys, to other games. Below, their 22 recommendations, which we've divided into categories like educational gifts, tech gifts, creative gifts, and more. If you've got kids of different ages to shop for, don't miss our other age-specific gift guides, including for 1-year-olds, 2-year-olds, 3-year-olds, 4-year-olds, 5-year-olds, 6-year-olds, 7-year-olds, 8-year-olds, 9-year-olds, and 10-year-olds. We've got gift guides for teenage (and tween) girls and boys, too, and if you're just looking for toys, we also spoke to trend forecasters about the buzzy ones they predict will fly off shelves this year.
Best tech gifts for 11-year-olds
Chris Byrne, who's also known as the Toy Guy, says the new Xbox console is one the hottest toys this year and on practically every 11-year-old's wish list. According to our Tom Warren, who wrote about Xbox Series X for our sister site the Verge, "Microsoft's next-gen Xbox comes the closest I've ever witnessed to re-creating the superior PC experience of playing games, thanks to SSD storage, a far more powerful CPU, 120Hz support, and impressive backward compatibility features that improve existing games." While Pricey, Warren explains why the system is worth every penny. "This is all inside a $499 box that's quieter and far easier to use and maintain than the $3,000 gaming PC I built a few weeks ago."
After hearing about it going in and out of stock all year, you might think that kids have moved on from the Nintendo Switch. But Byrne is the second expert who has told us that they "are seeing continuing demand for the Nintendo Switch" this year, particularly because kids want to play Animal Crossing: New Horizons on it. (In reporting our gift guide for 10-year-olds, toy blogger Keri Wilmot also told us that Animal Crossing is very much in demand.) The game itself will surely suffice for kids who already have a Switch, but for those that don't, you could pair it with the special Animal Crossing version of the console if you really want to impress them. (The themed console does not include the game, just so we're clear.)
Eleven-year-old Madeleine Valencia told us that she spends a lot of time watching YouTube and TikTok, which has inspired her to make more videos of her own. This kit from Movo, she says, would be a "better setup for recording" because it turns a smartphone into a "mobile studio." The kit has everything an aspiring YouTube star-in-the-making needs, including a grip rig, stereo microphone, LED light, and wireless remote.
Zing's "super fun and easy-to-use" Go Go Bird was a huge hit at this year's Hong Kong toy fair and it's coming to the U.S. this month, Byrne told us. "Zing has managed to create a remote-controlled, easily operated flying toy at an affordable price point," he says.
Best educational gifts for 11-year-olds
According to Byrne, "STEM without screens is a hot topic this year, and this is a sophisticated game that builds learning, pre-coding, and sequencing into the fun." Gridopolis is a 3D strategy game where players use the parts provided to build their own board game from scratch. Play follows a blend of rules from familiar games like checkers, chess, and tic-tac-toe. You eliminate other players by jumping over them, but each player can also take their turn to build on the board, effectively changing the game at any point and keeping players on their toes.