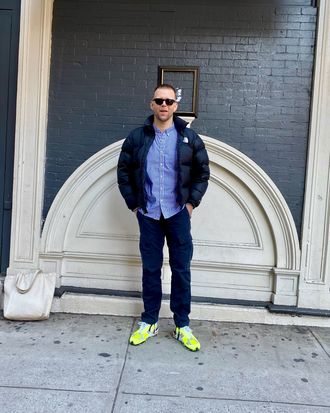 If you're looking for the most powerful hair dryer or the handiest chef's knife, those things can be easy enough to find. Other objects of desire are a little more taste-based. What's the next status water bottle or hand wash, for instance? If you have a burning question about the next fanny pack or Noah rugby shirt, Chris Black is here to answer it in a regular column.
Can you recommend some hiking footwear that will have me covered from Sedona to the Alps to my Sunday strolls through Tompkins Square Park? Salomon trail runners seem like the obvious answer but also feel played out at this point. 
I only hike below 14th Street, but I think I know what you need.
The best Salomon product is the Black Snowcross Advanced Sneaker. These can handle any elements, from ice and snow to vomit on First Avenue. They look incredibly cool and are very durable.
A pair of La Sportiva's Blizzard GTX shoes in black and yellow (no Wiz) Gore-Tex would also serve you well. These are pretty heavy-duty — maybe not enough for scaling Machu Picchu, but hey, it's your life!