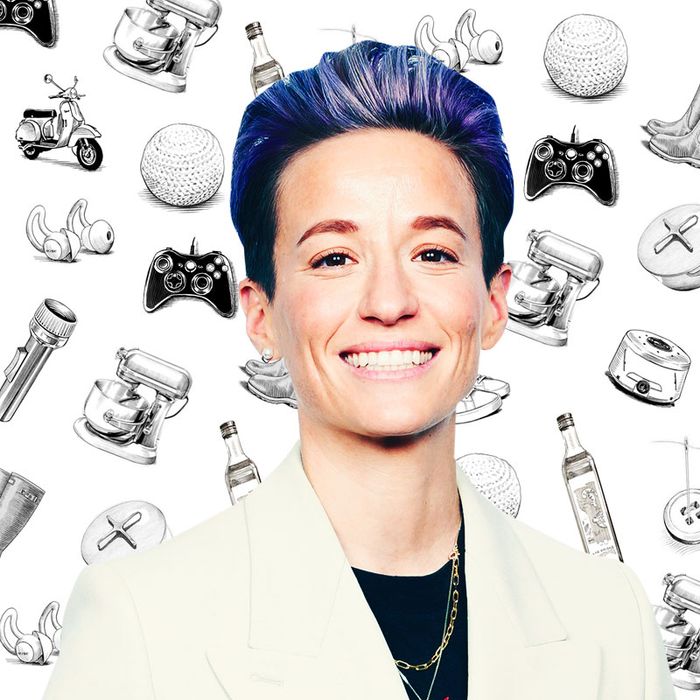 Photo-Illustration: Getty
If you're like us, you've probably wondered what famous people add to their carts. Not the JAR brooch and Louis XV chair but the hairspray and the electric toothbrush. We asked Women's World Cup winner and Olympic gold medalist Megan Rapinoe — who has partnered with sports-drink company Bodyarmor — about the sunscreen, notebook, and lip balm she can't live without.
I think it should be required reading for everybody. The book helps people understand how often this happens and the apparatus that allows it to happen. I thought Ronan Farrow did an amazing job of being persistent and understanding how important it is to take care in telling these women's stories.
Aquaphor is a multiuse product: I put it on my lips and on my nose when the air is dry. You can also put it on your cuticles, or in the cracks of your hands. It's simple, easy, neutral, unscented, easy to apply, and comes in a bunch of different-sized containers, so you can take it everywhere with you. I grew up on the West Coast, so I didn't even know about the type of dry that the East Coast gets in cooler months.
If I don't physically write things down, I'll forget them. So I like to have something with me to jot down notes or ideas. I've used Moleskin forever and ever, as far back as I can remember. It makes the best notebooks. I get the little thin ones that are easy to carry around.
I love Japanese skin care. Nobody does sunscreen better. I've tried a bunch of different kinds: waterproof, not waterproof, ones for every day, sport ones, and this is my favorite. A lot of times, sunscreen will just wash off or it's too greasy — this one has a nice, clean, non-oily finish that I love. I've used it for six or seven years. It's waterproof, which helps with sweat when I'm playing, but it's not the kind that's going to make your face completely white. I've got pretty fair skin, and as I'm getting older, I'm trying to keep wrinkles away. I'm a little bit sun-phobic, so I've always been in the sunscreen game. My mom made sure that my sister and I wore sunscreen. I'm very thankful for that.